Take a spin through Caesar's Empire slot machine and reap the rewards
If you're looking for ideas for President's Day activities that don't involve discussing the recent presidential election, we invite you to do something different and take a trip to Italy – and the first century BC. Step back in time to the magnificent Roman Empire, where the great Caesar ruled much of the known world and riches abundantly flowed like water. Think it's impossible? Well, it may not be possible to physically go back to the height of the Roman Empire, but we certainly feel like we're in ancient Rome when we play the Caesar's Empire slot machine.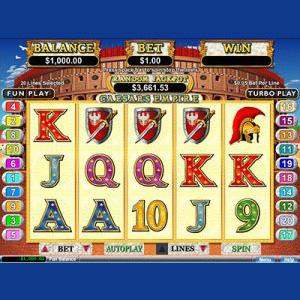 This slots game is the President's Day deal you've been searching for – with five reels, 20 paylines to play, and a fantastic progressive jackpot, you could be living like an ancient Roman emperor in no time. Bet anything from one cent to $100 a spin, with a $5 max bet per payline, and you'll be conquering your winnings faster than you can count them.
Watch out for the symbols that ancient Rome is known for – earn special bonuses when the Coliseum, also known as the scatter symbol, shows up in the reels, and even bigger bonuses when the wild symbol Caesar appears as a substitute in any winning combination. And when Cleopatra is part of a winning combination, triple prize money is the reward. What's a king without a queen, right?
When more than one Caesar shows up with the Coliseum on reel 5, the Free Game Feature is triggered. This feature not only awards you ten free games, the free game feature prizes are doubled. If there was ever a President's Day activity that was also a President's Day deal, this is it!
And when it comes to the symbols, don't forget your armed forces – the Roman helmet, sword, and shield are at your disposal and when they appear they will further the expansion of your empire, also known as your bankroll. You know what they say in the military – "offense is the best defense," so attack those paylines with higher bets to reap more sweet, sweet rewards.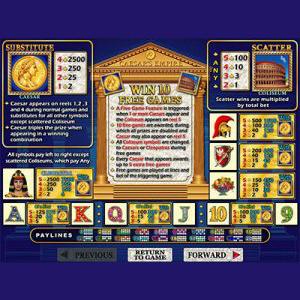 Caesar's Empire slots game knows you want to feel like royalty. You can completely control the pace of the game with the manual Spin button, or sit back and let the game collect all your gold Roman coins for you with the Autoplay function while you focus on other things, like ruling your empire and expanding your bankroll to fund other President's Day activities you have in mind.
No empire has existed without encountering unexpected surprises. In Caesar's Empire, there is a pretty sweet progressive jackpot, but it's triggered at random, regardless of the amount you wagered. So, instead of receiving the kind of unexpected surprise that Julius Caesar did at the end of his reign, this surprise for you is one that every emperor would love to receive – extra gold to pile on top of the rest.
If you're concerned that Caesar's Empire slots game doesn't actually qualify as a President's Day deal, we have to respectfully disagree. Why? Because if you're interested in playing but not sure about risking a piece of your empire, you can download and start playing Caesar's Empire for free.
So, while it may not be the typical President's Day activity, we think you'll love it nonetheless. While the U.S. just elected a new strongman who may or may not be attempting to start a new empire, you know for sure that you're an emperor in your own right.