Atlantic City casinos see massive jump in 2017 profits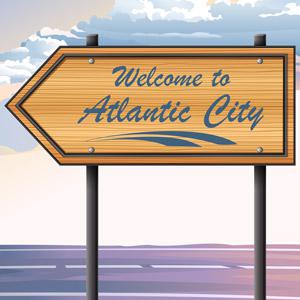 Atlantic City's casinos have been on a roll lately, posting a 22.5% increase in 2017 gross operating profits combined with a 5% jump in net gaming revenue, according to figures released by the state's Division of Gaming Enforcement (DGE).
Gains were made across the board by the city's seven casinos, who combined saw a $133 million year-on-year increase over 2016. The number is all the more surprising because back in 2016 there were a total of eight casinos operating in Atlantic City as opposed to seven throughout the course of 2017.
Total net casino revenue, which includes online gaming, came in at a solid $2.67 billion for 2017, up from $2.5 billion in 2016. Online gaming revenues alone totaled $25 million.
DGE deputy chief of financial investigations Christopher Glaum told the Press of Atlantic City, ""Three casino hotels reported record net revenue and gross operating profit under current ownership, and both internet casino licensees had their best year as well. Industry-wide, strong growth in net revenue led to gross operating profit growth in excess of 20% for the year. These operating results bode well for the industry expansion expected to occur in mid-2018."
In signs indicative of a recovery after Atlantic City's long, multiyear slide, hotels too saw a solid boost in 2017, with occupancy rates up at 86.9% from 85.2% in 2016. Average room rates also increased, from $106.71 in 2016 to $108.35 per night.
With two new hotels and casinos set to open their doors later this year, the Hard Rock Hotel & Casino Atlantic City and the Ocean Resort Casino, the recent numbers gave Casino Control Commission chairman James Plousis cause to be upbeat.
"The industry is on the verge of a significant expansion this summer which will create a new array of attractions and attract a lot of additional visitors to the city. That expansion may put pressure on the current operators, but I think the industry is well positioned to deal with the new competition," he told the Press of Atlantic City.
Atop the leaderboard was the Borgata Hotel Casino & Spa, which reported a 19.5% rise in profits to $290 million.
In terms of combined profit and net revenue the Tropicana Atlantic City saw the largest year-on-year increase, from $54 million in 2016 to $92 million in 2017, a staggering 71% rise.
Celebrating its 40th anniversary, the Resorts Casino Hotel saw a 23.6% increase in operating profit to take in $23.1 million in 2017 over $18.7 million the year before.
Harrah's Resort was one of the few losers, seeing a decline in profit while still taking in $115 million in revenue. The previous year Harrah's had seen some $119 million in gross operating profit.
Casino resort bill heads to vote in Japan
Reuters has reported that key points essential for legislation on integrated casino resorts have been agreed upon by the ruling coalition in Japan, signaling that the long-awaited Japanese integrated resorts bill, allowing combined hotel casino resorts, is ready to move ahead to a vote in full parliament.
In August 2016 an outline of potential regulations for the new integrated resorts was released by the Japanese government, with a revised version released last February. Certain key points, however, were said to have divided lawmakers.
Now, according to the Reuters report, coalition partners together with Prime Minister Shinzo Abe's ruling Liberal Democratic Party have managed to reach agreement on a number of sticking points, namely casino floor space and tax rates, on terms favorable to many international casino operators.
Caesars Entertainment Corp managing director for Korea and Japan William Shen noted that things are clearly headed in the right direction and that the company remained "highly enthusiastic about the Japan opportunity."
MGM International Resorts, as well as Las Vegas Sands Corp, among other international operators, have been eagerly eyeing the Japanese market, which if effectively opened to integrated casino and hotel resorts could bring some $10 billion in revenue into Japanese government coffers yearly.
With the present session of the Japanese parliament set to end on June 20, it remains to be seen whether the issue will have time to come to a full vote before the parliament reconvenes in the Autumn.
A year after – Poland's gambling law fails to liberalize market
A year after Poland's gambling law came into effect promising to liberalize the online gambling market in the country and allow international operators a chance to tap into a structured and regulated market, market watchers are saying the reality on the ground has turned into anything but a lucrative opportunity.
The law, which passed in 2016 and came into effect on 1 April 2017, legalized online poker, bingo, casino games and sports betting, asked operators to pay a 12% tax on betting turnover in exchange for a license to operate in the country of 37.9 million people. There was a catch in the legislation, however, that assigned everything except sports betting to the countries, state-run monopoly operator Totalizator Sportowy. Analysts had expected the state-run monopoly to quickly launch a series of online casinos but bids for a technology provided soon bogged down and the market remains in the shadows.
Before the law took effect a number of international operators, including the likes of 888, bet 365 and William Hilll, had operated in country in what was tantamount to a legal grey area. After the law took effect, they all fled, never to return.
The fundamental problem, say industry insiders, is the 12% tax rate on total turnover as opposed to gross gambling revenue is both high and provides little incentive for international operators to conform to the countries newly regulated landscape.