World Cup gives Russian bookmakers a boost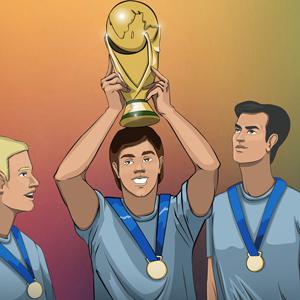 Legalized online sports betting in Russia has largely been a mixed bag for the countries bookmakers but the run up to the 2018 FIFA World Cup in Russia seems to have given the industry a notable surge according to a new study by affiliate marketer SimilarWay.
Looking at the traffic numbers for 15 local Russian bookmakers across the month of April, 1xstava.ru and Fonbet.ru drew the largest volume of traffic, coming in at 5.9 million and 5.6 million visits respectively for the month.
Leading the way in terms of growth, however, was the number three local online site, Parimatch.ru, who registered 3.15 million users for the month of April as compared to an average of 600,000 to 800,000 for the period from November 2017 until March 2018. That shows a 400% increase in organic traffic to the site. The rise was attributed, at least in part, to a promotional offer the company ran offering a chance to win 2018 FIFA World Cup tickets.
The first operator to win an online sports betting license for Russia in 2016, LigaStavok, came in fourth place ranking up 2.35 million visits. They were followed by Winline at 2.2 million visitors, Betcity at 2 million visitors and Leon at 1.75 million visitors in April.
Bringing up the rear was 888.ru, an entity not related to publicly traded online casino monolith 888 Holdings, at just 85,000 visitors in April.
There were a total of nine operational online licenses in Russia as of March 2017 and gains straight out of the gate has been phenomenal, with nearly all reporting solid triple digit growth.
Olimp.bet posted the most astonishing growth to rise from 85,000 visitors in March 2017 to an astonishing 420,000 visitors in April 2018, a stunning 1,035% growth rate in just over a year.
With a new law coming into effect earlier this week to tighten financial institutions abilities to process Russian citizens payments to online gambling sites with international licenses, the local market operators look set to continue to post impressive growth rates.
Bwin.ru, the joint venture that brought together Bwin, GVC Holdings flagship brand, with local company Digital Betting LLC, chalked up 230,000 visitors in April to post 142% month-on-month growth over its November 2017 launch.
A similar survey conducted by the Mediascope market research agency found that LigaStavok enjoyed the highest level of brand recognition among Russian nationals between 12 and 64 years of age, to come in a 45%. The second most recognizable brand was Fonbet at 24.2% to be followed closely by Leon at 23.9%, 1xbet at 15.3% and Bingo-Boom at 15.2%.
The Mediascope survey also noted that nearly 18% of survey respondents had experience with a Russian bookmaker. Football was the most popular sport to bet on at 14.2% of respondents, while ice hockey came in a distant second at 8.5%.
However, only 1.6% of respondents admitted to regularly placing sports bets with Russian online bookmakers.
Caesars enters Korea
Caesars Entertainment Corp looks set to enter the Korean gambling market, according to an announcement by Caesars Korea managing director and senior vice president William Shen.
With completion expected sometime in 2012, Caesars will be making its first foray into the East Asian gambling market. The $700 million integrated casino resort will be built on Yeongjong island in Midan City near Seoul's Incheon international airport.
Plans for the development include 750 rooms, including suits, villas and apartments as well as a spa, pool, indoor and outdoor theatres, retail space and a conference center.
Korean law prohibits Korean citizens from gambling in the facilities with the exception of Kangwon Land, meaning it will be a foreigners-only venue. The location close to the largest international airport in the region, however, is seen as a significant advantage in drawing in players from mainland China and Japan.
"The concern is always — it is a foreigner-only casino; it doesn't have domestic [customers] in the way Kangwon Land has tons and tons of visitors. I think our model is one where we want to emphasize non-gaming anyways: the non-gaming capabilities, the non-gaming offers that we have to showcase," Shen said as reported by casino.org.
At the same time, a number of similar developments are also planned for the island, including "Inspire", an integrated resort project backed by the Mohegan tribe of Connecticut.
Chinese investment firm LongRunn International Group also plans a $4.2 billion foreigners-only integrated casino resort on the island to be known as "Diamond City".
The Philippines casino operator Bloomberry Resorts has also acquired some 30 acres of land on a nearby island to develop what it is calling a "leisure and tourism complex".
Tiverton RI casino to open in September
The Twin River Tiverton Casino Hotel in the US state of Rhode Island will formally open its doors on September 1st, nearly a month ahead of the original schedule.
Chairman of Twin River Management Group, the casino developer, John Taylor Jr. said excellence in construction work has facilitated the earlier than planned opening.
The casino is set to offer at 84-room hotel, five restaurants and 100,000 square-feet of gaming space to include 32 table games and 1,000 slot machines.
Twin Rivers purchased the property from Carpionato Group for $10 million earlier this month, including the transferable casino license originally issued to Newport Grand Casino and then proceeded to invest nearly double its initial planned investment of $75 million to pour $140 million into the project.
Located near the border with neighboring Massachusetts, the Tiverton is set to create between 500 and 600 jobs, and hopes to draw in players from neighboring states.
Competition for local and regional customers, however, is set to be fierce. MGM Resorts International is plans to open a $960 million casino in Springfield, Massachusetts this autumn and Wynn Resorts is looking to open the doors on a $2 billion complex in nearby Boston next year.