It's common knowledge: the choices for Cirque du Soleil fans abound in the city of Las Vegas. And why wouldn't they? Each production is a sensational display of storytelling that showcases talent, beauty, and music. Cirque du Soleil shows are known for their use of different circus styles from countries around the world and each has a unique storyline, complementing the rest of the Vegas visiting experience.
That said, reviews and tips about which shows are worth seeing are everywhere. For those who might be interested in what else Vegas has to offer, this article is an attempt to create a more well-rounded list of extraordinary shows, both past and present, that deserve a place in the Vegas Entertainment Hall of Fame.
#8. Penn & Teller
Genre: Magic and Comedy
Venue: Penn and Teller Theater at Rio All-Suites Hotel and Casino
Address: 3700 W Flamingo Rd, Las Vegas, NV 89103, USA
According to the Los Angeles Times, Penn & Teller is "the single best show in Vegas." This dynamic duo is made up of equal parts comedy and magic.
Originally from Massachusetts and Pennsylvania respectively, magicians Penn Jillette and Teller now call Las Vegas Valley home. They've been performing together since the late 1970s, and it's clear that their chemistry comes from a solid foundation of a true artistic partnership.
After a significant number of television appearances, Broadway shows, and national tours, they had built an impressive reputation. Then, in 1993, they headed to Vegas where they would make a lasting impact – in fact, they've been performing ever since as the longest running headliners to play the same Vegas hotel. (They even have the theater at Rio named after them.)
Penn and Teller are sharp and innovative. They complement each other perfectly, with Penn as the narrator of their performance and Teller, speaking rarely and communicating through mime and non-verbals. They manage to simultaneously perform traditional magic tricks while infusing them with startling results. These two entertainers win their audiences over night after night with their signature combination of clever tricks, phenomenal illusions, and impressive showmanship as well as their humor and a substantial dose of audience involvement.
For those visiting Vegas who need a break from the glitz and glamor, Penn & Teller is the next attraction to check out. There are no opulent, flashy sets; instead, they rely on classic magic tricks, clever jokes, and audience engagement to appeal to viewers of all ages.
#7. Jersey Boys
Genre: Musical Theater
Venue: Paris Las Vegas
Address: 3655 S Las Vegas Blvd, Las Vegas, NV 89109, USA
Comedy, cabaret, circus – are you looking for an entertaining production in Vegas that doesn't quite fit the bill? It might be a good time to take a look at what Broadway shows are available.
Unfortunately, Jersey Boys is no longer playing, but it deserves a mention here as the longest-running Broadway production in Vegas, overtaking Mamma Mia and even the renowned Phantom of the Opera.
Jersey Boys first appeared on the Vegas entertainment scene at the Palazzo, opening in May of 2008. In 2012, the show moved to Paris Las Vegas where it played until 2016, ending its eight-year run.
There have been plenty of Broadway productions to visit Vegas, but few that have met with the same level of success. The play followed the rise (and fall) of Frankie Valli and the Four Seasons. Hits like "Big Girls Don't Cry" and "Can't Take My Eyes Off You" drew enthusiastic applause and standing ovations, and the dialogue managed to be both poignant and funny at times, with more than a touch of nostalgia.
The play managed to strike a perfect balance: it spoke to a generation of fans that already knew and loved the story and music while also appealing to its younger viewers with a sharp script and some contemporary touches.
Although the cast of Jersey Boys Las Vegas took its final bow on September 18, 2016 after more than 3,300 shows, it left an indelible mark and set the bar high for future Broadway shows. Vegas casinos will undoubtedly need to work hard to find another production that will have the same level of success.
#6. Siegfried & Roy
Venue: Mirage Hotel and Casino
Address: 3400 S Las Vegas Blvd, Las Vegas, NV 89109, USA
Now simply known as Siegfried & Roy, Siegfried Fischbacher and Roy Horn were both born and raised in Germany, later migrating to the U.S. and becoming naturalized citizens. They first met aboard a luxury liner called the TS Bremen; Siegfried was hired as a steward who performed magic tricks for the crew, and Roy was a waiter he happened to ask for assistance while performing. From then on, they were partners.
They were then invited to perform at a nightclub in Bremen, which led to a number of nightclub performances that gradually built their reputation, which then led in turn to their big moment: a gig in Paris that prompted an invitation to come to Las Vegas.
They opened in 1990 at the Mirage Resort, and Siegfried's skill in magic and Roy's love of animals created a unique dynamic and unforgettable show. Sadly, their run ended on October 3, 2003; Roy suffered a near fatal neck injury when a white tiger named Montecore dragged him offstage. The accident forced the duo to end their act, and they retreated from the public eye to give Roy time, though he would never fully recover.
Even though their run was cut short, theirs was regarded as the most-visited show in Las Vegas. Even now, their legacy lives on at the Mirage, which features an exhibition called Siegried & Roy's Secret Garden and Dolphin Habitat. It's described on Mirage's website as an "enchanting world of Bottlenose Dolphins, White Tigers, White Lions and Leopards, right in our backyard" and continues to captivate visitors today.
#5. David Copperfield
Genre: Magic
Venue: MGM Grand Las Vegas
Address: 3799 S Las Vegas Blvd, Las Vegas, NV 89109, USA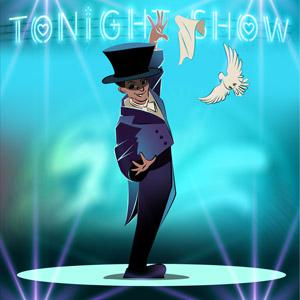 Here's a fun fact: the record for most tickets sold by a solo performer in history isn't held by a figure you might expect. No, it's not Madonna, or even Michael Jackson or Elvis Presley. That impressive achievement belongs to a certain David Seth Kotkin, otherwise known by his stage name: David Copperfield.
Copperfield has sold 33 million tickets and grossed over $4 billion, and he's a force that shows zero signs of slowing down. It's no surprise then that Forbes magazine has named him the most commercially successful magician in history (he also currently holds eleven Guinness World Records).
He started practicing magic when he was ten and at the age of twelve set his first record: the youngest person to be accepted into the Society of American Magicians. Copperfield later left college to star in the musical The Magic Man, at which point he adopted his stage name from the novel by Charles Dickens. From there, he moved from act to act until he hit a streak of success on TV.
His signature style combines storytelling and illusion in a way that never fails to captivate his audience. Copperfield's most memorable feats include making the Statue of Liberty disappear and reappear, traveling through the Great Wall of China by walking directly through the wall and exiting from the other side, and surviving a drop from Niagara Falls while tied up in a raft.
Unlike some acts that are content to keep things simple, Copperfield doesn't seem inclined to phone it in. He's constantly experimenting and adding new elements of magic into his performances, showing that he's as much an innovator as an illusionist.
#4. Absinthe
Genre: Circus Cabaret
Venue: Caesars Palace Las Vegas Hotel and Casino
Address: 3570 S Las Vegas Blvd, Las Vegas, NV 89109, USA
It was difficult to determine just how high on the list Absinthe should be ranked. This special contemporary circus-meets-cabaret show premiered in 2006 and opened in Vegas on April 1, 2011 at Caesars Palace.
On one hand, unlike many of the longer running shows included here, it's a relatively young production that hasn't necessarily "earned" its place in the ranks of legendary Vegas classics. On the other, despite its relative newness, the show has earned rave reviews from audiences and critics alike.
At the start, the show didn't go quite as smoothly as anticipated. Absinthe's debut in Vegas was planned for the Fontainebleau Resort Las Vegas, which was unexpectedly closed. Caesars Palace offered up a temporary solution: to set up a tent at the Roman Plaza. After a Las Vegas Fire & Rescue inspection, organizers were given ninety days to close the production down – but the breadth of their success led the president of Caesars Palace to include the show as a permanent fixture. They replaced the tent with another to meet fire code standards and the show has been running ever since.
Why go? Though it's not for the easily offended or faint of heart, Absinthe was deemed the #1 Greatest Show in Las Vegas History by Las Vegas Weekly, and it has been described as a "fabulously risqué world," an "intoxicating, raunchy" delight, and a "wickedly wondrous acro-cabaret variety show." The show is hosted by the sleazy, licentious Gazillionaire and his obscene assistant, Penny Pibbets. Together they direct a ninety-minute, X-rated spectacle unlike any other that Vegas has ever seen.
#3. Jubilee!
Genre: Showgirl
Venue: Bally's Las Vegas Hotel and Casino
Address: 3645 S Las Vegas Blvd, Las Vegas, NV 89109, USA
Jubilee made its grand debut on the Las Vegas Strip on July 31, 1981 (at an initial cost of 10 million dollars!) and went on to be one of the most essential fixtures in Vegas entertainment. Though it ended its thirty-five year streak on February 11, 2016, it still holds the title of the longest running show in Vegas history (as well as one of the last authentic showgirl productions in the world).
Even now, it's cited as the one show that most epitomizes what the city is all about. A celebration of beauty, flair, and talent, Jubilee was replete with showgirls performing outrageously over-the-top numbers, sometimes topless, clad in feather boas, or in dazzling sequined costumes.
The original cast consisted of over one hundred showgirls (and boys) sashaying and flouncing and prancing across staggering sets. Not limited simply to sensory overload, the show was an icon of old Vegas with a touch of history along with it. It featured the sinking of the Titanic (created by simultaneous movement of both stage and ship), and even a reinvention of the biblical story of Samson and Delilah made an appearance (involving a three-ton bull).
In short, Jubilee embodies Vegas at its best. Its success and significance didn't end there: today, Bally's Las Vegas Hotel & Casino hosts what it calls a "reimagining of Donn Arden's classic Las Vegas revue… that has been lovingly refreshed by Frank Gatson Jr., who happens to be none other than the creative director for Beyoncé." It's a new take that offers visitors a chance to revisit this timeless classic.
#2. Elvis Presley
Genre: Music
Venue: Westgate Las Vegas Resort & Casino, formerly known as International Hotel
Address: 3000 Paradise Rd, Las Vegas, NV 89109, USA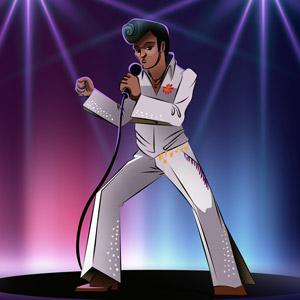 The runner-up spot on this list should come as no surprise – none other than Elvis Presley: singer, songwriter, musician, actor, and the one and only King of Rock and Roll. Elvis had a solid seven-year run from July 1969 through December 1976, a period in Elvis history referred to as the Vegas Years.
Although the real number is disputed (officially and more commonly believed to be 837 shows but more recently reported to be 636), there's no doubt that Elvis' seven-year stint at Vegas was impressive. A little-known fact is that he actually first performed at Vegas as a twenty-year-old in 1956, where he was originally met with lukewarm reception. His popularity among teenagers was rising, but his performance wasn't enough to impress a middle-aged audience that didn't quite understand what he was all about. He stopped performing there after two weeks.
It wasn't until years later that due to his talent and charisma, his fame skyrocketed. Terry Blackwood, a backup singer for Elvis, said of his time at Vegas, "He was the show in town – the one everyone wanted to go to because he was just really hot and was coming back with new music. Everyone wanted to see Elvis."
Though he still had scheduled performances, they were tragically cut short due to a heart attack in August 1977 at his Graceland mansion in Tennessee. Though the chances of seeing him in concert are long gone, you don't need to look far for a glimpse of the icon today: from tribute shows like Legends in Concert to Elvis impersonator wedding officiants, his enduring impact can be seen and felt all around you.
#1. Liberace
Genre: Music
Venue: Riviera Hotel and Casino, now closed; Westgate Las Vegas Resort & Casino, formerly known as Las Vegas Hilton
Address: 2901 S Las Vegas Blvd, Las Vegas, NV 89109, USA; 3000 Paradise Rd, Las Vegas, NV 89109, USA
While the young Elvis was dealing with his previously mentioned Vegas debut flop, receiving reviews like: "… For the average Vegas spender or showgoer, [he is] a bore. His musical sound with a combo of three is uncouth," Liberace was already off and running.
Liberace started playing piano at the age of four, at the age of seven, he was memorizing complicated pieces, and at eight, he met famous Polish pianist Ignacy Paderewski backstage at a concert, later saying, "I was intoxicated by the joy I got from the great virtuoso's playing. My dreams were filled with fantasies of following his footsteps."
In 1934, he started playing with a school group, then went on to public performances at cabarets and clubs.
He got started in Vegas in 1944 and almost immediately began playing at the most established clubs. The Chicago Times said that Liberace "made like Chopin one minute and then turned on a Chico Marx bit the next."
At the pinnacle of his success, his piano skills, extravagant costumes and jewelry, over-the-top personality, and his ability to entertain and connect with the audience turned him into the highest-paid entertainer in the world from the 1950s to the 1970s. With nicknames like "The Glitter Man" and "Mr. Showmanship, he was the king of excess, making comments like, "Why don't I just step out and slip into something more spectacular?" and "I didn't get dressed like this to go unnoticed."
After hearing about a negative review, he retorted, "What you said hurt me very much. I cried all the way to the bank." Of his own performances, he famously declared "I don't give concerts, I put on a show."
Even after his passing in 1987, Liberace remained a star of legendary showmanship and a master of the stage, an entertainment standard that Vegas performers continue draw inspiration from and strive to meet to this day.
Time to Lower the Curtain
Many of these legendary stage shows have seen their final curtain but remain in the history books for their fantastic fanfare. But we believe that Elvis never died. After his long run on the Vegas stage, he simply left the building, got into his royal rocket ship, and took off to Planet 7, the best online casino in the galaxy. The Vegas stages are where top acts entertain the masses, and Planet 7 is where class acts go to play for real money online (Elvis jumpsuit optional).