"Find what you love and let it kill you." – Charles Bukowski
Las Vegas is known for its extremes. Is that a giant steel and glass pyramid in the desert that shoots a beam of light into space? Vegas has it. Why are the Statue of Liberty and the Eiffel Tower looming large over canals with Venetian gondoliers plying the waters? Only in Las Vegas. But wait till you get a taste of Vegas victuals. From 15" pizza slices to 24-layer chocolate cake, you are in for some extreme Las Vegas food challenges.
Do you like an eating challenge? Vegas offers the serious foodie ample opportunity to tackle the largest burgers and the spiciest curries. Feel like taking a walk on the wild side of food? Vegas is always pushing the food envelope to the extreme. Anything you can imagine eating (or not eating) you can eat in Vegas. Read on for the wildest food challenges in Las Vegas. And don't forget the Tums.
Food Challenges in Las Vegas
If you like food challenges, there is no better place to strap on the feed bag than Las Vegas. There are dozens of eateries cooking up massive food challenges to test the bravest bellies out there. From 9-pound pizzas to flaming hot curries, your tongue and belly will take a beating. There are so many different types of food challenges in Vegas that you can pick your favorite type of food—and you can chow down to win free food, cash, and prizes.
But we're interested in the most extreme challenges; the kind that risk your health and sanity. Devouring huge amounts of pizza or curry is much more interesting to us than eating a giant bowl of soup. Phở-geddaboudit. Read on for some serious food challenges in Las Vegas.
Heart Attack Grill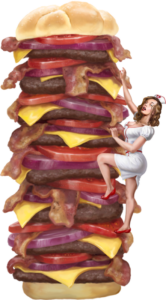 The name says it all. The Heart Attack Grill is so unabashedly decadent that they offer up to 8 whopping burger patties in one burger: the Octuple Bypass Burger. Naturally there's the Double, Triple, and Quadruple Bypass burgers—and more. Each burger is fried in butter and stacked on hamburger buns slathered in lard. Between each greasy patty are layers of cheese and bacon. The Octuple Bypass Burger holds the Guinness record for the burger with the highest calories in the world: nearly 10,000 calories!
Get ready for the zany hospital theme at H.A.G. Waitresses are dressed as nurses, orders are 'prescriptions', and red wine comes in a handy IV drip bag. If you want to eat for free, just let the nurses dress you in a hospital gown, herd you over to a cattle scale, and weigh you in front of a cheering and jeering crowd. If you tip the scales at over 350 lbs., you eat for FREE. Who says morbid obesity has no benefits?
The Heart Attack Grill Challenge
If you can finish the Quadruple Bypass Burger, it's free. Plus, you get a wheelchair ride out of the premises, pushed by a friendly 'nurse.' If you can't finish your whopping grease bomb, the 'nurse' will spank your buns with a paddle in public. Some people might call this challenge a win-win.
Find the Heart Attack Grill in Downtown Vegas on Fremont Street.
Cereal Killerz
Are you cuckoo for Cocoa Puffs? Always after the Lucky Charms? Well, dig in, Tony the Tiger, because Cereal Killerz Kitchen offers a serious cereal challenge. The self-proclaimed 'number 1 cereal bar in the world' pours endless bowls of hundreds of types of breakfast cereals.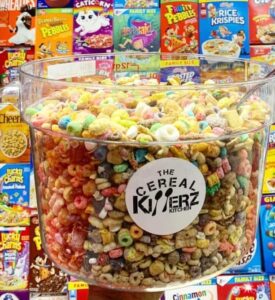 Remember when you were a kid and ordered a 'suicide' soda from the local roller rink? That's when the soda jerk mixed ALL of the sodas on tap in one giant cup. Blecch! But your friends thought you were cool. They didn't know the word 'masochist.' Well, Cereal Killerz encourages mixing and mismatching as well. Mix Cheerios and Churros cereals with Fruity Pebbles and Frosted Flakes. Nobody will judge you. They might even think you're cool.
Cereal Killerz also pour killer milkshakes stuffed with cereal, Pop Tarts, churros, cookies, brownies and more. Just to shake things up.
The Cereal Killerz Challenge
Got milk? You'll get a gallon of it at Cereal Killerz, along with a giant bowl of 135 types of cereal all mixed together. You have 60 minutes to kill the cereal, but you don't have to finish the gallon of milk. You'll win $50 gift card, a free T-shirt, and a spot on the Cereal Killerz Wall of Fame.
You'll find Cereal Killerz in the Miracle Mile Shops in Planet Hollywood.
Some Like It Hot
Can you handle the heat? Do you eat sriracha with your sriracha? Then head over to Mint Indian Bistro (no, the mint ain't the hot part). Mint has two locations in Las Vegas: 730 E Flamingo Road, and 4246 S Durango Drive. Mint's two locations hold a spicy annual event known as the Inferno Curry Challenge. During the entire month of October each year, you can participate in this uberhot challenge, just when Las Vegas is starting to cool off.
The Inferno Curry Challenge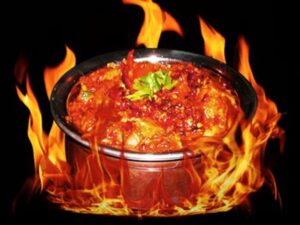 If you know all things spicy, you'll know about Scoville Heat Units. Basically, the number of SHU in the measurement is a ratio of 1 part chili pepper to thousands of parts of water. The number is the amount of dilution needed to render the chili undetectable. The humble jalapeño clocks 4,000 – 8,500 SHU.
Then there's the Ghost Chili, known as the hottest chili pepper in the world. Rated at over 1 million SHU, this unfriendly ghost will haunt your tongue for days. That is, until the Carolina Reaper came along and stole the prize. The Carolina Reaper chili sears the Scoville scale at over 1.5 million SHU! Eating this chili means you do not value your taste buds.
If you can finish the entire bowl of Inferno Curry, the meal is free, you get a $50 gift certificate for dining at mint, and a place on their wall of fame. But if you lose, you pay the price of the meal (between $20-$30 depending on meat/veggies chosen). And the next day, you really pay. Better keep a tp roll in the freezer beforehand. You'll need it.
This challenge is so freaking hot, you have to sign a waiver before you participate. Apparently, they don't want customers crying to the authorities when they burn their tongues out of their mouths.
A Slice of Vegas
My name is Pizzaiolo, and I want pizza for my pie hole! Pizza pizza pizza!
Do you think you can eat a lot of pizza? We're talking about serious mounds of meat and mozzarella, and tons of toppings. Then head over to A Slice of Vegas, located inside the shops at Mandalay Place. Specializing in Brooklyn style pizza, grab a slice to go or order a whole pie to share with friends and family.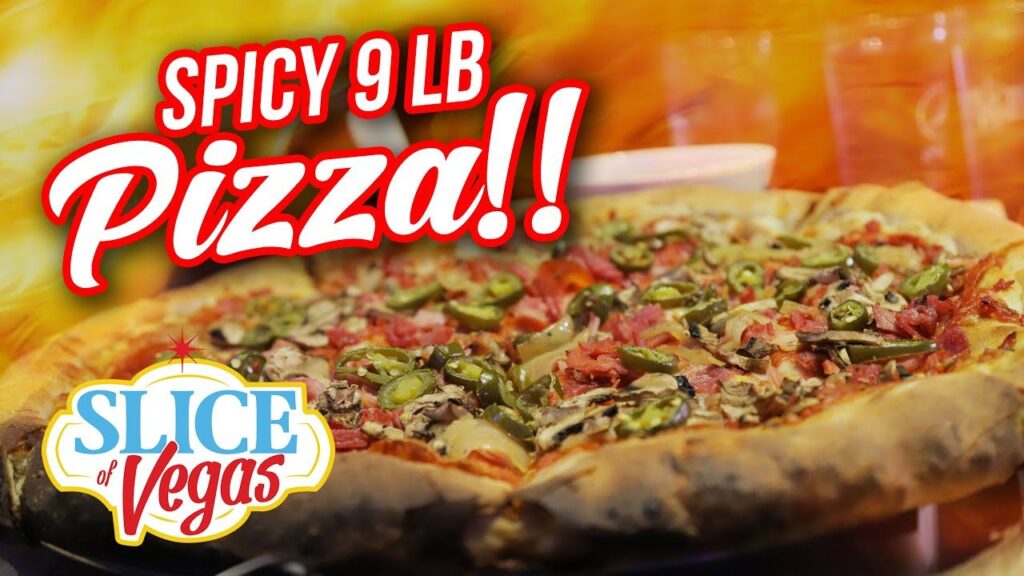 The Double Down Pizza Challenge
This is probably the hardest food challenge in Las Vegas, if not the world. A Slice of Vegas whips ups a whopper of a pie called The Double Down. It's like eating two large pizzas stacked on top of each other— mined with jalapeños. This 18-inch precarious pizza pie tips the scales at 9 pounds!
So far, only a handful of people have finished the Double Down challenge. And most of them were competitive eaters. You must take down the entire pizza in 60 minutes or less, including the crust. And this is not the wafer-thin European crust, no sir, no ma'am. This is the American style crust, a thick, heavy material best wielded in hand-to-hand combat. The pizza is piled with mountains of meats, mounds of mozzarella, and jammed with jalapeños. If the toppings don't kill you, the crust will.
According to the owner, eating this pizza is like wading through quicksand. If you win, you get the $70 pizza for free, get your picture on the wall of fame, a $100 gift certificate, and a T-shirt.
Burp!
If you managed to finish any of the extreme Las Vegas food challenges mentioned above, you are super-human. If you're thinking about stuffing your belly to near bursting, Vegas is the place to do it. But fear not! There are many more extreme food challenges to take on in Las Vegas. In fact, someone is probably preparing a foot-long burrito in Vegas as you read this.
Be sure to read the official rules of each of the food challenges above. You would hate to finish a 9-pound pizza only to find out you lost because you left a piece of crust behind. Also, to win the contests, you must keep all that food down. That means no rushing to the bathroom during the contest.
Remember: what happens in Vegas…stays in your belly.