8 Super Fun Mardi Gras Games to Spice Up Your Carnival
It's the end of February, which means there's one holiday on everyone's mind: Mardi Gras! That's right, it's Carnival time, from New Orleans, to Rio de Janeiro, the Port of Spain to Quebec City, it's the season to play, pray, feast and fast. This colorful, joyous, giant party is just around the corner, which means tons of good food, great music, and fun games to celebrate. We decided to hash out some traditional Mardi Gras party festivities and pair them with their Planet 7 slots counterparts to make sure your Fat Tuesday and the wild week that follows, playing in the safety of your own home or out on the crazy streets, is as rewarding as it should be.
Masquerade Murder Mystery
In this activity that brings the beloved board game Clue to life, guests play a mixed group of characters that have all been invited to a Mardi Gras party where a grisly murder takes place. Everyone then must work together to find out who did it.
Guests can be assigned characters by the host or draw their character name from a hat or a bowl, but it's fun to let everyone come up with his or her own backstory. This game isn't fun unless your guests get really into it, so you can try to encourage them with awards for best actor/actress, best character backstory, or best detective. Make sure the prizes are fun and worth winning too, like bottles of booze or money.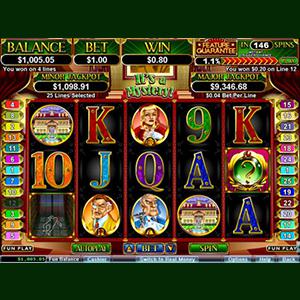 If you're more into the mystery and less into the mask, try the It's a Mystery! slot game. Like the masquerade murder, you're on the hunt for a cold-blooded killer, but in this game you are probably going to earn some cold, hard, cash in the process. The slot features a number of interesting characters, and the Autoplay function and great jackpots. Solving a murder has never been so easy or paid so well!
King Cake
This isn't so much a "game" as it is a holiday tradition, but there's technically a winner (or loser, whichever way you look at it) and it can be considered a game of chance. Traditional king cake is a ring of braided dough with cinnamon and topped with green, yellow, and purple icing or frosting – the colors of Mardi Gras. After the cake is baked and before it's frosted, a small, typically plastic baby, is stuck somewhere inside, hidden from view.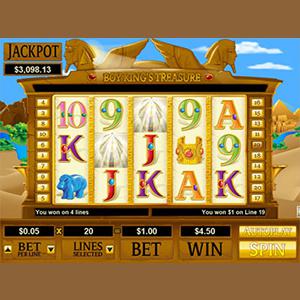 The person who takes the slice containing the plastic baby is declared the King of Mardi Gras (winner!) and has to buy or make the next king cake (loser?), or host the next Mardi Gras party.
If you're all about being known as the King but don't want to sacrifice money or your waistline for a slice of cake, try the Boy King's Treasure slot games. In this game, you're the head honcho – combine golden bracelets, jewel encrusted snakes, or King Tut himself to win treasure beyond your wildest dreams. If you activate the free game feature, you'll win 15 free slot games – a prize worthy of a true king!
Gold Treasure Hunt
This Mardi Gras party game is kind of like an Easter egg hunt, except people are trying to find chocolate coins wrapped in gold foil, beads, and other festive goodies instead of plastic eggs. The coins are hidden all around an area and people are either broken up into teams to search for the prizes, or it's an every-man-for-himself type of event. And while people are going home with delicious prizes anyway, you could offer a large prize for the guest who collects the most treasure.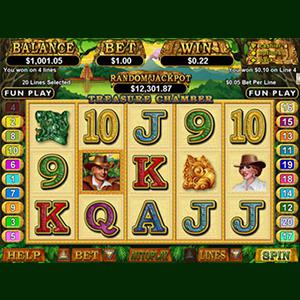 If you're still craving fun and looking for the thrill of treasure hunting once you're home after the hunt is over, Treasure Chamber is the ideal slots game for you. When you collect all three roses you activate the super cool Treasure Feature, which gives you a fantastic 20 free games and better yet, your prizes are tripled! With a possibility of 40,000x your original bet, Treasure Chamber is an exciting adventure.
Bead Toss
It isn't Mardi Gras without those colorful strands of beads, and you can't play this game without them either. There are two versions of this game. The first requires players to toss beads from a certain distance into a specific hat. A third party counts the number of beads successfully tossed into the hats, and the person with the most wins.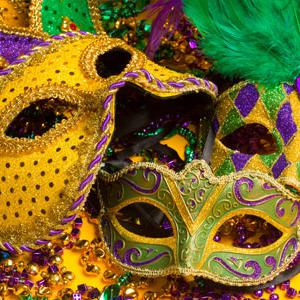 The second version of the game involves splitting party guests into pairs. The pairs stand across from one another from a certain distance, with one person holding a good number of beads and the other empty-handed. The player holding the beads attempts to throw individual strands of beads around the other person's neck. Players can move around in an attempt to "catch" the beads their partners toss, but cannot use their hands, using their heads instead.
When the game is over, use your head, test your mad ball skills, and grab the bull by the horns all with the Basketbull slots game. This basketball-playing bull can award you from 10x to 10,000x of your line bet while offering different jackpots, Free Throws, and a win-win feature. Ballin'.
So, when Fat Tuesday rolls around, have a drink and a slice of king cake on us. Play some party games, win some money, and you'll be the King of Mardi Gras whether you got the baby or not.