The fourth of July is right around the corner and what better way to celebrate Independence Day than playing an American-themed slot game? Sevens and Stripes is the perfect 3-reel, 1-payline slot game to throw it back to the good 'ol days of the thirteen colonies and Founding Fathers. Put a feather in your cap, toss a burger on the grill, and click spin. You never know what might be waiting for you on the other side, whether it's a massive progressive jackpot or the birth of a nation!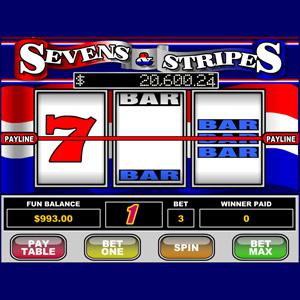 With three reels, this slot machine has one payline, which, if you forgot where you are and what you're doing, is the big red line across the center of the machine labeled "payline". This slot game is a salute to the classic 3-reels with its old-fashioned betting system. Just like the dandy old days, you bet in coins – except this slot has a modern twist. You can choose how much coins are worth, picking either $0.05, $0.25, $0.50, $1.00 or $5.00. You can also bet anywhere from one to three coins per spin. To bet one coin, click "Bet One", and to bet two coins click the button again. When you're ready to pull the trigger, click spin and watch your fortune go round and round the reels. If you're feeling lucky, you can choose to bet the max of three coins. If that's the case, cut out the unnecessary steps and go straight for the "Bet Max" button. Once you click it, the reels will automatically start spinning.
The more coins per spin that you bet, the higher payout you will receive. It may seem like you spend more money per losing spin if you always bet three coins, but the payouts more than make up for it. If you want to know the exact payout you're entitled to, click on the bottom right button labeled "Pay Table". It specifies all the combinations of 7s and Bars you can get to win money, and exactly how much you will win based on how many coins you bet.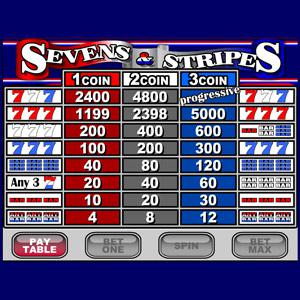 The smartest strategy when it comes to this game is to always bet max. Depending on how many coins you place per bet, the payouts go up almost double for every coin you add. If you get a combination of three 7s and you bet only one coin, you're entitled to 1,199 coins, if you bet two you'll get 2,398, and if you bet three then you'll gain a whopping 5,000 coins in payouts! So, betting more per coin won't necessarily help your odds of winning, but it will reflect in your payout ratio. If you don't have buckets of dollars hanging around, a solid strategy to follow is to make smaller bets and bet a larger number of coins. After all, if there's any way to celebrate the American spirit, it's by starting small and working your way up.
Sevens and Stripes really captures the American entrepreneurial essence with its progressive jackpot. If you bet three coins and get the winning combination of a red seven, white seven, and blue seven (in that order), you win the progressive jackpot! For those of you who are a little newer to the world of slots, the progressive jackpot is a great deal and an awesome chance to win it big. Progressive slots are often grouped together in clusters, and every time someone makes a bet but doesn't win the jackpot, a small portion of that bet is sent to a joint account containing the ultimate prize money. The best part about progressives? There's no cap! The amount in the jackpot will keep going up and up until someone eventually wins, which means there's no limit to the amount you can win with the Sevens and Stripes slot game.
If you're ready to play some serious slots on the proudest day for the United States, head on over to Planet 7 Casino and start spinning today!