For many of us mere mortals living down here on earth, the richest 1% of the world's population, who together hold $9.1 trillion combined, or 50.1% of the total wealth in the world as we know it, truly live on another planet.
According to the Forbes list of 2018 billionaires, Amazon founder and Washington Post owner Jeff Bezos is the world's richest man, topping the list of 2,208 billionaires with a cool $112 billion in total assets.
That not only makes him astronomically wealthy; pharaohs, emperors and kings must step aside, as it also makes him the richest man in the history of the world – ever. Keep that in mind the next time you order something off of Amazon, it puts things in the strangest of perspectives…
Entrepreneurs like Microsoft's Bill gates ($90 billion) and Facebook's Mark Zuckerberg ($71 billion), investors like Berkshire Hathaway's Warren Buffet ($84 billion) sit in the pantheon of the world's most magnificently wealthy together with telecoms giants the likes of Mexico's Carlos Slim Helu ($67.1 billion), media moguls like Michael Bloomberg ($50 billion), captains of industry like the Koch brothers (who's combined wealth is $120 billion), Google founders Larry Page ($48.8 billion) and Sergey Brin ($47.5 billion), retail giants the likes of Jim Walton of Walmart fame (($46.4 billion), and old family money cosmetics magnets like Francoise Bettencourt Meyers of L'Oréal ($42.2 billion) dominate the top of the list with double-digit billions.
As markets continue to expand, if the growth of their wealth keeps pace with recent trends, experts forecast we will see the world's first trillionaire in the next 20-25 years. That means one person will hold more wealth than the annual GDP of 187 different countries.
When it comes to taking your wealth into the stratosphere off wagering on wagering, you'll have to scroll down to number 21 on the Forbes list to find the first casino industry billionaire, Sheldon Adelson, CEO and chairman of the Las Vegas Sands, with a sweet $39.9 billion in his pocket.
In this article we'll take a closer look at all the casino industry billionaires who made the Forbes billionaires list in 2018 and delve into how they got so filthy rich.
1. Sheldon Adelson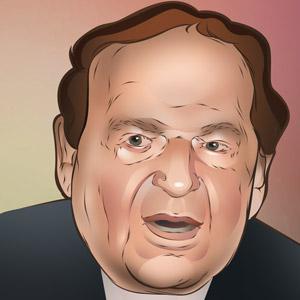 Forbes billionaire rank: no. 21
Net worth:$39.9 billion
Position: CEO and Chairman of Las Vegas Sands Corp.
Base: Las Vegas
After having grown up in a Boston tenement in the 1930s, with a mother who ran a knitting shop and a father who was a taxi driver, Sheldon Adelson would launch his business career at the tender age of 12 after borrowing money to buy a newspaper vendor's license. By the age of 16, he had moved into the vending machine business before being trained as a court reporter and joining the army.
He would go on to launch over 50 of his own businesses in his lifetime, purchasing the Las Vegas Sands Hotel and Casino in 1988, the notorious Rat Pack hangout for the likes of Sammy Davis Jr, Dean Martin and Frank Sinatra. A year later, Adelson would build the first privately owned convention center in the United States, the Sands Expo and Convention Center.
By 1991, inspired the bye success of Steve Wynn's opulent Bellagio, he had decided casino mega resorts were the future and began construction of the $1.5 billion The Venetian casino-resort complex on the Las Vegas Strip.
The complex opened in 1999 and by 2003 could boast 4,049 suites, a Venice style series of canals with shopping centers and some 18 restaurants among other attractions.
Intent on expansion and with Pennsylvania offering five casino licenses in the late 2000s, Adelson opened the Bethlehem Casino on the site of the old Bethlehem Steel Corporation, once the second largest steel producer in the US, which had been forced to close its doors for good in 2003.
To continue growing his empire, Adelson next looked to the Macau self-administrative zone in China, opening the first Las Vegas style casino, the Sands Macau, in the former Portuguese enclave in 2004. Within a year, Adelson has recouped his initial $265 million investment. By August 2007 he had opened $2.4 billion Venetian Macau Resort Hotel on the luxurious Coati strip, before moving to Marina Bay, Singapore and constructing the $5.5 billion Marina Bay Sands.
Active in politics for many years, Adelson, who had long been friends with fellow casino-resort developer Donald Trump, backed the Trump campaign with the largest single campaign donation in US history, shelling out $5 million to help Trump take the White House.
Today, as he continues to seek new venues for his mega-casino resort projects in emerging markets like Brazil, it is said that Adelson earns somewhere in the ball park of $32 million a day from his global casino-resort empire               
Adelson is also famous for waging a personal war on online gambling, and his crusade has a name: Coalition to Stop Internet Gambling (CSIG). Apparently, Mr. Adelson wants to keep all the real money from gambling in the brick-and-mortar casinos – which are under his control. But as the rich and powerful eventually learn, they can't own the whole world. And definitely not the internet.
2. Lui Che Woo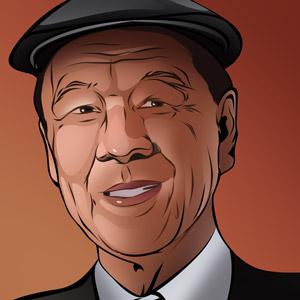 Forbes billionaire rank: no. 50
Net worth: $20.1 billion
Position: Chairman of Galaxy Entertainment Group and K. Wah Group
Base: Hong Kong
89-year old Lui, originally from Jiangmen, China, first entered the business world as a teenager by selling peanuts during the Japanese occupation of Hong Kong in World War II. The lead breadwinner for his family from the age of 13, after he became a successful businessman Lui would go on to donate millions to education in China, Hong Kong and the US after being denied formal education as a child.
With the launch of his real estate development firm K. Wah Construction Materials in Hong Kong in the 1950s, Lui moved into hotel development and expanded to mainland China.
Eager to keep growing, in 2002 Lui looked to Macau and the five casino licenses up for grabs in the former Portuguese protectorate. K. Wah spun off an arm to be called Galaxy Entertainment Group, which in a moved described by industry observers as a "snake eating an elephant" devoured a 97.5% stake in Galaxy Casino SA to become the only firm listed on the Hong Kong stock exchange to pick up a license to operate casinos in Macau. The move would send the companies share price soaring.
The original idea had been for Galaxy Entertainment and Adelson's The Venetian Macau to hold the license jointly, but business acrimony and a string of allegations of impropriety led to a brutal fallout that one online media outlet described at the time as a "casino world war".
Lui's Galaxy Entertainment would open the $2 billion Galaxy Macau in 2011, while proceeding to launch the Broadway Casino on the Cotai Strip, the Rio Casino, President Casino, StarWorld Macau and Waldo Casinos on the Macau Peninsula.
Success in Macau propelled Lui into the billionaire's club with his companies now employing over 33,000 people in China, Hong Kong, Macau, South-East Asia and North America, consisting of more than 200 subsidiaries.
An avid philanthropist, he launched the Lui Che Woo prize in 2015, a $7.7 million award going to three people who contribute the most to world civilization, among countless other philanthropic activities.
3. Pansy Ho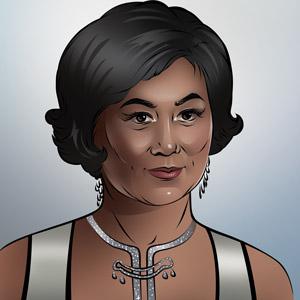 Forbes billionaire ranking: no. 365
Net worth: $5.4 billion
Position: Chairwoman Shun Tak Holdings
Base: Hong Kong
Daughter of the fabled Macau casino giant Stanley Ho, founder and chair of SJM Holdings and often referred to as the King of Gambling or the Godfather, Pansy was the oldest of five children and attended high school in Palo Alto, California before graduating with degrees in business and marketing from Santa Clara University. Pansy returned to Hong Kong and spent time in the entertainment industry, even appearing in a TV series with Jackie Chan, before launching her own public relations firm at age 26.
Pansy, who currently owns 29% of the MGM Macau and sits on the board of ferry and hotel operator Shun Tak Holdings, pulled down more than $1.5 billion when MGM China was taken public in an IPO on the Hong Kong stock exchange in 2011.
However, Pansy has not been controversy free. In 2010 she was banned from holding a casino license in the US state of New Jersey after the state's gambling commission determined her father had extensive ties to organized crime. The MGM Mirage in New Jersey was ordered to disassociate itself with her and "disengage itself from any business association".
4. Lim Kok Thay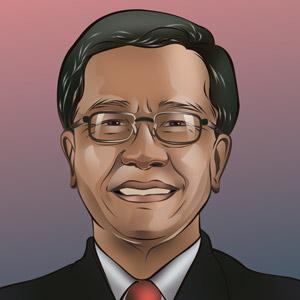 Forbes billionaire ranking: no. 441
Net worth: $4.7 billion
Position: Chairman of Genting Group
Base: Malaysia
After picking up a bachelor's degree in engineering at the University of London and a stint at the Harvard Business School, Lim landed a position as director at Genting Group in 1976, a conglomerate of five different publicly listed companies on Bursa Malaysia, the Singapore Exchange and the Hong Kong Stock Exchange.
The Genting Group companies are active in leisure and hospitality, property development, palm oil, biotechnology, power generation and oil and gas.  Lim co-founded the Hong Kong branch of the company, named Genting Hong Kong Limited, previously known as Star Cruises Limited, the third largest cruise ship operator in the world with some 18 ships.
Lim has steered the Genting Group to develop the casino based "Resorts World" brand, which launched casino resort and shopping complexes in the Bahamas, the United States, the UK, Malaysia, South Korea, the Philippines and Singapore.
Lim assisted the Mashantucket Pequots native American Indian tribe in establishing their first tribal casino, the Foxwoods Resorts Casino, in Connecticut, much to the chagrin of Donald Trump, who viewed Foxwoods as direct competition to his casino properties in Atlantic City.
In 2017 he launched the $1.2 billion Resorts World Catskills, now the largest casino in New York, with 1.6 million square feet of floor space, 150 gaming tables, 2,150 slot machines, 5,222 video lottery terminals and soon to boast a "monster" golf course and full-sized water park on top of its hotel, retail and casino offerings.
5. James Packer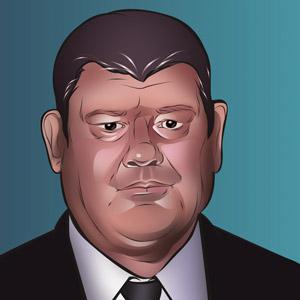 Forbes billionaire ranking: no. 527
Net worth: $4.1 billion
Position: Former CEO of Crown Resorts
Base: Australia
Australian born son of a media mogul father and philanthropist mother, James skipped university to begin work as a jackeroo (Australia's equivalent of a trainee cowboy) at his father's Newcastle Waters cattle station.
In time James would work his way up through his father's business empire to become executive chairman of Publishing and Broadcasting Limited, Consolidated Media Holdings and the casino resorts brand Crown Resorts.
Holding an extensive stock portfolio thanks to his father, in 2006 James looked to sell Australia's Channel Nine together with the Australian Consolidated Press magazine group to focus on the casino gambling business. Eventually selling off 50% of his holdings for $4.5 billion, James focused almost exclusively on the family's Crown Resorts business in Australia, Macau and London.
After a series of dramatic ups and downs in his casino business empire, in March 2018, James resigned as executive chairman of Crown Resorts, citing personal health issues. He remains the 527th richest man in the world.
6. Angela Leong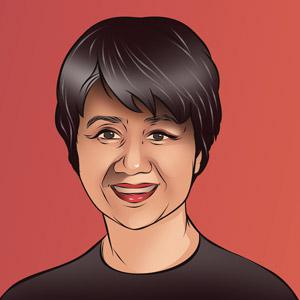 Forbes billionaire ranking: no. 606
Net worth: $3.7 billion
Position: Managing director of SJM Holdings
Base: Macau
A former dance teacher, Angela met billionaire Stanley Ho, 40-years her senior, at dance class and married into serious money. She became director of the casino company Sociedade de Jogos de Macau, owned by Stanley Ho, vice-chairman of the Macau Jockey Club and a member of the Legislative Council of Macau.
Today she is managing director of SJM Holdings and operates 19 casinos and holds an extensive portfolio of Hong Kong real estate, in which she began to invest in her early 20s and that comprises a substantial part of her wealth.
7. Steve Wynn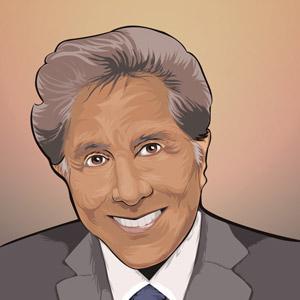 Forbes billionaire ranking: no. 679
Net worth: $3.4 billion
Position: Former CEO of Wynn Resorts
Base: Las Vegas
Long hailed as the visionary of Las Vegas, Steve Wynn was born in Connecticut to a father who ran a chain of bingo parlors and raised in Utica, New York. He went on to pick up a degree in English literature from the University of Pennsylvania before moving his family to Las Vegas in 1967. Initially using funds from his father's business, which he inherited and ran successfully after his father's death in 1963, to pick up a small stake in the Frontier Hotel and Casino.
After befriending E. Parry Thomas, president of the Bank of Las Vegas, Wynn was able to convince the eccentric millionaire Howard Hughes and Caesars Palace to join with him to take a controlling interest in the Golden Nugget Las Vegas, one of the oldest, most historic casinos in the city. Picking up Frank Sinatra as the headliner at the newly renovated Golden Nugget was a great success, leading Wynn to open the Golden Nugget Atlantic City in 1980, only to sell it in 1987 for $440 million.
Returning his focus to Las Vegas, Wynn then opened The Mirage in 1989 using financing from the junk bond king (and later convicted felon) Michael Milken, in a move that inspired a $12 billion building boom on the Las Vegas Strip. Having turned the high-risk venture into an amazing success, Wynn then launched the Treasure Island Hotel and Casino in The Mirage's old parking lot in 1993.
Understanding the need for opulence, extravagance and showmanship, and building upon his vision of Las Vegas as a multifunctional holiday resort destination instead of a seedy mob run gambling den, Wynn opened the $1.6 billion Bellagio resort, with show fountains and a man-made lake, only to be followed by the even more decadent $2.7 billion Wynn Las Vegas.
Wynn's fortunes, on the ascent for nearly four decades, began to decline at the end of 2017, when a series of newspaper reports linked him to serious allegations of sexual misconduct as CEO of Wynn Resorts, forcing his resignation from both Wynn Resorts and as finance chairman of the Republican National Committee, a position in which he had been hand-picked by President Donald Trump, a long-time friend and confidant, after being vice-chairman of Trump's inauguration committee.
8. Chen Lip Keong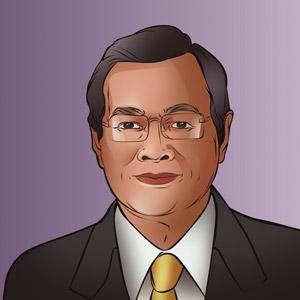 Forbes billionaire ranking: no. 703
Net worth: $3.3 billion
Position: Founder, CEO and executive director of NagaWorld
Base: Malaysia
From a family of Chinese immigrants, Chen earned a medical degree from the University of Malaysia and worked as a general practitioner for a while before deciding to try his hand at property development.
In the mid-1980s, the Malaysian government launched a policy known as "prosper thy neighbor" and began to actively encourage the country's Chinese immigrant population to seek out business opportunities in neighboring countries.
In the early 1990s, after having amassed a small fortune in property development, Chen looked to Cambodia, still in the early stages of recovery after the murderous and genocidal rule of the Khmer Rouge had killed off more than two million of the country's eight million inhabitants. After UN-supervised elections were held in 1993, the new government decided to put a casino license on the table and Chen, who viewed hospitality as a growth business, decided to take the leap and won the bid.
Often referred to as the "accidental" gambling billionaire, as he explained that casinos were not as much his business of choice as an opportunity that presented itself when he was in the right place at the right time. Chen picked up Cambodia's first casino license in 1994 to build the NagaWorld casino resort in Phnom Penh.
Taking full advantage of Cambodia's cheap labor costs, Chen pumped in $1.5 billion to build the massive casino resort complex, which offers 1,700 guest rooms, more than 5,000 gaming machines and 600 gaming tables.
Chen was able to substantially contribute to Cambodia's economic turnaround, with the NagaWorld casino resort drawing in hordes of tourists from across South East Asia. With tourism contributing an estimated 12% to Cambodia's GDP in 2017, Chen's NagaWorld alone could claim 25% of the receipts.
Chen's NagaWorld has now turned its eye to other casino resort development projects in the region, with plans for casinos in Australia, Malaysia, Mongolia and Kazakhstan.
9. Kazuo Okada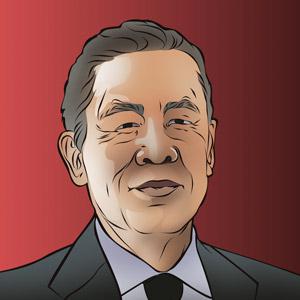 Forbes billionaire ranking: no. 791
Net worth: $3 billion
Position: Founder and CEO of Universal Entertainment
Base: Hong Kong
Born in Japan at the height of World War II, Okada was forced to support his family as a child after losing his father at an early age. With a knack for mechanics, he studied engineering at vocational school. By the time he was a young man, he could earn a living repairing jukeboxes and TVs and in 1969 launched his first company, Universal Lease, to manufacture coin-operated arcade games for children.
After visiting Las Vegas in 1969, Okada realized his future lay in slot machines. From the late 1960s through the early 1990s Okada's slot machines rapidly gained in popularity both in Japan and Las Vegas.
In 2000, Okada met Las Vegas casino innovator Steve Wynn and was talked into investing some $380 million in Wynn's latest project, Wynn Resorts. The investment would turn out to be very lucrative for the Japanese slots maker. A few years later he would part ways with Wynn when he declined to get involved in Okada's plans to build a casino in the Philippines Entertainment City, Manila. In July 2016, Okada unveiled the $2.4 billion Okada Manila integrated casino resort.
With gambling finally on track to be legalized in his native Japan, Okada is poised to bid on the lucrative licenses in competition with both Wynn and the Las Vegas based Sands Group.
10. Phillip Ruffin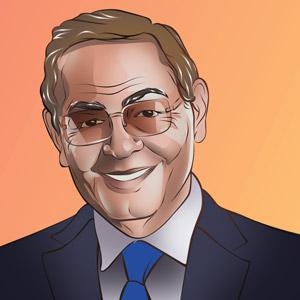 Forbes billionaire ranking: no. 887
Net worth: $2.7 billion
Position: Owner, Treasure Island Hotel and Casino, 50% Trump International Las Vegas
Base: Las Vegas
Born in Texas but raised in Wichita, Kansas the son of a grocer and originally of Lebanese descent, Ruffin attended both Wichita State University and Washburn University but left without taking a degree to open up a business selling hamburgers. In the early 1970s he created the first chain of self-service gas stations across the Midwest.
With the cash he picked up from his chain of 60 service stations, he opened his first hotel, the Marriott, Wichita before selling his service station chain to Total and investing in more hotels. By 1995 he acquired his first casino, the Crystal Palace casino resort in the Bahamas, and leveraged it via a mortgage to purchase the New Frontier Hotel and Casino on the Las Vegas Strip.
After a series of failed marriages, he settled down at the age of 72 with 26-year old former Miss Ukraine Oleksandra Nikolayenko. A long-term friend and business partner of Donald Trump and involved in the Trump International Tower and Hotel in Las Vegas, Ruffin contributed millions to a super PAC in support of Trump's presidential bid and loaned Trump his personal 737 jet to fly to Mexico to visit President Enrique Peña Nieto of Mexico in August 2016.
Today he is owner of Treasure Island Resort and Casino and maintains his 50% stake in the Trump International Las Vegas.