Blackjack can be immensely exciting and lucrative on its own. But outside the goal of beating the dealer and winning a hand, there's even more fun and money in this classic casino game. Side bets, aka "prop bets", are one way to ramp up your winning opportunities in blackjack. While they aren't available for every variation, you'll find that you can rake in a decent amount of extra dough on a game if they are. 
If you've never explored this area of blackjack betting before, we're here to talk you through exactly what these bets entail and what you can expect in terms of the house edge, probability of winning, and the implications to your bankroll. We'll also share some insider advice to help you get used to the idea of placing side bets and how you can work them to your advantage.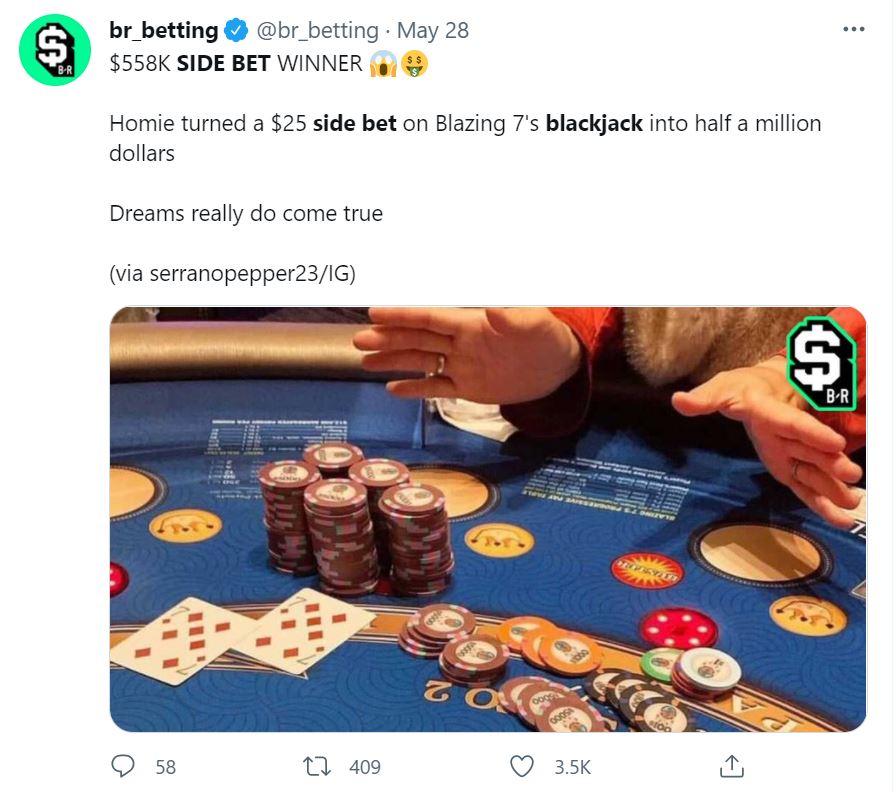 What Are Blackjack Side Bets?
Blackjack side bets fall into the same category as prop bets in sports betting. A bookmaker typically lays out odds for unconventional scenarios that are completely unrelated to the game itself. This could be things like how long the crowd will chant the national anthem for, what accent the commentator will have, how long it takes before someone streaks across the pitch, etc.
While you can't bet on the dealer's choice of attire or how long it will take for him or her to strip off in a game of blackjack, the concept is exactly the same in the sense that these bets have nothing to do with the logistics of the actual game. What you might bet on are things like your first two cards adding up to a specific value or being of a certain suit. You might also bet that the dealer will go bust if you suspect they have a weak hand or that their hole card will be a particular number or suit, for example.
Why Do People Place Side Bets?
The game of blackjack has such good odds for the player already, so why do people bother with these propositions in the first place? Many players view them as opportunities to deviate from the monotony of trying to reach 21 and win some extra money at the same time, but others do it because they genuinely believe that it can bolster their success and chances of winning in the main game.
This last part is a matter of personal belief and opinion, but what we can say for certain is that side bets, if done right, can be highly rewarding and good for your bankroll. This is because most side bets come with an exceptionally high house edge, so if a player manages to pull them off, the payout can be huge.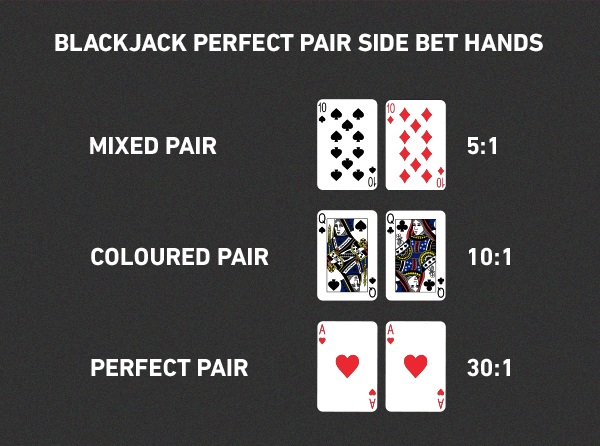 How to Place Blackjack Side Bets
Before you can place a blackjack side bet, you first need to make sure the casino offers these types of wagers. This should be pretty obvious if you're playing at a land-based casino table, and you should be able to just place your chips on the proposition you want to opt for. If you're playing at an online blackjack casino, available side bets are usually listed somewhere to the left of the game screen. Be sure to check the requirements and conditions for placing a particular wager before you select it. 
The Best Blackjack Side Bets
Now we'll discuss the best and most common blackjack side bets you're likely to find at casinos both online and offline. These wagers offer the most advantages to the player, and all feature a low house edge with reasonably high payouts.
21+3
The 21+3 side bet is one you're most likely to come across at brick-and-mortar establishments, but it is known to exist in online games as well. To put it simply, you'll win this bet if both the dealer's face-up card and your initial two cards make up one of the following poker hands: straight, flush, or three-of-a-kind. Subject to a 9 to 1 payout, you'll benefit from a 3.24% house edge with this bet, making it one of the most favorable side bets you can opt for in blackjack.
Royal Match
This is a classic bet that's commonplace at online casinos and can be found in most variations of blackjack. Like the 21+3, Royal Match has a respectable house edge of only 3.7%. The goal with this bet is to form a hand of two cards of the same suit. Depending on how many decks are being used, the highest payout is 25 to 1 for a suited King and Queen and 5:2 for any other suited combination.
Over/Under 13
Another bet with a commendable house edge is the Over/Under 13. For the Over bet, you're up against a 6.5% house edge and 13% if you wager on the Under. If a player opts for the Over bet, they are essentially predicting that the first two cards dealt will exceed the value of 13; whereas, for the latter, the player is betting that the value will be less than this figure. Both can result in a nice payout if you win but bear in mind that if your first two cards equate to 13 exactly, you lose either way. While the risk is marginal here, a solid card counting strategy can help to further reduce the house edge for this wager in a live casino.
The Most Popular Blackjack Side Bets
The above side bets are the best because they offer low house edges with high payouts. The most popular wagers, however, are ones you've likely heard of or come across already. Even though the house edge and payoffs are still decent enough for these bets, winning on them isn't so easily attainable. Let's take a quick look at what these are: 
Insurance
If you've played blackjack in the past, there's no doubt you would have heard the term "insurance". With this wager, you are essentially banking on the dealer having blackjack. Although the house edge isn't particularly high, you can look forward to a 2:1 payout if your prediction is correct. Note that it's only possible to take insurance if the dealer's face-up card is a ten, face card (J, Q, K), or an Ace.
Super Sevens
You can probably guess what this wager involves! The idea is to obtain as many sevens in your hand as possible, but you only need 1 seven to win. In this case, you can expect a payout of 3 to 1, and the bet covers up to 3 sevens. If you manage to get more than one seven and they are of the same suit, you can win a whopping 5,000 times your bet. Even though achieving such a hand is no easy task, most casinos typically limit the Super Sevens bet to $1 per play due to the sky-high earning potential.
Lucky Ladies
Finally, we have the highest-paying side bet, Lucky Ladies. As this bet is pretty straightforward and pays well, it's the one that appeals the most to players. For it to win, your first two cards need to total up to 20 exactly. The highest possible payout for this bet is 1,000 to 1, but this would only be achievable if you had two suited Queens of hearts and the dealer has blackjack. Other face card combinations can pay out handsomely too, but the most you can expect to earn for anything else is around 4 to 1.
Blackjack Side Bets: Conclusion
Side bets put an exciting spin on any blackjack game. But their importance shouldn't be overstated because they don't have much significance when it comes to a normal game. They exist to serve as more of an advertisement than a way to earn more money, and nine times out of ten, the casino will be the one to profit.
If you would like to explore this area of betting, however, make sure you check the rules for each wager and start small with your amounts. That way, you can get a feel for the dynamics of placing these bets without posing too many risks to your bankroll.
For more on side bets andblackjack strategies be sure to check out Planet 7's blog. You'll find tons of real money blackjack tips and advice for getting started.