Like to play blackjack? Surrendering is a move you can opt for if you want to improve your gameplay and minimize losses. In this quick and easy guide, we've covered all the need-to-know details about surrendering in blackjack. Check out our useful tips to make it surrendering in blackjack easier for you in your upcoming games.
What Does Surrender Mean In Blackjack?
To surrender in blackjack means to forfeit the initial hand you're dealt if you know you have a weak hand that's unlikely to win. In doing so, you will get to hold onto half of your stake instead of losing your entire bet. In a land-based casino, you're expected to make it known to the dealer and the table that you plan to surrender, whereas, in online blackjack, there is a button you have to press on the game screen. 
Many players like to surrender when available to them, but not all blackjack games offer this option. The variants that do have the rules for surrendering are listed in the paytable information, which you can check before you play.
If you want to knowhow to play blackjackusing the surrender rule, there are two ways you can go with this option: early surrender and late surrender. We've listed how both of these strategies work below.
Strategy for Early Surrender
The early surrender rule is rarely offered at online casinos and land-based venues. That's because it's the one that gives the player the biggest advantage. Unlike late surrender, where the dealer is able to check for blackjack in advance, early surrender allows you to opt for surrender before the dealer looks at his hand. When you use early surrender against a ten or Ace card, the RTP (return to player) percentage increases between 0.24% and 0.39%, respectively.
In most blackjack games, the house edge already sits at a favorable 1%. So these new odds make surrendering even more worthwhile. Even if you did manage to use the early surrender option in blackjack, the sad truth is that a lot of casinos implement other rules that cancel out these odds and put the house edge back in the casino's favor. 
When to Surrender Early
If the variant you want to play does permit an early surrender, the most strategic approach would be to surrender only when the dealer has an Ace card. You should also surrender early if you have one of the following hands:
Hard 5-7
Hard 12-17
A pair of 3s, 6s, 7s or 8s. 
In addition, you can opt to surrender on a pair of 2s if the dealer hits on a soft 17. 
The below hands are what you should use against a dealer's 10: 
Hard 14-16
Pair of 7s
Pair of 8s (unless part of a single deck and the blackjack variant allows for a double after a split).
Depending on the version you're playing, there are some exceptions to using these strategies in blackjack.
For example, you're playing blackjack with a single deck and you have either 10+4 or 5+9. In this case, you shouldn't surrender to the dealer's 10.
The same applies to a blackjack game that uses two decks.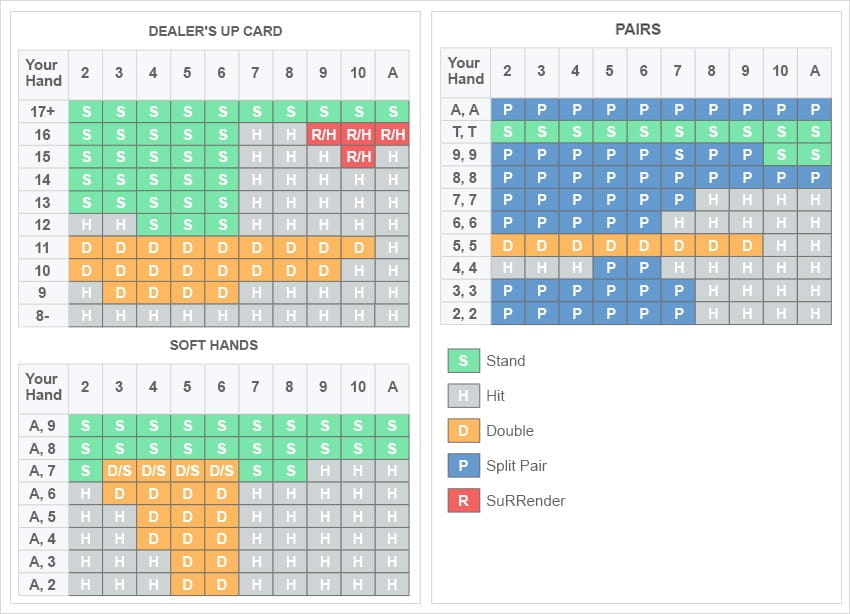 Strategy for Late Surrender
The most commonly used blackjack rule in both land-based and online casinos is the late surrender. Like early surrender, you win back half your bet with this move. However, it's only possible to surrender after the dealer has checked his hand for blackjack. 
Based on the rules and how many decks used in the variant you're playing, late surrender often works out better than early surrender. That is, unless your initial hand is 17. If you receive a 17, you should surrender only if the dealer's up-card is an Ace and he/she hits on soft 17. If you have 7+10 on single-deck blackjack, again, you should not to go for late surrender in this scenario.
When to Surrender Late
Now we'll outline when you should surrender if you receive the following hand total in a single-deck game of blackjack: 
If your hand is 14:
Surrender against a dealer's 10

If the dealer hits on soft 17, surrender to the dealer's Ace with 7+7
If your hand is 15:
Surrender if the dealer shows an Ace and hits on soft 17 while you have either 9+6 or 10+5 (good for single-deck and double-deck games)

Against a dealer's 10 if you have 9+6 or 10+5 (games with up to 6 decks of cards)

Surrender to the dealer's 10 or Ace card if they hit on soft 17 (good for 4-6 deck games)
If your hand is 16:
Surrender to the dealer's 10 or Ace card (good for single and double-deck blackjack)

Against the dealer's 9, 10 or Ace (4 or more decks)

If your initial hand is 8+8 when the dealer hits on soft 17

If a double after split is permitted, surrender to the dealer's Ace
Blackjack Surrender In Summary
When you're trying to implement any optimal blackjack strategy, remember that the aim of doing so is to beat the dealer's hand. Surrendering may not win you the game or get you to 21. But it will mean you're likely to retain more of your bankroll and play for longer. This is why the rules for hitting and standing on soft 17 are highly important, along with what the dealer is showing before you opt for surrender. 
No other casino games offer such a high player advantage as this one. So it's worth using this option if you have the opportunity to do so. After all, nobody likes to lose or walk away from a table empty-handed. But by using the surrender option, you're guaranteed to keep half your bet even when you've got no chance at beating the dealer.