Fasten your seat belts folks, we here at Escape Magazine have just learned of the latest and in our opinion greatest offer Planet 7 has presented so far. I mean seriously, what are these people thinking, it sounds too good to be true and yet, it is!
14 free spins, every day, for 14 days- yea! They call it the Spins to Win promotion.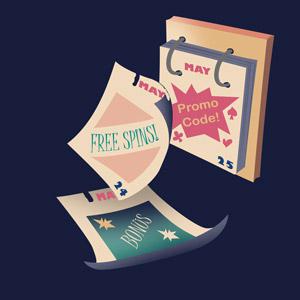 Talk about a great deal! Seriously folks, it doesn't get any better than this. 14 free spins. Every day. For 14 days. That's right, all you need to do is make a deposit of $30 or more at Planet 7 and you'll get 14, not one, two, or three, 14 free spins on the featured game, every day for 14 days.
That's a lot of chances, 196 in all to be exact, free chances, to hit that life changing jackpot. And what you do you need to do, deposit a mere $30, money you can use to play and win with as well. Better yet, you can use any existing deposit bonus you choose, and the offer still stands. So let's see, you can use the 200% welcome bonus with no play through requirements and no max cash out to make that $30 into $90 and still get your 196 free spins, portioned out at 14 free spins a day for 14 days. Talk about value for money. We're shocked they could even be that generous. The potential upsides are simply amazing. This is not the type of deal you'd ever in a million years see in Las Vegas, Atlantic City or Macau. In fact, you won't find an offer this good anywhere online either, except right here at Planet 7.
So, here's how it works, all you have to do is have made a deposit in the last 14 days of $30 or more to qualify. After your deposit, or if you have made a previously qualifying deposit in the last 14 days, i.e. that of $30 or more, as soon as you long in to your Planet 7 account your free spins on the featured game will pop up automatically. All you need to do is head to the game, spin and win! Really, it's that easy.

The same thing will happen every day, that's every single day folks, for 14 days. Login, your free spins will pop up, head to the game, play and win. All for having made a tiny $30 deposit! The featured game will change every two weeks on Wednesday, so we'll make sure you get a little variety in too. In fact, while I may not be supposed to say this, it looks like the great guys in our marketing department here at Planet 7 are already considering changing the offer in the near future by limiting it to 7 days of free spins and changing the game every week. More variety sure, but a bit less value for money. So get it while the getting's good.

So maybe don't say you heard it here first, but now is definitely the time to get in on this deal. Like all beautiful, low hanging fruit, it's not going to last long. Ah, but what about the fine print you ask? Well, you're going to be pleasantly surprised. The offer's terms and conditions are simple, The Spins to Win promotion offer is open only to players who have made a real money deposit of $30 or more in the previous 14 days. All spins must be used on the day they are awarded. Yep, you guessed it, like learning a foreign language, it's use it or lose it. Unlike learning a foreign language, it's phenomenally easy and your chances to win big are dramatically multiplied with each and every free spin. Log in and enjoy your 14 free spins every day for 14 beautiful, winning days today!