Casual and avid players worldwide enjoy the baccarat game. It has made an appearance for instance on the silver screen in Bond films and is a player favorite from the high stakes rooms of Monte Carlo to the mini-baccarat tables of Las Vegas or the Cotai Strip in Macau. A baccarat casino online offers the same exciting gameplay as a real casino. Perhaps you have wanted to enter the game of baccarat, but aren't entirely sure how to play? Well, it's time to raise the stakes!
Before you sit down in front of your computer or at your local casino's baccarat table to indulge in your own personal James Bond fantasies, you might want to check out Planet 7 Online Casino's following best baccarat tips and tricks. These pieces of information are very helpful when applied to this highly entertaining game. Smart and successful players utilize the following baccarat strategy at both traditional and online casinos in order to gain an advantage. These useful baccarat tips will definitely help you increase your bankroll. So, without further ado, let's take a look at 9 baccarat tips and tricks to increase your bankroll!
How to play baccarat
Of all of the games that you will find on the casino floor, baccarat is surely the best one for beginners. Generally, the game of baccarat requires no skill, especially if you are playing mini-baccarat where the dealer controls the cards. The idea of the game is to get as close to a total value of nine based on two cards drawn to both the player and the dealer (also known as the banker). Aces, tens and face cards have a value of zero and cards 2-9 are taken at face value. If the value of the first two cards drawn exceeds nine, 10 is deducted from the total. Nine is the highest hand you can have in baccarat and this is known as a natural. The second highest hand is a ten and an 8, also known as a natural 8. Let's say that a hand drawn to the player is a 5 and an 8, since the sum of these cards is 13, the value of the hand is 3. In baccarat, it is impossible to go over or "bust" like in blackjack. The dealer must hit based on the outcome of the cards and a predetermined set of rules.
Types of bets in baccarat
Now that you know more or less understand how to play baccarat, it's time we take a look at betting and how to improve your baccarat strategy. Baccarat utilizes three types of bets:
Banker bet: The house edge on the banker bet is 1.06%. The player must pay a 5% commission to the banker on each winning bet.
Player bet: The house edge on the player bet is 1.06% (this is essentially has the same odds as the banker bet due to the commission paid to the dealer).
Tie bet: The house edge on the tie bet is 14.36%. This bet is not recommended despite the high payout to the player, because the odds of winning are very low.
Though the game of baccarat is simple to understand, the following tips should be followed in order to maximize your betting advantage to earn consistent wins. These tips will effectively improve your baccarat strategy.
1 – Don't look for patterns
When first learning how to play baccarat, new players will often overlook this baccarat strategy. There are those that claim in order to win the game of baccarat, you need to keep track of patterns. Many baccarat tables will keep track of results for a particular game; meaning whether the winning outcomes have been bank, player or tie. Despite supposed winning hot or cold streaks, in baccarat the odds are similar to determining whether a coin toss will come up heads or tails. Each result is a separate event, and though you can try your best to determine what the outcome will be, it is impossible to establish a sure-fire method for winning. Just have fun, and don't stress yourself over potential sequences. You will ultimately enjoy baccarat much more if you don't keep track of every hand.
2 – Make the smart bet
The moment you sit down at the baccarat table, you might wonder, which bet is better: banker or player? Since betting on the banker is taxed a 5% commission by the house, this bet might seem like an unattractive option for the new baccarat player. However, statistically, the banker bet is the safer bet to make despite the fractional cut on every win. It has a lower house edge, thus the payout makes it worth it in the long term. Over time, the banker bet will typically win 50.68% versus 49.32% on the player bet. This might not seem like much, but this fraction of a percentage will translate into steady gains over time.
3 – Forget the tie bet
Any experienced baccarat player will tell you that the tie bet is the worst bet that a player can make. The payout for a tie wager might look tempting, however, you have to be very lucky to pull this bet off because it only pays off 9% of the time! Of course, if you do manage to pull off the tie bet, the payout is quite lucrative, which is what makes it so appealing. That said, unless you are legitimately psychic and can accurately predict precisely when it will show; betting money on the tie bet simply is not worth hurting your future fortunes.
4 – Keep it brief
Baccarat players more often than not experience short winning streaks followed by a brief drop that can turn into big losses. Unlike a game like blackjack, which can grant patient players long and lucrative upswings, baccarat is more of a sprint than a marathon. The trick to winning regularly in baccarat is to catch an upswing and ride it for as long as long as possible. It's important to avoid getting too greedy and to dip out early before things take a turn for the worse. Otherwise, your bankroll will feel the repercussions. It's best to keep your sessions short, particularly if you keep switching between your banker and player bets. As general guide, sit down to play for 10-15 minutes, then walk away before things get ugly. Switch tables if you have to. It's best to keep it short and sweet.
Latest winners
Want to be one of the top winners?
5 – Go with your gut
Even after you've played baccarat for awhile, you might feel like you've come up with a reliable system that ensures you consistent returns over the long term. In reality, the science only goes so far. Sometimes, uncertainty can be a good thing; and playing and making wagers based on hunches are what make gambling so much fun. Despite all the potential strategies such as keeping scorecards and going with perceived streaks, sometimes it's best to just go with your gut when you are not sure what bet to make. Statistically, this doesn't lower your chances of winning, so why not have some fun!
We've heard of beginner's luck, or perhaps even been at casino when a total rookie comes in not knowing what they are doing and wins big; these are the kind of people that typically have the most fun and potentially can win the most money. In baccarat, sometimes overthinking can create losers. Don't forget to enjoy the game.
6 – Check out the competition
The 5% commission is usually the standard when it comes to betting on the banker in baccarat, which cannot be negotiated. However, in land-based casinos, it is not impossible for players to find baccarat tables that are willing to take a smaller percentage of wins on banker bets. Although a 1% commission reduction might sound like nothing, it can definitely make a difference in the long term and keep your bankroll in the positive. This does not mean that you can barter with the dealer – the commission is law at every casino. However, when you're hitting the casinos on the Las Vegas Strip or spending a weekend with your buddies in Atlantic City, it is possible to find baccarat tables competing with a host of other casinos by lowering the commission rate. Some casinos even offer no-commission baccarat – but the banker bet wins on 6 only pays half, so the no-commission offer may be too good to be true.
7 – Pay attention to each table
Though most baccarat tables only collect a 5% commission on banker bets, do not assume that this counts as the standard for all casinos. Some casinos have baccarat tables that collect as much as 10% or even a 25% commission on banker bet wins. Be mindful of the rules and minimums listed on each table for the casino of your choice. And if you do decide to go with the tie bet, pay attention to the table's payout for this specific bet. While many casinos offer 8:1 or even 9:1 odds, some are sneaky and can pay as low as 6:1 or sometimes even lower. Even if you don't go for this risky maneuver, take note anyway – if the casino has adjusted the payout on the tie bet, it's likely that they've messed around with other crucial aspects as well.
8 – The fewer, the better
Baccarat tables at land-based casinos generally incorporate 8 standard decks of cards in a shoe (editor's note: the shoe is the name for the plastic card holder the dealer draws from). Playing baccarat online is different because the digital format does not use physical cards. Smart players will have a slight advantage if they are able find a baccarat table that uses fewer than 8 decks. Although these are not easy to find there are baccarat tables that use 4 to 6 decks. If you happen to come across such a table, feel free to disregard our previous tip about keeping playtime short. The most skilled players can card count with fewer decks, and can predict with fair accuracy the outcome of an upcoming hand. The most elite professionals have been known to perform what is known as "edge-sorting" in order to gain an overwhelming advantage over the house. The most famous of these is Phil Ivey, who managed to win over $20 million at two world-renowned casinos in baccarat using this technique.
9 – Play baccarat online vs. brick and mortar
Whether you enjoy the atmosphere of casinos or prefer to play in the privacy of your home, baccarat is an exciting game on and offline. The critical difference is playing big or mini-baccarat on the casino floor or playing with a live dealer or standard table game online. Like most online casino games, non-live dealer versions of baccarat are digital, therefore the number of cards in a shoe is unlimited. This does not make the game any more difficult to learn. In fact, players can choose to practice online free as most baccarat online casinos offer instant play versions for all of their casino games. This allows players to improve their skills and up confidence in their game. Play baccarat today free at Planet 7 Online Casino. Simply register for an account. You can choose to practice your skills or make a deposit to start winning real money on all of your favorite casino games today!
Baccarat strategy summarized:
Don't look for patterns – despite perceived hot or cold streaks, treat each hand like a separate event
Make the smart bet – betting on the banker is statistically the best bet you can make
Forget the tie bet – despite the promise of a large payout, this bet has the worst odds and is not recommended
Keep it brief – baccarat is a sprint, not a marathon, unlike other table games
Go with your gut – sometimes the best strategy is to not have a strategy
Check out the competition – some tables offer lower commissions for banker wins
Pay attention to each table – other tables charge commissions higher than the 5% standard
Look for tables with fewer than 8 decks – tables that utilize fewer decks are more advantageous to a skilled player
Playing baccarat online lets players practice their skills before choosing to play for real money
Feel like James Bond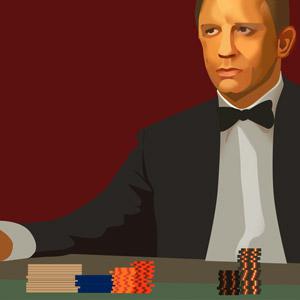 Now that you feel like you are ready to tackle the highly entertaining baccarat game, be sure to hit up Planet 7 Online Casino and take the opportunity to live it up like James Bond without putting on a tuxedo. At Planet 7 Online Casino, you can play baccarat online until your heart is content, and the best part is that you don't even need to leave the comfort of your home! Planet 7 Online Casino brings you baccarat and a multitude of other spectacular games available on your PC, Mac or mobile device. Why not put our baccarat tips to the test by playing for free on instant play or play baccarat for real money by making a deposit in order to win big!