Gambling has been around since the dawn of humanity, but the days of using bread, livestock, or the neighbor's daughter as currency to play are long gone. In modern-day casinos, players are required to bet paper money, coins, or chips if they want to take part in real money casino games, and even online casinos require their customers to have a bankroll topped up with a minimum amount of virtual credits before they are eligible to play. 
Wagering in itself is the notion of using part of this money to play games in an attempt to win more money; and, if you've ever tried to redeem a bonus at a gambling site like Planet 7 Online Casino, you'll know that this plays a significant role in what you can potentially win. 
The Purpose of Wagering Requirements
All casinos need a daily influx of wagers to sustain their operations, and without this continuity, things would fall apart quickly. This is why casinos offer appealing bonuses and promotions in an effort to get players to dig through their pockets and place bets more frequently. 
Bonus deals are almost always subject to specific terms and conditions that are known as wagering requirements, and casinos are legally obliged to have them in place for anti-money laundering purposes. If these requirements didn't exist, criminals would easily be able to deposit money and withdraw the funds from their accounts immediately.
How Wagering Requirements Work For Bonuses
A bonus typically includes a discount, free spins, or a sum of money that's equal to a deposit amount. Sometimes it comes as a deal that requires no deposit at all; however, as the sole aim of the bonus is to get players to bet on casino games, they must bet a certain amount or a minimum number of times on a game before they are eligible to withdraw any winnings won as a result of using a bonus.
For example, let's say an online casino is offering a 100% bonus deal. If a player deposits $50, they will get a $50 bonus, giving them a collective account balance of $100. The catch is that they won't be able to withdraw the $100 all at once, and they will still need to wager the bonus amount first, i.e. $50. If the bonus is subject to a 10x wagering requirement, the player would need to wager 10 times more than what they originally deposited before they can withdraw, i.e. $500. 
Once the wagering requirement has been met, the bonus money is then turned into real money, which the player can use to continue playing with or withdraw as winnings. If the wagering conditions are not completed, the bonus money is voided and goes back to the casino. 
Bonus Time Limits
In addition to wagering requirements, most bonuses also tend to be time-sensitive. This means that if you don't fulfill the conditions needed to withdraw within a certain timeframe (usually 30 days), the offer will expire. 
For example, let's say a bonus had a 20x playthrough requirement that needed to be met within 30 days. You place a deposit of $100, and the casino gives you an additional $100 to play with. In order to meet the bonus conditions, you would need to bet a minimum of $2,000 within 30 days; otherwise, the winnings would be voided, and your deposit money would be canceled.  
It may sound a bit excessive, but the truth is that casinos do this purely to cover their operating expenses and protect their cash flow. At the end of the day, you can't expect the casino to give you free money, then wait two years for you to spend it.
Game Weighting
In addition to wagering requirements, the last thing to consider when using a bonus is called "game weighting". In a nutshell, game weighting refers to the percentage of wagers that all make up the entire wager for a given game.
Slots, for example, almost always make up 100% of a wagering requirement, meaning every cent wagered works towards reaching that requirement. With table and card games like blackjack, however, these types rarely count for 100% and may only have a 70% value assigned to them. This means that for every 10 cents you bet with, 7 cents will make up the wagering requirement. 
Whenever you're looking to redeem a bonus, whether it's a deposit bonus or a welcome deal, always be sure to thoroughly read the terms and conditions first. That way, you'll be able to see what games the bonus applies to and what you need to meet the wagering requirement. As the majority of gamblers play slots, this shouldn't be too much of an issue for most, but again, it always pays to check this information out so you're not in for any nasty surprises when it comes to your winnings.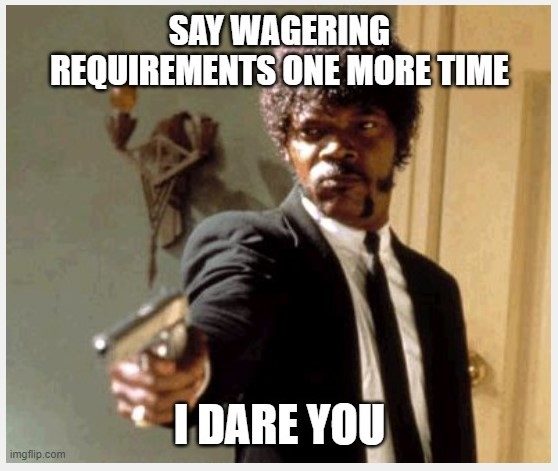 Can Wagering Requirements Be Avoided?
Most casinos are incredibly strict when it comes to bonuses, and they won't hesitate to keep your bonus money if you don't fulfill the necessary requirements for using it. This is because casinos are essentially giving you two or three times as many chances to win than if you were playing off your own cash. Think about it: if they made every bonus without conditions, they would be leaking cash and hardly ever make a profit. 
That being said, some casinos are known to offer wager-free bonuses that have none of these conditions attached to them, and they enable you to withdraw your winnings right off the bat. These types of bonuses are often aimed at new players and can come in the form of cashback, wager-free spins, or a wager-free deposit.  
Wagering Requirements in Summary
As you can probably gather, wagering requirements make it near enough impossible for you to beat the house. The odd lucky player might slip through the net when it comes to playthroughs and cashing in, but all in all, you stand a higher chance of winning real money by playing slots with a high RTP.
With this in mind, you can still take the bonus money and play casino games for free. You may as well adopt the mindset that you're unlikely to win from using welcome bonuses alone, as this is the reality when you look at the situation objectively. Nevertheless, these bonus offers are yours for the taking, and the best part is that you get to try out all the different games and play whatever you want for however long you want at a casino without any implications on your bankroll.
If at any point you do manage to hit a jackpot using the money from your welcome bonus (such as 100 times the value of your bonus), then you can wager as much as you like to meet the requirements with the comfort of knowing that when you do, you'll be able to withdraw and still have made a decent amount of cash in the process. For example, let's say you play a slot game with a $100 bonus and you happen to win $10,000 – you would only have to wager $2,000 before you can withdraw your winnings – as long as there is a 20x wagering requirement, of course. 
Bonuses are just free money at the end of the day, and there's simply no way of knowing when you're going to hit the jackpot. If it's a big win on a high-paying slot like Mega Moolah, for example, meeting the wagering requirements before you can withdraw your winnings would be pretty effortless.