Spanish 21 is one of the most popular versions of online blackjack. Like all other variations of the game, there are certain rules you need to follow with this version. The best way to play effectively is to make sure you understand these rules and apply a blackjack strategy to your gameplay. In this quick and easy guide, we've broken down the key aspects of this exciting game and laid out a few handy tips to get you started.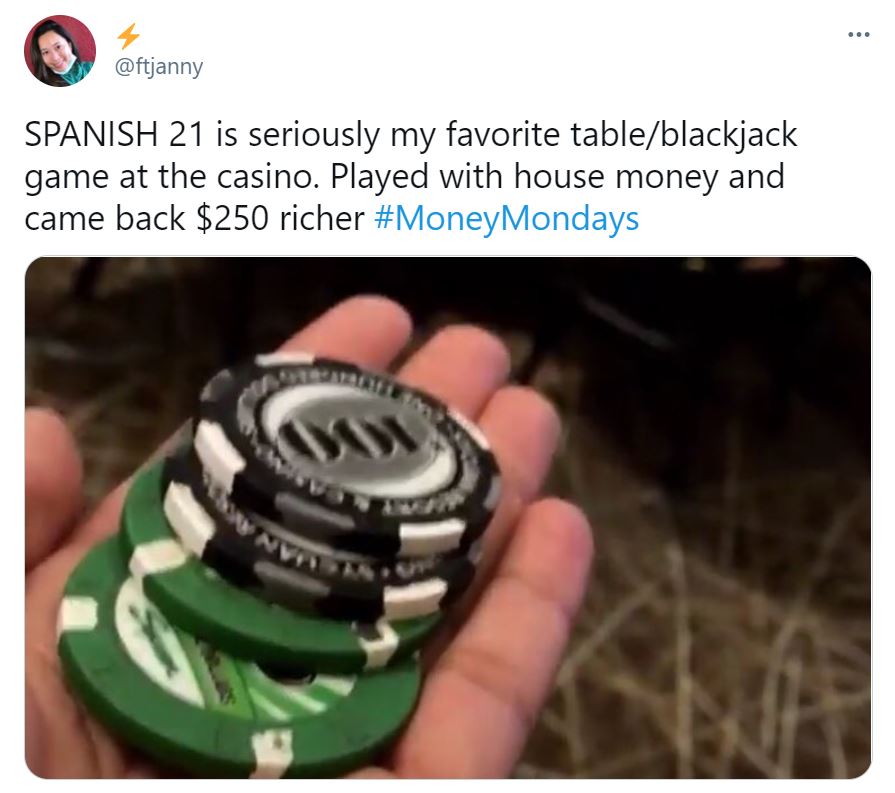 What is Spanish 21?
Spanish 21 is a special take on the classic game of blackjack. Brick and mortar casinos first introduced the game in 1995. While many of the rules are inherently the same as the original version, this one has a few different twists that can make the gameplay much more interesting. Additionally, such rules can be found in other blackjack games like Pontoon and Blackjack Surrender, both of which offer some big advantages to the player.
Usually, Spanish 21 features the same table layout as the classic version of blackjack. This means between 6 and 8 decks of cards are used. Unlike other blackjack games, however, this one does not include 10 cards. Basically, this means 25% of the cards are missing. Jacks, Queens, and Kings remain in the deck, and like the original game, these cards have a value of 10.
Spanish 21 Quick Facts
This version of the game is played with 6-8 card decks with 48 in each

All suited 10 cards are excluded from the game

If the player has 21, their hand always supersedes the dealer's 21;

The house edge falls in the range of 0.40%-0.76% in Spanish 21 and can be reduced by 1%, respectively.
Rules: Blackjack vs Spanish 21
| | | |
| --- | --- | --- |
| | Blackjack | Spanish 21 |
| Number of Decks | 1, 2, 4, 6, 8 | 6 and 8 |
| Dealer Soft 17 Rule | Can hit or stand | Can hit or stand |
| Blackjack Payoff | 3-2 or 6-5 | 3-2 |
| Player Blackjack | Always pushes when dealer has a blackjack | Always wins even if the dealer has a blackjack |
| Player 21 | Always pushes when a dealer has 21 | Always wins even if the dealer has 21 |
| Doubling-Down | Only after initial two cards | Can double on any number of cards |
| Double After Pair Splitting | Usually allowed | Always allowed |
| Late Surrender | Sometimes allowed | Always allowed. (You can also surrender after doubling, pair splitting, or hitting) |
| Resplitting Pairs | Usually up to 3 or 4 hands, but not aces | Up to 4 hands, including aces |
| Insurance | Pays 2 to 1 | Pays 2 to 1* |
*Because of the lower number of 10s, the insurance bet in Spanish 21 with a 2-1 payoff has a much higher house edge than it does for blackjack. It is considered to be one of the worst bets you can make on any game.
Spanish 21 Rules
As mentioned already, Spanish 21 discards all of the 10 cards from the deck. At first, it may seem like this puts the player at a huge disadvantage. But the other changes in rules make up for this. Here are some quick pointers to help you remember the rules and what to be aware of while you play.
Quick rules for Spanish 21:
Player's 21 always beats the dealer's 21

The dealer must either hit or stand on soft 17

Redoubling is possible up to 3 times at most casinos

You may op

t

to

surrender on the first two cards

All 10s are removed from every deck being played (6-8 decks is standard)

The dealer must hit on 16 and stand on 17

Even against a dealer's blackjack, player's 21 always wins

You may do

ubl

e

down after a split

After splitting Aces, players can draw several cards from the shoe

Receive b

onus payouts for hands like 6-7-8, and for a 5-card trick that totals 21, e.g. 2-3-4-5-7
Rules for Hitting, Standing, and Splitting
In this version of the game, all rules for splitting, hitting, and standing are exactly the same as in the original game ofonline blackjack. This means that you are only allowed to stand, hit, or split once you've placed your wager, and only when the dealer has dealt your initial hand. A Spanish 21 strategy chart is a great way to assess the impact these rules can have on the game before making your move ─ but more on that later!.
Using the Late Surrender Rule
To go for a late surrender in blackjack means you are essentially forfeiting your hand to keep half of your stake. For the player, this can be extremely advantageous, and if you calculate the probability of beating the dealer's hole card, you can minimize losses significantly with this move.
Using the Re-Splitting Rule
Being able to split and re-split Aces is another advantage of playing Spanish 21. You can also double down, and re-double on a pair in this version of the game. When doubling and splitting, you can also use the late surrender rule if you don't want to risk losing half of your bet. If you know you've got a lousy hand to begin with, knowing you've got all of these rescue options at your disposal is a huge benefit.
Rules For Matching the Dealer's Side Bet
In addition to the variations of rules above, there are normally some extra bonus games and side bets you can place in Spanish 21. One of the most popular side bet in this version of the game as well as classic blackjack and other variations are "Match the Dealer." In order to win this bet, the player's first two cards must match the dealer's face card. While it can be a lot of fun, this bet can be risky, and should therefore be avoided if you want to keep losses to a minimum.
Online Spanish 21: The Super Bonus Rule
Unlike other variations of blackjack, Spanish 21 is one of the few online variants that offer a Super Bonus. Actually, the odds of actually hitting a Super Bonus payout is about 1 in 668,382 in a game with six decks and 1 in 549,188 in an 8-deck game. But the thought of winning such a payout is enthralling in itself.
Spanish 21 Strategy
If Blackjack is your usual weapon of choice in casinos, you'll be pleased to know that Spanish 21 is one of the most profitable versions of the game out there. Like any gambling game, however, the best way to maximize your chances of success is to ensure you're sticking to some kind of strategy.
There are 3 basic blackjack strategies that are always worth sticking to when playing this game.
Bankroll Management
Make sure you have enough funds to accommodate a few games and any side bets you might want to participate in. Additionally, take the time to calculate your bets and moves. This way you have a higher chance of losing streaks and less room for mistakes.
Regular Practice
If you've never played this version of blackjack in the past, the best way to get familiar with the changes in the rules and how it works is to play it for free first. This means you can learn the game without risk. Therefore, you save your cash for when you're confident and ready to play for the real deal.
Blackjack Cheat Sheet
The third and most effective strategy is a blackjack strategy chart. These are fantastic for calculating your payouts and potential moves. Also, one of the biggest benefits of playing online is that there is always a blackjack chart available for any version of the game you want to play.
Where Do You Find A Spanish 21 Strategy Chart?
Download these so-called "cheat sheets" directly from the web. And if you take the time to study the different moves and outcomes on the chart. Next, apply this knowledge to Spanish 21 or any other variant. You will likely notice some improvement in your gameplay. This is because you are naturally reducing the house advantage by knowing how your moves impact the game. And when the dealer has to stick to certain rules based on your hand, you can highly influence what happens next.
Spanish 21 Playing Tips
As Spanish 21 doesn't use 10s, there is a much lower risk of busting your hand in this game. This is why drawing extra cards is going to be worth your while in most cases. You can also use surrender but bear in mind that overusing this option may lose you more money in the long run. Below are our top tips for playing Spanish 21 and how you can make the most out of your bets.
Get to know the different moves with a strategy chart
As the rules in Spanish 21 are different from classic blackjack, it's worth taking some time to research the moves and possible outcomes that can occur. A strategy chart is the best way to get you familiar with the rules of the game. It can drastically improve your winning chances.
Don't draw extra cards if bonus payouts are offered
It may seem a bit counterintuitive to do this when there is a bonus payout up for grabs. But if you're quite new to the game and haven't had much experience with these features ─ as well as side bets ─ we highly recommend avoiding them. While it may be tempting to put down a big wager, it's these kinds of bets that can ruin your bankroll in minutes.
Be cautious of using the surrender too much
New players often overuse surrender in blackjack. While this is fine if you've got a big bankroll to play with, the losses can rack up quickly if you're abusing this option. There are ideal times to call surrender. But this doesn't mean you're going to finish in the green if you plan to stick around for a few games. Therefore, it's much wiser to use this option sparingly and play your hand as best you can.
Extra cards don't always bust your hand
10-value cards are under-represented in this version of blackjack. Therefore, there is a much lower risk of your hand going bust. This is why it's typically more profitable to draw more cards in this game.
Ignore the Dealer side bet
Match the Dealer is a common side bet in Spanish 21. This bet can result in a large payout. The odds range between 4:1 to 18:1 depending on which card's match the dealer's face-up card. The not-so-great news about this bet is that the house edge sits between 3.99% and 3.06% in an 80-deck game. Naturally, this can pose a high risk to your bankroll. Therefore, skip these bets if you can and stick to the safer bets in the game.
Ready to Play Spanish 21?
Come and put your new knowledge and skills to the test! Play Spanish 21 and other great blackjack games for free or for real money at Planet 7.