Have you ever thought about working in a casino? Many megaresort casinos are opening up on a regular basis, and they will need thousands of employees to ensure a smooth gaming experience for their visitors. The range of jobs runs from the obvious (dealers) to the obscure (director of operations).
The casino industry is all about hospitality, but the sheer scale of operations necessary to run a large resort casino requires many employees with a variety of skillsets. If you think you would enjoy working in a vibrant, exciting atmosphere designed for the ultimate enjoyment of its customers, you may consider working in a casino.
But what kind of casino jobs are available and what kind of salary can you expect?
Basic Categories of Casino Jobs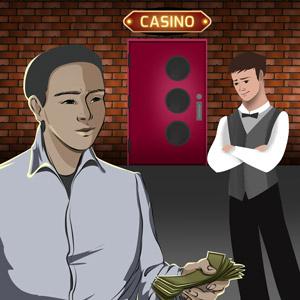 Casino jobs can be broken down into two basic categories: service and operations. Service jobs are often entry-level, lower wage jobs mainly involving hotel and resort hospitality services. These jobs don't require a lot of education or experience, and the lower pay reflects this. Many of the service jobs you would find in a casino include wait staff, cleaning staff, food service personnel, and parking lot personnel. However, the lower pay is usually supplemented by tips from customers.
Casino operations positions include higher-ranking job titles revolving around the professional management and operation of the casino. These types of jobs are the most important roles within the casino, as they are vital to the successful and smooth operation of the entire resort. These run the gamut from pit boss to casino operations director, and these jobs require specific qualifications.
The good news for the potential casino employee who wants to grab one of the more lucrative jobs in the casino: some of these jobs are filled from within. This means that if you don't possess the necessary skills or experience to be a pit boss, for example, you can always work your way up to the position by starting off as a dealer. Check out how to become a professional blackjack dealer.
Pit Boss
The casino floor is divided up into sections, or 'pits,' and the pit boss is in charge of his/her particular section. Contrary to popular belief, the pit boss is not some surly thug who bounces players from the casino. In fact, the pit boss is there to ensure the smooth running of all of the games in the pit, and most importantly, that players all have a good time.
Pit bosses intervene in case of disputes between players and dealers, and will call on a manager if the situation escalates. The pit boss also doles out comps to VIP and other regular players. A pit boss must possess a cool head and the ability to think clearly in stressful situations. To get the job, a high school diploma and three years of experience in dealing at table games is required. Casino certifications and licenses might also be required by the gaming commission.
Pit bosses usually make $50,000 to $75,000 per year.
Table Games Manager
The table games manager oversees all of the table games in the casino. In addition to managing casino employees, table managers must have extensive knowledge and experience with all table games and casino operations. The position requires a university degree and years of casino experience. In addition, this position requires expert knowledge of casino rules and regulations and general business and accounting procedures. These managers also monitor the financial performance of each table game and recommend upgrades, enhancements, and additional tables as needed.
The salary for this position is between $60,000 and $90,000 depending on experience, location, and the company that you work for.
Casino Supervisor
The casino supervisor ensures that the entire casino operations run smoothly. This manager oversees all departments and works with each manager to ensure everything is running perfectly. They are in charge of ensuring that all games and staff are functioning at the highest standard.
They also deal with all schedules, budgets, and financial performance in each casino pit. A bachelor's degree is required for the position, along with relevant casino experience.
The casino supervisor makes from $40,000 to $75,000 per year plus bonuses.
Gaming Manager
The gaming manager is responsible for all other managers and supervisors on the casino floor. The gaming manager also hires and fires employees, makes their schedules, and ensures that the rules and regulations of the casino are followed at all times.
They also work with security personnel to monitor any discrepancies with tables, customers, or gaming profits in general. Gaming managers make sure all tables are fully stocked with an endless flow of money and chips.
The gaming manager position requires only a high school diploma, but you must have years of experience in working in all areas of the gaming floor, from dealer to supervisor to pit boss. The expected salary for a casino gaming manager is around $80,000 per year.
Security Manager
With all that money flying around the casino, someone needs to manage the security of the business and its customers. A security manager supervises all casino security personnel, monitors the entire casino for safety and security, and protects the casino assets.
A degree in criminal justice or business is advantageous to secure the position, as well as certificates in CPR and first aid techniques may be required at some casinos.
Security managers make about $60,000 a year, but with bonuses, their annual salary can exceed $110,000.
Director of Operations
The director of operations bears a great deal of responsibility for the total operation of the casino. They supervise all casino personnel and operations, but they also plan, manage, and arrange a variety of events taking place at the casino (such as tournaments).
In addition, they must create new business strategies and implement them. This position requires a bachelor's degree and at least 10 years of casino management experience.
Directors of operations make $90,000 on average, but the total annual salary can exceed $150,000.
Casino Property General Manager
The ultimate position of responsibility in the casino lies on the shoulders of the casino property general manager. They deal with all operations, personnel, business, and client services with the casino. They are ultimately responsible for the financial success of the casino as well as customer satisfaction. Casino managers have direct interaction with all casino personnel, monitors business expenses and casino profits, and make sure the casino is performing well on all levels.
In order to apply for this position, you must have 12 years of experience in the casino industry, including casino management experience, and a master's degree. You should also acquire any certificates or licenses required by the local gaming commission.
Casino property general managers receive about $200,000 a year.
Opportunity for Advancement
All casinos have the opportunity for advancement built into the job. You will have to pass an employment screening process to be sure you pass the minimum requirements not only for the job but to satisfy local gaming authority regulations.
It goes without saying that casino employees must have an impeccable dedication to customer service on the highest level. But if you enjoy working hard to ensure that your customers have a fantastic experience, there is always an opportunity for advancement in the world of casino employment.