'Tis the Christmas season yet again, and online slots players are looking for gifts, spins, bonuses, and cold hard cash under the Christmas tree. This year's best Christmas slots offer a veritable winter wonderland full of elves, reindeer, and naughty and nice Santa's helpers. So park yourself under the nearest mistletoe and pucker up for Lady Luck's kiss, because these lucky seven Christmas slots are the best way to deck your halls with fun and fabulous prizes.
Naughty or Nice III
Santa's saucy helpers, Miss Naughty and Miss Nice are back again this season in Naughty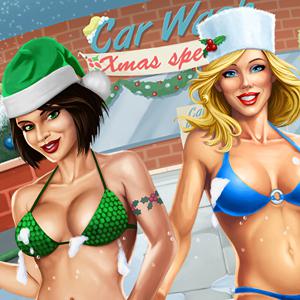 or Nice III. As in previous editions of this exciting RTG game, two scantily-clad lovelies bestow a bounty of bonuses upon you based on whether or not you've been naughty or nice this year. While the ladies appear ill-equipped to deal with too much snow on their skin, there's plenty of thrilling action and bonus features to keep everyone's blood warm. A car wash serves as the backdrop (which explains the bikinis in winter).
The game features three reels and 30 fixed paylines. The Naughty or Nice III logo is a scatter symbol, along with a shirtless Santa, a dog with reindeer antlers, angry Mrs. Claus (she's just jealous), a box of cash, and a car wash sign. The low value symbols range from 9 to Ace based on a standard card deck. Two randomly-triggered progressive jackpots, a seven-free-games bonus, and the Lucky Games feature all add up to a merry sleigh ride indeed.
Game play is simple. Place your bet by selecting the coin size from $0.01 up to $5.00 (click the – or + sign). The bet size is determined by multiplying the coin size by the paylines (from $0.30 to $150.00). You can skip all the toggling by clicking the Bet Max icon. Once you've chosen to bet it all or play it safe, click the Spin button and watch the reels spin. If you land three or more scatter symbols across the reels, you've triggered the Naughty or Nice III bonus, with seven free games to choose from. Line up 5 of a Kind (with or without a Wild) to hit the Mega Bonus Jackpot. You can also select a number of spins and click Auto Play to bypass manual spinning for you.
Santastic!
Santa is feeling generous this year, so if you help him deliver his goods all over the snowy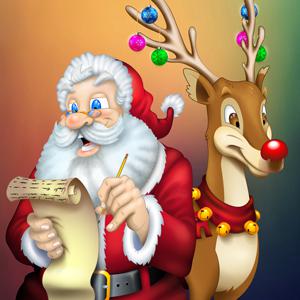 village, he promises a Santastic bundle of goodies for you. Spin the simple 3×3 reel grid with five paylines to score a variety of 3-of-a-kind combinations to win. The seasonal scatter symbols include Santa, snowmen, the North Pole, Rudolph, elves, stockings, candy canes, teddies, and Christmas puddings.
Spin three of the following symbols to get your gifts: Santa himself is worth 100 coins, Rudolph scores 50, Elves 30, the North Pole 20, snowmen 10 coins, puddings and stockings seven, and candy canes or teddies are worth five coins each.
But wait! There's more! Any 3-of-a-kind win also triggers the Festive Feast Feature and a bounty of bonuses. On each side of the reel grid is a bonus meter which awards extra jackpot spins, free games, and even a bank boost of 2500x your bet.
Rudolph's Revenge
You don't want to mess with Rudolph this year. He's got an axe to grind. And a bat to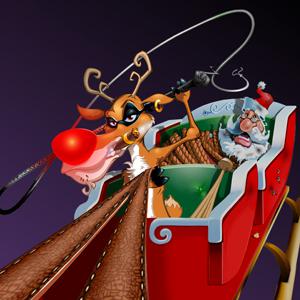 swing. With his promised Christmas bonus nowhere in sight, he's set his sights on revenge. Santa's all tied up and gagged with an apple, the elves are literally on ice, and certain presents contain bombs. This is definitely not a Christmas story for the children.
Rudolph is Wild in more ways than one. When he appears near a row of matches, his nose lights up, he chomps his cigar, and taps his bat against his hoof. The other scatter characters also spring to life when they are activated. Santa shakes his head and spits out his apple (but Rudolph stuffs another apple in Santa's mouth) while snow falls on his bound figure. Ticking gift bombs rattle and detonate bonuses. Line up three gift bombs in a row, the North Pole explodes, and you get seven free spins!
Line up two or more gift bombs in a row for an explosive scatter bonus. With its quirky twist on Christmas, fun animation, 50 paylines, and ticking gift bombs, Rudolph's Revenge gives you a lot more bang for the buck.
Return of the Rudolph
If you can't get enough of that red-nosed reindeer stuff, Rudolph returns for some more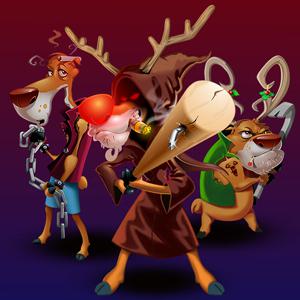 Christmas mayhem! This time, the cigar-chomping, bat-wielding Rudolph gets his hoodie on, and his eyes glow redder than his famous nose. The North Pole is in tatters, with torn presents and torn teddies popping up everywhere. Thugs have gone wild and trashed the place. But Rudolph and Santa team up to fight this thuggish threat. Line up two or more Santa scatters in a row and the character springs to life and shoots flames from his gloves. Get ready to rumble!
Start by choosing your wager with the + and – buttons (from $0.01 to $5.00). On the 5 x 3 reel grid, you can bet up to $250 on one spin. Find presents, Mrs. Santa, elves, thugs, presents, and Rudolph to win prizes ranging from 125 to 6,000 coins.
Line up three Wild Rudolph pics vertically in the center row to activate his angry animation. Rudolph jumps out and swings his bat, and any adjacent scatters rack up big bonuses. When three thug scatters show up, you pick a thug to activate the Santa Strikes Back feature or the Rudolph's Revenge feature. Depending on which thug you choose, you can win multiple bonuses, free spins, and more! When the Rudolph's Revenge feature is triggered, you have to find three hiding elves among various hiding places in Santa's workshop. Find three elves in three picks and you'll win 50 free spins! The free spins feature can be retriggered nine times during the game. And if you score five thugs, you'll win the progressive jackpot for a very merry Christmas indeed.
Snowmania
Join Frosty the Snowman in his winter wonderland and free his frosty goodies from blocks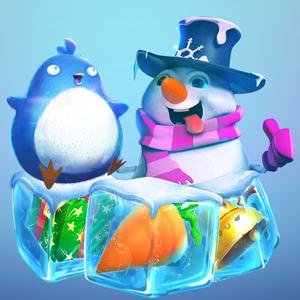 of ice to win! 20 rows form an icy reel of blocks which drop into place on the screen when you spin. Line up jingle bells, boughs of holly, gingerbread, Santa's hat, and other seasonal symbols to make matches. Once a row is matched, the ice breaks, the goodies are released (along with coins), and another pile of ice cubes drops into their place—giving you the chance to win bonus multipliers with each spin if you make a match a second time.
The Ice Wild cube helps you trigger matches, hit bonuses, and break the ice. When you score more than three scatters in a row, Frosty tips his hat, jumps out in front of the screen, and ploughs through the snow with a merry moonwalk.
Swindle All the Way
Another seasonal slot offering for the Bah Humbug crowd is Swindle All the Way. Two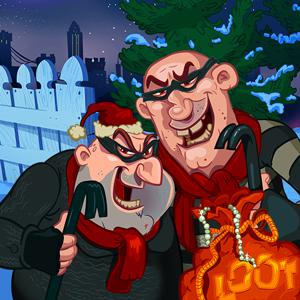 robbers are crashing down chimneys to steal presents faster than Santa can deliver them. Join them on their larcenous lark through a neighborhood chock full of presents, sacks of loots, and stockings stuffed with bonuses. These robbers even steal the milk and cookies left out for Santa!
Choose your wager amount and spin the reels set on 25 lines of play. Score rows of scatter symbols for a variety of rewards and bonuses. Land a combination of three or more Wild card robbers and Swindle All the Way scatters to activate the bonus feature. Then you'll have to find robbers hiding in rows of windows to rack up big bonus spins and coin multipliers. The more robbers you uncover, the more spins you win. You can even trigger the feature again during your bonus spins for some really big bucks.
Those naughty robbers laugh and click crowbars whenever they appear, leading the way to some nice holiday loot. You can adjust the speed of the reels as well as your wager. Choose auto play to spin for you. If you hit more than three guard dog scatters in a row, lightning strikes and you win big!
The Elf Wars
Get ready for some elfish mischief in the North Pole! Naughty elves light and throw sticks of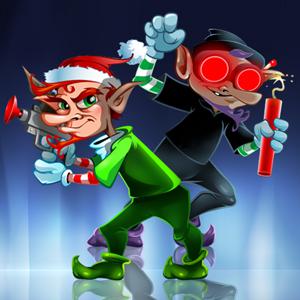 dynamite, General Rudolph (with his ubiquitous cigar) fires the big guns, and Santa comes running to the rescue in a short-sleeved Robin Hood costume. Check out Santa's ripped arms! He's got guns of his own.
A unique feature of this slots game is the guaranteed feature option. A mandatory side bet accompanies your normal wager to ensure that you trigger one of the bonus features during the game. Bonus features include Rudolph's Revenge, Rudolph's Rampage, Santa Strikes Back, and Jackpot Spins. Spin a bonus wheel for multipliers or search for hidden elves in Santa's workshop. Good elves are dressed in green and armed with plastic dart guns, while black-clothed bad elves chuck explosives. This hardly seems fair, but with all of the bonus and features in the game, you'll be too distracted with winning to care about the outcome of the Elf Wars.
Conclusion
It doesn't matter if you're naughty or nice, all of the lucky seven Christmas slots can be played for fun or real money. So pick your favorite Christmas slots game and get ready for a wild ride! Because the best part of winter is the cold, hard cash.