We just can't help it. Anytime we visit a casino odds are that one thought will eventually cross our minds: how is the casino food? Most casino resorts offer a variety of dining destinations from Michelin-star restaurants to more modest eateries, but you might want to consider what casino foods are actually worth a taste. Over the years, the various gambling joints and casinos have undergone major changes to make casino establishments more accessible and unique to serious and non-serious players alike. An often overlooked yet important component of a casino is the food. Casino cities have a variety of food establishments to offer its patrons; and places like Atlantic City, Las Vegas and the Macao Strip are reinventing their food standards to make it all the more enticing for people to visit.
Out of all of the varieties of casino foods and flavors, we want to know what foods casino players love to eat while they set out on a high-roller's gambling streak or what they need to get their energy up for an important game. Though there are a variety of high end restaurants offered by casinos throughout the world, we've decided to stick to the more accessible casino food options for avid gamblers or new-comers. From buffets to stress foods, we've compiled a list of some of the most awesome casino foods for your Epicurean enjoyment. If you're looking for some other tasty offerings, why not try Planet 7 Casino's latest bonuses for new joiners and serious players!
The "b-word"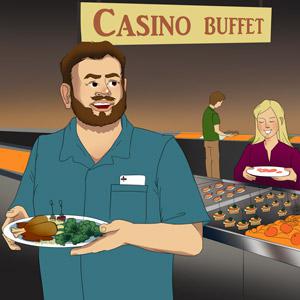 There's one quintessential form of dining when it comes to casinos: the buffet. There are undoubtedly many popular excesses in Las Vegas, Sin City, but there is no such mainstay quite like the casino buffet. When you are willing to spend hours playing on your favorite slots or table games, the last thing you want is a rumbling tummy to distract you from winning that high hand or walking away from a hot slot machine just as it's dishing out winnings.
The quality of casino buffets have vastly improved over the last decade. The standard meatloaf and submarine sandwiches have been replaced with more upscale and diverse delicacies like imported fish and sashimi to five star desert courses and brunches. As well-known establishments like the Bellagio and Wynn gain revenue, casinos are realizing that hiring experienced chefs can make all the difference to increase profits. And the best part is that these feasts won't break your bank!
Menu items are known to include anything from oysters and custom order ribeye cuts to pork masala and braised duck. Fusion cuisine and fine dining for the average Joe doesn't have to break one's bankroll. Competition is fierce as casinos are pulling out all the stops to ensure that customers keep coming back. So, here are our top spots for experienced and casual buffet-goers that may change your thinking of what casino food is or frankly your weight class.
Wicked Spoon at The Cosmopolitan of Las Vegas
Within arm's length of the Cosmopolitan casino's fine dining floor, the Wicked Spoon is loved by both serious foodies and casual diners. Upending the typical steam-tray system, Wicked Spoon has set the new standard for casino buffets. Food is served in mini stove pots, ramekins, and even take-out boxes, Chinese-style, for players on the go. The Spoon's most popular menu items range from customized Culotte steaks, ratatouille and steamed dumplings to Korean kimchi sushi and upscale house wines. We recommend the avocado rolls, they are to die for.
Bacchanal at Caesars Palace
For a truly godly dining experience that holds up to its Roman namesake this casino buffet has it all. Created at no minor expense the Bacchanal rivals the Wicked Spoon in its selection of delicacies. It offers over 500 global delights from Pacific oyster selections to curry soups. For a more all-American experience be sure to try the Texas-smoked brisket or blackened chicken bites. This casino buffet is well worth a visit even if you aren't planning to gamble at Caesar's! Pro tip: check out the Chinese corner hidden at the back of the buffet for the shrimp lo Mein.
The Buffet at Bellagio
To this day the Bellagio holds the standard of casino excellence and its pig-out paradise aptly named the Buffet is no stranger to elegant excesses. Its offerings of cut-to-order sushi and combination of fine salad selections or caviar are sure to be all you could dream for as a hungry patron. Lines are long, however, so we recommend bar seating when it's available or avoid peak times on weekends to save a few bucks.
The Buffet at Wynn
The Wynn's Buffet is as spectacular for its floral and rococo designs as it is for its casino food selection. Vegetarians and vegans will be happy to hear that options are o'plenty for them as well. For those looking for something heartier be sure to try the beef lasagna or Alaskan crab leg plates. Sugar fiends can also comfortably find their fix at the bake shop, but be careful not overdose!
Feast Buffet
A little bit further east of the Vegas Strip is the Red Rock casino buffet. Ask any Sin City local and they'll tell you that the Strip is for tourists, and the Red Rock is the place to be for some quality buffet offerings for a fraction of the price. Their Sunday barbeque offers some of the best pork tenderloin and brisket available in the entire city, just don't tell the out-of-towners that.
Casino food that won't break the bank
Gold Spike Hotel and Casino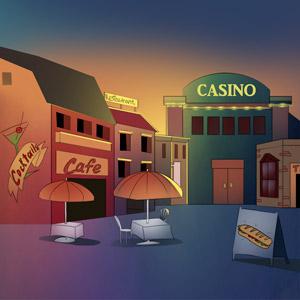 This former dive-y casino establishment has now turned into a cheap eats and night-out hotspot, and has become the essence of good casino food for low cost in Vegas. Gold Spike offers a variety of food and drink for as low as $5, but suggest you go with the six dollar nacho platters and pizza sliders.
Beware because at night this casino transforms into a party destination with in-house DJs and an adult playground. It offers a giant chessboard, soccer pool, Twister, giant Jenga, beer pong tables and other favorites. There's even roller skating every third Wednesday of the month.
Tony Boloney's
If you're looking to get away from the lights of Vegas you might want to head over to Atlantic City. This fading gambling mecca of America has seen better days. Though in recent years its casinos have been losing revenue and see fewer visitors, it doesn't mean that you can't find some serious eats.
This casual BYOB place near the Boardwalk started from modest beginnings by offering cheap eats to the local blue collar workers. It shifted gears in recent years and now offers anything from delectable pizza and wings to hand-cut fries, and braised brisket or pulled pork hot subs. Its owner, Mike Hauke, originally ran a laundry service, but eventually found his passion in food. He soon realized that with his unique food creations he could build a better business. His establishment offers some great casino food for anyone looking to stay within budget, and now frequently sees hardcore gamers and food enthusiasts looking to dine.
Garden Court Buffet at Main Street Station
Are you're looking for a casino buffet on the inexpensive side of the spectrum? Our number one choice is the Garden Court Buffet in Downtown Las Vegas. This Victorian-inspired casino offers eats that, while not gourmet, are remarkably satisfying. Island favorites like oxtail soup and laulau are standard here, and these options are not even remotely available on the Strip. Be sure to check this place out at off-peak times to avoid insanely long lines. Food quality will not be affected, and it's all you can eat without losing any of your playing coin.
Best casino food ideas for online casinos
If pigging out to the brink of a food coma isn't your thing and you're running out of casino food ideas; there are healthier alternatives for those looking for a quick pick me up to keep the mind sharp and stomach full. The following DIY casino foods are widely available, easy to eat and are sure to keep you ahead of the game.
Banana
This can be easily considered the world's most perfect food. Convenient on the go and no prep required, bananas are a rich source of carbohydrates, potassium and a sugar known as pectin.
Regular consumption of bananas can help protect against muscle fatigue, cramps and are even a great recovery cure for hangovers. Packed with soluble dietary fibers and natural detoxifying agents, bananas are good for digestion and soothing upset stomachs in case you encounter some nerves while playing.
Avocado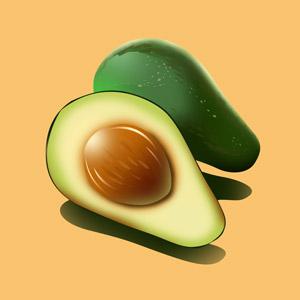 Your body requires certain food to better absorb vital nutrients, such as alpha- and beta-carotene and lutein. Avocados just so happen to be one of the few foods that function in this capacity. Loaded in good fats, avocados are known to lower cholesterol levels as well as risk for heart disease. These good fats can also kill hunger more effectively compared to animal fats found in pizzas and burgers.
Tea
For thousands of years tea has been regarded as having many beneficial health properties. Certain tea varieties offer more caffeine than a cup of coffee, and chamomile and green tea are great for calming nerves. It's simple, there is probably no better beverage to maximize brain function and keep alertness than tea.
Fatty Fish
For those looking for a healthy food fix while keeping back hunger, we recommend fatty fish. Fish are a lean and good source of protein, and fish oil has many known health benefits. Rich with vitamin-D and heart- and brain-healthy omega-3 fats, we recommend eating mackerel, trout, sardines and salmon to optimize your gaming diet.
Yogurt or Milk
For a great combination of B vitamins, protein, vitamin D and bone-building calcium we recommend yogurts or milk. These dairy products also relieve tense muscles and can bring more restful sleep on nights before big games. For those that are lactose intolerant we recommend the soy or nut varieties.
Nuts
Once again, if you are looking to stave off hunger nuts, are a convenient and simple food perfect to stop the munchies. Choose nut varieties such as almonds, cashews and pistachios. Avoid sugar-coated or salted varieties as these can increase thirst and blood pressure.
Dark Chocolate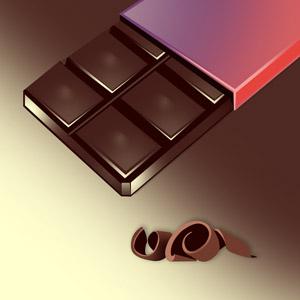 Produced from the seed of the cocoa tree, dark chocolate (not that sugary crap) is one of the best sources of antioxidants on the planet. It is well known that dark chocolate (not milk) can improve health and lower the risk of heart disease. It also helps lower blood pressure and improve brain function. It's perfect for those long nights at the poker table. Make sure you get chocolate with a cocoa content of 70% or higher for the full effect.
If you're looking for other tactics besides food to maximize your casino playing potential, you should check out our useful guide to controlling your emotions while gambling.
Food casino
Though a bit out of the ordinary casino experience, this pop-up is worth mentioning. Back in 2015, the Diner in London created an event called "Raise the Steaks". It offered food and gambling with a new twist. Participants were given food instead of standard casino chips. Burgers and "chips" (what Brits call fries) were gambled with. Instead of playing with their food gamblers could literally play with their food. They were able to choose from popular table games like Roulette, Blackjack and Texas Hold'Em. Jackpots included an all-American dinner, so instead of leaving with pockets full, players filled their bellies.
Know your casino foods
Though there are many high-end food establishments available for fine dining throughout the world, the avid casino-goer should stick to our list of food favorites
Las Vegas, home of excess, offers some incredible casino food and casino buffet experiences. Be sure to check out what's offered on the Strip, Downtown Las Vegas and where the locals go
For those looking to stray away from casino buffets, many popular gaming towns like Atlantic City offer low-price dining experiences that don't compromise food quality for cost
For the online casino gamer there are so-called super foods one can eat to maximize brain function and enhance gameplay, these include: sweet treats like dark chocolate and bananas or other healthy options like avocados or fish
London, England was home to a literal food casino pop-up back in 2015 known as Raise the Steaks; gamblers could play for burgers and "chips" instead of real money
Casino foods come in all varieties, but for the most enticing experience besides giving in to the munchies, visit Planet 7 Casino today to play on our wide selection of incredible online casino games. Choose from our many great real money slot games or tables such as video poker for the ultimate chance to win big. Check if you've got what it takes!