Gambling is one of the most popular sources of entertainment in the world, so it should come as no surprise that more and more people are venturing out of their home cities, in search of bigger and better venues to put down their hard-earned cash.
With so many casinos dotted all over Europe, America, and Asia, it can be difficult deciding on where to go for your ultimate getaway; these days most people want more than just a gaming floor to explore!
We wanted to suss out the top destinations homing in on the best multi-complex resorts that cover all of your gambling needs, entertainment fixes and food cravings all into one nice, neat package!
So, without further ado, here are our top 10 casinos in the world, offering precisely that!
No. 10 – Resorts World, Birmingham, UK
The Empire Casino near London's Mayfair is probably more popular than this one, but Resorts World definitely outdoes it in terms of price, location and things to do – plus it's not so congested or expensive on the drinks tab either!
Inside, you'll discover a huge international casino offering everything from Blackjack to 3 Card Poker and Baccarat, over 100 slot machines, a sports bar and private VIP rooms.
The casino is open 24/7, and is completely unique in the sense that it actually offers "Learn to Play" sessions on all of these games too – helping you to beat the odds and become a master in no time!
That's not all you'll find at this Brummy-based retreat either; aside from 178 lavish hotel rooms and 5-star suites with Italian-style bathrooms, you'll be able to spend hours being pampered inside their Santai Spa after splashing out on some retail therapy, and stuffing your face in the multitude of shops and casual dining restaurants nearby.
The complex also has an in-house cinema, bars and conference centre for meetings and ceremonies.
No. 9 – St, Moritz Casino, Alps, Switzerland
Situated in the quaint little village of St Moritz, this casino sits at 1,850 meters above sea level, and is dubbed the highest gaming venue in the whole of Switzerland.
Featuring over 80 slot machines as well as Texas Hold'em, Blackjack and American Roulette; this casino is a the perfect way to unwind after a day trekking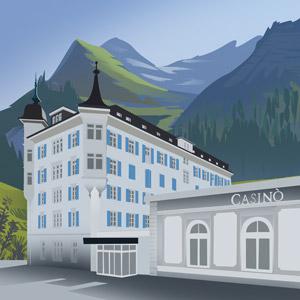 through the beautiful Swiss Alps and lapping up that mountain air.
As it's one of the largest winter destinations in Europe, you'll be inundated with options of fantastic places to get your head down for the night. There are over 40 hotels ranging from 3-5 stars, all very close to the casino with their own little perks and advantages.
According to genuine reviews on TripAdvisor, some of the best are: Art Boutique Hotel, Badrutt's Palace, Club Med and Hotel Crystal.
No. 8 – Casino di Campione, Como, Italy
Next up we head over to the wonderful, hilly city of Como in Italy, most renowned for Lake Lugano, the Italian Alps, churches, museums, theaters, parks, palaces and of course Europe's largest gambling haven – Casinò di Campione.
Established in 1917 as a site used during WW1, this casino has an overall gaming space of 590,000sq. ft. across 9 floors, with 500 slot machines and 56 table game variants including roulette, Chemin de fer, baccarat, blackjack and poker.
Despite the fact the building is recorded as being the largest, in terms of other things to see and do here, they have a limited number of restaurants – so it's best to pop to any of the 100's cafes or bars just outside.
They also don't have anywhere for guests to sleep, but have several partnerships with various independent hotels and B&Bs that provide discounts for guests visiting the casino, including the Swiss Diamond, Hotel Splendide Royal Lugano, Villa Principe Leopoldo Hotel & Spa and the Grand Hotel Eden.
No. 7 – Casino de Monte Carlo, Monaco, France
One of the most sophisticated casinos in all of France, Casino de Monte Carlo screams nothing but pure originality and elegance, with its lavish décor and luxury suites, as well as a swimming pool, sand-bottom lagoon, fitness centre, spa and abundance of other in-house facilities that will fulfill all of your entertainment and leisurely needs by tenfold.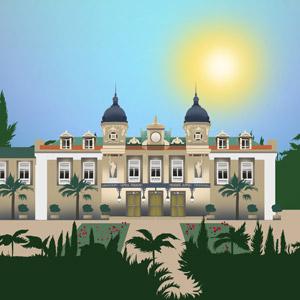 For those looking to put their dancing shoes to use, Monaco has some of the best nightlife in the country, as well as bars and restaurants for grabbing a quick bite.
Inside the gambling retreat itself, you can expect to find the most popular table games including Blackjack, Texas Hold'em, Punto Banco, tons of slot machines as well as all French and English Roulette. Open every day from 9am-1pm, the gaming floor is said to have a real James Bond atmosphere!
No. 6 – Casino Lisboa, Lisbon, Portugal
Located in the Parque das Nações, Lisbon – this casino is actually owned by a Chinese gambling king who goes by the name of Stanley Ho. He also owns the Casino Lisboa in Macau, and when the Portuguese one was officially opened in 2006, it had 700 slot machines and 22 gaming tables at the time.
These days the casino has quite literally "upped its game" and homes almost double those amounts!
Within the complex, you can find everything from live shows and concerts in their famous Arena Lounge and Ocean Auditorium, multiple food options offering the finest in Mediterranean cuisine, as well as an art gallery which exhibits some of the most aesthetically pleasing paintings, sculptures and installations from artists all over the world.
No. 5 – Sun City Casino Resort, NW Province, South Africa
Tucked neatly into the North West Province of South Africa, Sun City Casino is relatively near to the capital of Johannesburg, and is famous for being the best holiday resort in South Africa.
This complex offers the full spectrum for accommodating its guests; from 5-star luxury, to family friendly suites, to romantic tranquil rooms away from the hustle and bustle.
Sun City provides the ultimate gambling experience with its 40 table games, 100s of slots as well as exclusive VIP gaming rooms.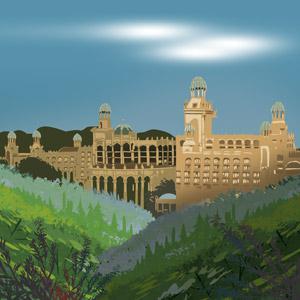 When it comes to keeping the kids entertained, the resort offers a cinema, mini quad-biking, aqua park, steam train, gardens, ten-pin bowling, golf and arcades. Once you've put them to bed, be sure to grab a snack and cocktail at Harlequins or the Maze bar, before heading out to witness some of South Africa's awesome nightlife at Vibes sports bar and dance central Club Encore.
No. 4 – Foxwoods Casino, Connecticut, US
Foxwoods is the largest casino resort in North America and is owned and operated by the Native American Mashantucket Pequot Tribe.
This gambling mega-complex contains 5 casinos with over 250 gaming tables, 5,500 slot machines and a ginormous 9,000,000 sq. ft. of combined gaming space homing Baccarat, Blackjack, Bingo, Keno, Craps, Pai Gow, and Roulette.
You'll also find over 35 places to indulge your palette (one of them being the famous Hard Rock café) covering all of the world's traditional cuisines in both casual buffet-style experiences and fine-dining atmospheres too.
Foxwoods are so popular they even have their own shopping mall with brands like Pandora, Hugo Boss and Michael Simon and they even provide specially tailored packages for their hotel, which offers 2,226 rooms over 2 hotel towers in total.
No. 3 – MGM Casino Resort, Las Vegas, US
Following on from the famous Foxwoods, MGM Grand Las Vegas is the third largest hotel complex in the world and the largest single hotel in the United States, with 30 floors and a massive 6,852 rooms.
Their casino floor has the largest single area of 171,500 sq. ft. and contains over 139 table games and 2,500 slot machines with payouts up to $500,000!
MGM own over 14 hotels on the Las Vegas strip, including Bellagio, MGM Grand, Mandalay Bay, Circus Circus and Luxor to name a few. Each one offers everything from budget-friendly rooms to exquisite 5-star luxury suites with all the necessities and more.
The entertainment is endless, and guaranteed to have something for everyone no matter what their mood. MGM have hosted acts like Lady Gaga, Elton John and System of a Down in the past, and always have the most spectacular live shows including Cirque Du Soleil, and some big sporting events such as WBA.
No. 2 – City of Dreams Casino, Macau, China
City of Dreams is the second largest mega complex in Macau, owned by Melco Crown Entertainment, and situated on the Cotai Strip opposite the Venetian.
What makes this podium-style venue so special, is the fact that it has everything you could possibly need all under one roof; 420,000 sq. ft. casino with 450 gaming tables and over 1500 slot machines; 4 hotels with 1,400 collective guest rooms; 175,000 sq. ft. of shopping and retail space over 2 levels, over 20 dining and beverage options, as well as several local attractions such as the Dancing Water Theatre, The Bubble Fountain and aquarium.
If you're looking to venture outside for some more of Macau's culture during your stay here, you can get your fix of adrenaline by bungee-jumping and sky walking off Macau Tower, visit the Giant Panda Pavilion, explore a multitude of museums and churches, or simply take a day-trip tours to Hong Kong!
The possibilities are truly endless in what has been dubbed the "gambling capital of the world!"
No. 1 – Caesar's Palace, Las Vegas, US
Featured in multiple block-buster movies such as Rocky, Ocean's Eleven, The Hangover and Iron Man – Caesars is one of the longest-standing gaming establishments running, and naturally the first casino that comes to mind when most people think of Vegas.
This iconic, Roman Empire-inspired, luxury hotel and casino homes over 3,976 rooms and suites across 6 towers with over 300,000 sq. ft. of events space. The world-renowned landmark, is one of the best high-rolling joints in the city, providing Blackjack, Baccarat, Roulette, Craps, Spanish 21, Pai Gow, Mini-Baccarat, as well as a 24-hour 4,500 sq. ft. Poker room!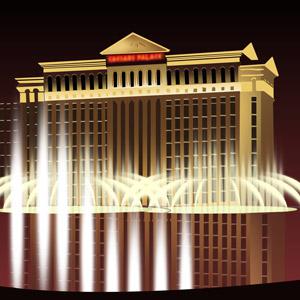 There are a swarm of eating and drinking options including Gordon Ramsey's, The Old Homestead Steakhouse, Mr. Chow, Mesa Grill and Payard Patisserie just to name a few of the big ones, so whether you're after a meaty treat, vegan snack or a little something to satisfy your sweet-tooth – you'll be able to find every type of cuisine you can imagine here!
They don't fall short on the name in terms of actual entertainment either; over the years they have seen some of the biggest names perform inside their Colosseum, such as Frank Sinatra, Rod Stewart, Shania Twain, Mariah Carey, Cher, Elton John and even Judy Garland when she was alive.
Caesars is one of the best for hosting live sporting events and shows, such as boxing matches and their own Caesar's Palace Grand Prix in the past, so you shouldn't have to venture far from the resort as they always have something exciting happening there, regardless of what day of the week it is!
Latest winners
Want to be one of the top winners?
Conclusion
That pretty much sums up our Top 10 for the world's best gaming resorts. It's always worth doing your research and weighing up your options when it comes to booking your ultimate break to any of these places though.
If you have a bit of extra cash to splash, you'll be able to live like a royal in any of the fancy, luxurious suites in these casino hotels, but you'll equally have an amazing time getting your head down in a basic, yet sophisticated room for much less (especially if the whole family are coming)!
Also bear in mind that although most of them do, not all of these casinos host every table or specialty game, so if you have a desire to hit one in particular for 3 days straight, again do your research and check their website first! You wouldn't want to turn up there and feel like you've had a half-hearted holiday, simply because the casino didn't have the American version of Roulette!
Other than that, you'll be set for a spectacular experience when booking any of the above destinations and their surrounding counterparts for your gambling fix! Start packing and get ready to line out those wallets!
And don't forget to know before you go, practice your blackjack, craps, or roulette systems right here at Planet 7 before you head out the door. Play on the way for fun or real money as you travel thanks to our fully mobile optimized casino! Step into a world of adventure, blast off to Planet 7 today!