When you're looking for things to do with Dad this Father's Day, remember that it's a day all about him. You could take him to a ball game, grab a few cold ones at the local bar, or catch the latest action flick in the theater if he's down for it. But, at the end of the day, Dad should do what he wants to – and that could very well be to crack open a brew and sit in his favorite recliner while he spins the reels online.
We've put together a list of the Father's Day games on Planet 7 Casino that are sure to be a hit with Pops and give him a very rewarding holiday.
Mister Money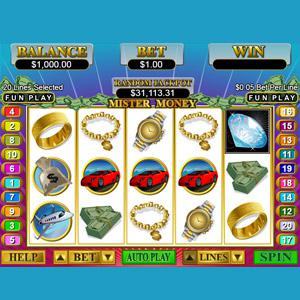 If Dad likes to be surrounded by expensive cars, priceless jewels, and piles of cash, this is the game for him. There are a total of 12 symbols representing the lap of luxury, including a regal mansion, private jet, killer sports car, sack of money, and gold ring among others. The game features five reels and 20 paylines, with a customizable Autoplay feature.
The most important symbols are the white and red diamonds, which function as the wild and scatter symbols respectively. The white diamond substitutes for any other symbol, including the red diamond. This wild symbol could also reward 2500 chips if it substitutes one of the five images of Mister Money in a five-of-a-kind winning combination.
The red diamond gives up to 50x Dad's original wager and three or more on the reels triggers the free spin feature. In this feature, he's automatically given five free games with a 2x prize multiplier and a chance for more by picking the correct moneybags out of 15. The number of red diamonds he spun determines the number of bags he gets to choose. Once in the feature, spinning three, four, or five red diamonds could give him 10, 15, or 20 extra free games.
In addition to all these goodies, Mister Money wants to share his millions with a random progressive jackpot that could be triggered at the end of any spin at any time. Trust us – this is one of the Father's Day activities he'll love.

Football Frenzy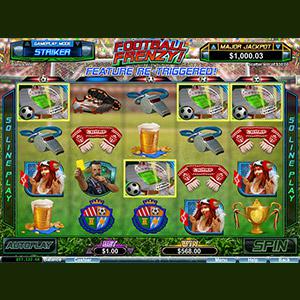 So, Dad enjoys a good ball game. We couldn't agree with him more – Planet 7 Casino has multiple slots games based off popular sports, including Football Frenzy. Since 1930, the World Cup has dominated the globe as the most popular sports event by bringing together the top football countries every four years to compete for the ultimate prize: bragging rights as the top team in the world. Football Frenzy is a Father's Day game that brings the same excitement with even bigger rewards for Dad – two different game modes, two big jackpots, a special Penalty Kick bonus round, and even 3000x his original bet.
This slots game features five reels and a staggering 50 paylines, giving Dad even more opportunities to score prizes. There are two modes of play – Lucky Mode features the chance to play an instant feature at the end of a game, whereas Striker Mode could lead up to 100 free games with 3x multipliers.
The stadium serves as the scatter symbol in Football Frenzy. Three stadium symbols could award up to eight free games, and five stadium symbols could score Dad up to 100. The wild symbol is the striker, who can sub for every other symbol except the stadium. Whenever Dad lands a winning combination using the striker, his prizes are doubled.
In the bonus feature, a Penalty Kick Bonus is triggered when a Bonus Ball shows up in each reel. This gives Dad the opportunity to face off against the goalie for free kicks and prizes like free games and prize multipliers.
So, don't be alarmed if you hear Dad cheer "GOOOAAAL!" at his computer screen – it means he just scored some serious rewards.

Field of Green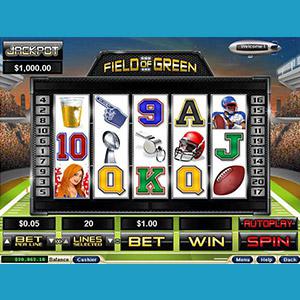 All right – your old man is American through and through. For him, "football" refers to the game where players toss around a pigskin and score touchdowns instead of goals. The other game is soccer, damn it, not football. If this is the case, he'll be down for Field of Green. This slot is a 5-reel, 20 payline bonus progressive video slot game based on America's most popular sport and a perfect addition to your list of Father's Day activities.
In Field of Green, the trophy is the wild symbol – it substitutes for every symbol except the football and doubles prizes when found in a winning combination. The football acts as the first scatter symbol. A combination of three footballs anywhere on the reels triggers the bonus game, where Dad has three to five chances to make a field goal. The bonus prizes range from 25 free games with a 3x multiplier to 100x the initial bet and up to 125 free spins.
The second scatter symbol is the football player. If three football players show up on the reels during a bonus game, a secondary multi-bonus game is triggered for a chance at bigger and better prizes. And if five football players in a row appear in normal gameplay, Dad could win up to $40,000.
But the best prize comes randomly – Field of Green features a progressive jackpot that can be triggered at the end of any spin at any time. Talk about a touchdown, right?

Hockey Hero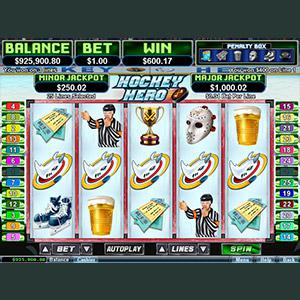 Okay, so Dad doesn't like the field as much as he likes the ice rink. He wants to go to a game where he's pretty much guaranteed to see a brawl, and Planet 7 Casino can deliver with Hockey Hero. This slots game has five reels and 25 paylines with the option of betting anywhere from $0.25 to $125 per spin.
The hockey player is the wild symbol, and he substitutes for any other symbol except the scatters. Prizes are doubled when he shows up in a winning combination. The clock is the first scatter symbol, and the penalty box is the second. When the penalty box shows up in a winning combination, it multiplies winnings by the total bet amount. Three or more penalty boxes anywhere on the reels triggers the special bonus round with cool prizes like multipliers and free games.
The Win Win Feature is also available at the end of the bonus feature – if there has been no reward during the Free Spins Feature, there's no need to start a brawl on the ice. Chill out, because a bonus prize of 200x Dad's original bet is awarded if he comes up empty-handed.
Finally, there are minor and major progressive jackpots that Dad has a shot at winning. So, tell him to suit up and get into the rink to score in this Father's Day game!

Dream Run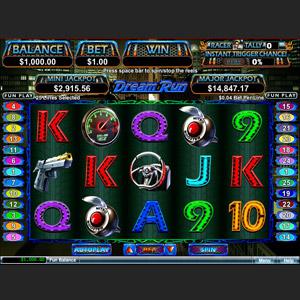 Maybe Dad prefers to spend time in the garage instead of in the stands. Planet 7 has one of the best Father's Day activities to satisfy his need for speed, and it's called Dream Run. This slots game has five reels, 25 paylines, and goes from 0 to 60 in the amount of time it takes to press the "Spin" button.
The scatter symbol in Dream Run is the green light – three or more across the reels triggers the bonus round, where Dad can win up to 25 free games. The wild symbols are the Racer and Opponent, who duke it out to cross the finish line first. When the Racer appears in a winning combination, prizes are tripled.
The Dream Run Racing Feature is the bonus round that is triggered by three green lights. In this bonus feature, Dad gets to pick his own car and go up against four other drivers in a race to the finish line. Prizes are awarded based on where Dad placed in the race and include up to 25 free games and huge prize multipliers. When 10 Racer symbols are collected, the Nitro Racing Feature is triggered. This feature is similar to the Dream Run Racing Feature, but includes additional benefits like bigger prize multipliers and the ability to pop jackpots.
With Dream Run, Dad also has the chance at the major and mini jackpots. These are local progressive jackpots and are awarded during the Nitro Racing Feature to the best driver. It's time to get fast and furious this Father's Day and race to the rewards waiting at the finish line.

When it comes to Father's Day activities, we've got you covered. Let Dad relax and unwind at the end of a fun-filled day with these games and more at Planet 7 Casino!