The gambling industry has long been associated with theft, prostitution, drugs, fraud, and other schemes that exploit the justice system. In many parts of the world, the shared commonality with these is that they are all operated in part by organized crime. The mafia embodies a dangerous group of criminals that harness so much juridical and financial power. The mafia's ties to gambling created a booming casino empire in the middle of the Nevada desert. These are the hands that built Las Vegas. 
Casinos and sports betting have been a key instrument in the success of the mafia's crooked schemes since day one. Here's a look at some of the most notorious criminal icons that headed these operations and how most of them met their impending fate.
Meyer Lanskey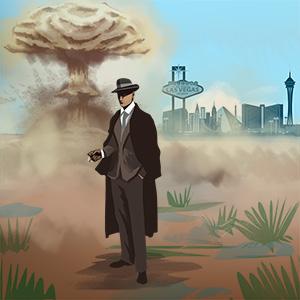 Meyer Lanskey, aka, the "Mob's Accountant" was born in Poland but moved to the East Side of New York in 1911. The Big Apple was where Lanskey crossed paths with the infamous Bugsy Siegel. The two became close after Lanskey helped Siegal to ditch his gun and escape the cops during a back-street shootout. It was from that point onwards that the devious duo became known as the "Bugs and Meyer Gang."
Lanskey also earned his nickname around this time. After proving to be a mastermind at math, he was appointed to manage the mob's finances. The success of the mafia's many money laundering operations was due, in part, to his acute skills with numbers and his fearless negotiations with the law.
In 1933, when the alcohol ban was lifted in the U.S., Meyer targeted the gambling industry and was rumored to have been in ties with the Italian mafia. It was also around this time when he began establishing operations in Cuba, New Orleans, London, Florida, and a casino in the Bahamas.
Lanskey was the owner of several other operations, estates, and businesses across the globe, and following his death from lung cancer in 1983, he was estimated to have a net worth of around $300 million.
Benjamin 'Bugsy' Siegel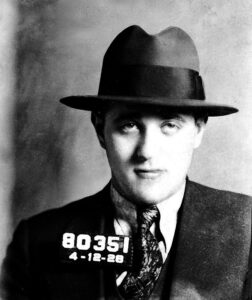 Benjamin 'Bugsy' Siegel, was a Brooklyn-born Jew, whose family migrated from Austria-Hungary to the U.S. in 1903. Siegel would roam the streets of Brooklyn to make quick cash throughout his childhood. His violent temper and wild ways of conducting business are what earned him the nickname 'Bugsy' in his adolescence — quoted from locals that he was as 'crazy as a bedbug'.
After Bugsy met Lanskey, the deadly pair became even more notorious once they started employing contract assassins to carry out their unfinished dirty work. The killings were known to be so ruthless, that eventually 'Murder, Inc' became the media's nickname for the gang. It's estimated that Bugsy and Lanskey were responsible for around 1,000 contract killings in the time they were in business — most of which were Siegel's enemies.
In an effort to shed his old past, Siegel relocated to the sunshine state in 1937. Despite making new celebrity friends and being known as somewhat of a legend there, Siegel soon fell back into his old ways when he set up a bunch of off-shore casinos, brothels, and bought the Flamingo Hotel and Casino to help bring extra cash in.
After ten years, however, every one of his businesses went bankrupt. Siegal was still in debts and loans to some pretty nasty people at this time, which after many failed and futile attempts of getting him to pay up, resulted in his assassination on June 20, 1947. Which of his many enemies carried out the murder is still a mystery to this very day.
Tony 'The Hat' Cornero
Anthony, aka 'Tony the Hat' Cornero was regarded as the Godfather of Las Vegas between the 20s and 50s. Though he wasn't officially part of any mob or organization, he was one of seven people to receive one of the first-ever Las Vegas gambling licenses.
In 1931 he opened 'The Meadows Casino and Hotel' but after it was burned down during The Depression, he later returned to LA and began pursuing other gambling and business-related interests. He spent most of his time studying the state gambling legislation and finding ways to continue his businesses.
That's when in 1937, after finding a loophole in the rules that regulated off-shore gambling, he purchased two fully-fledged cruise ships for $600,000 and transformed them into luxurious floating casinos. The ships carried more than 350 staff and 2,000 gamblers each and were both docked just 3 miles off the Southern California Coast.
Anchoring them away from the coastline meant that for years Corneo was completely immune to most land-based gambling laws. In 1946, however, the Coast Guard and Navy reported that the ships had inched their way into international waters, which gave the authorities the right to have them instantly raided and shut down.
This huge loss pushed Corneo to return to Vegas once again, where he began work on another casino project that was known as The Star Hotel, up until 2007 . The business struggled and Corneo could never fully cover the costs. This led to him racking up a mountain of debt over the next few years, including an $800,000 loan he'd been granted from mobster investors.
Unfortunately for Corneo, the debt wasn't forgotten and he died in 1955 during a game of craps. His body flopped to the floor after a night swigging away on liquor that was supposedly poisoned. A coroner's report suspiciously determined that Corneo had in fact, died of a heart attack.
Frank "Lefty" Rosenthal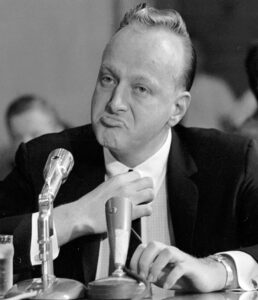 Frank Lawrence Rosenthal was known as one of Las Vegas' most prestigious gambling elites in the 70s, so much so that he was the center inspiration for the movie Casino by Martin Scorsese. Not only was the real Lefty a professional sports gambler and former casino executive at many high-end casinos, but he was also heavily involved in organized crime rings.
In 1976 he was running four major casino operations without licenses, which the state originally denied because of his multiple criminal records. However, Rosenthal was secretly able to operate The Stardust (started by Cornero), The Fremont, The Marina, and The Hacienda, as well as the very first Vegas sportsbook.
The sportsbook could be found within The Stardust, where Rosenthal also brought in the first female blackjack dealers, doubling the casino's income in just a few months. Despite his huge contribution to Las Vegas and the gambling world as a whole, not everyone took to him kindly.
In 1982, mobsters attempted to assassinate Rosenthal by detonating a bomb that was attached to his car. Miraculously, he survived the explosion and relocated to Laguna Niguel in California immediately after his recovery. Here, he tried to obtain another casino license but was placed on the "black book" for having been banned from casinos in Vegas in 1987. After multiple court battles and having the ban removed and reinstated, the courts eventually agreed his name would remain on the blacklist.
For the remainder of his years, all Rosenthal could legally do was operate a small sports bar in Boca Raton, Florida. He also ran a sports betting website and acted as a consultant for several offshore betting operators. On the night of October 13, 2008, Frank Lefty Rosenthal bit the dust at age 79. His legacy, however, will continue to be imprinted in movies, pop culture, and the history of Las Vegas for many years to come.