The world is full of mystery, and you could be the one to discover its secrets! Put on your adventuring shoes and grab your fedora because you're about to embark on a journey that takes you to the heart of the jungle. Hidden deep in the trees lies the legendary Treasure Chamber. Protected by the jungle's forces, you have to watch out for jaguars prowling among the leaves and seek out the all-knowing golden owl.  According to ancient folklore, this chamber holds the world's most fantastic treasure, with piles of gold and ancient artifacts. With the help of your trusty female adventurer, there's nothing stopping you. Play the Treasure Chamber slot machine and see how your adventure unfolds!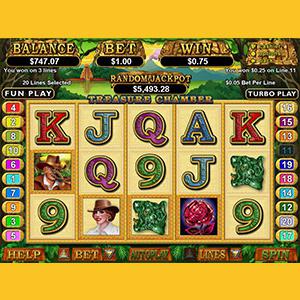 Treasure Chamber is just the excitement you need. With 5 reels and 20 payline options, the game is in your hands. You can choose to bet as little as 1 cent or really take hold of this adventure and bet up to $100! With a $5 bet max per payline and a progressive jackpot, you might end up finding more riches in your account than the adventurer would find in the treasure chamber.
This game has a whole slew of symbols, but the ones you want to keep an eye on are the adventurer and the rose. The adventurer is your wild card – this symbol substitutes for all other symbols except the rose. This means that if you need a certain symbol to achieve a payline, the adventurer can help save the day. The substitute increases your chances of creating a winning combination and getting some treasure of your very own. The rose symbol is a scatter and you can win free bonuses if it shows up in twos or threes. Two roses activates a "special" higher payout. But the big prize is if you get three or more roses to end up on your reels, because it activates the "treasure feature". With this feature, you win 20 free bonus games. And the best part is that the scatters don't need to appear in any particular pattern, they can be anywhere on the screen!
But getting to the treasure chamber isn't a certain and clear cut path. To keep you on the edge of your seat, the game has a shifting icon. This symbol flits back and forth like a dodgy little jungle monkey between the adventurer, rose, owl, jaguar, and female adventurer. You won't know what you get until the very last second – so you'll have to wait for the reels to stop spinning before you can see what your fate and fortune hold.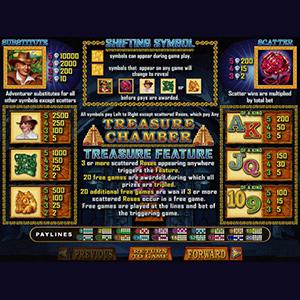 To make sure things never get too slow or dull for an exciting adventurer like yourself, make use of the autoplay feature. You have the options of "stop on any win" if you want to see what paylines are bringing you plentiful riches, or the classic "stop once feature is triggered". This will keep the reels spinning until you've exhausted your total bet amount.
But don't take my word for it. You can become an adventurer, but you'll have to start exploring. Discover what the Treasure Chamber has to offer you and your bankroll. If you feel a little timid, download the Treasure Chamber slots game and make use of its free game feature until you get the hang of things. You'll be swinging from vines, challenging vicious jaguars, and betting real money like a pro in no time. So start spinning those reels and soon you'll be telling your friends how you found the mystical treasure chamber and all of its riches!