When most people today think of gambling Meccas, Las Vegas, Atlantic City or Macau come immediately to mind. Glitz, glamour, bright lights, opulence and tons of money are what these shrines to risk and potentially disproportionate life-changing rewards conjure up in the minds of many. Stage shows, free drinks, fine dining, fantastic buffets, decadently beautiful swimming pools and life in the lap of luxury also follow suit.
But the big three are not the only cities in the world with a thriving casino-based culture. In this article, we take a look at an off the beaten track gem known as the "biggest little city in the world" Reno, Nevada.
Location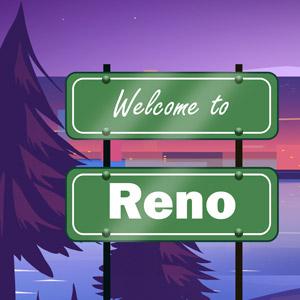 Nestled at the base of the Sierra Nevada mountains, just over the border from California, Reno it is said is a lot like what Las Vegas used to be, and more. Laid-back, friendly and with a lower stakes vibe than the better-known gambling meccas, Reno was founded by prospectors during the California Gold Rush back in the 1840 and 50s.
Located on the idyllic Truckee River, which flows from the crystal clear alpine waters of the beautiful Lake Tahoe from west to east to end in Pyramid Lake some 40 miles to the north east, when silver was discovered in nearby Virginia City, the river crossing at Reno became the ideal place to build a town designed to facilitate the rapidly growing trade in mining supplies and agricultural products.
History
Officially established in 1868, as the transcontinental railroad running along the banks of the Truckee River finally reached town, and endowed by the state of Nevada with a university in 1874, Reno rapidly became a boom town as the half way point between Sacramento, the capital of California to the west and Salt Lake City, the capital of Utah to the east. The University of Nevada, Reno would make substantial contributions to the city's cultural life, and due to the diversity of its thriving arts and cultural scene quickly earned the city the name "the biggest little city in the world".
Entertainment
When the state of Nevada legalized gambling in 1931, Reno became a model of the gambling destination resort town. Unlike Las Vegas in the southern desert, Reno was ideally situated at the base of the Sierra Nevada mountains, able to offer a wide range of activities above and beyond standard casino gambling and stage shows, including excellent trout fishing, white water rafting, hiking, biking and skiing in the nearby Sierra Nevada mountains.
Virginia Street, which runs north to south across the city center, soon became a magnet for casino resort developers. The Lincoln Highway, a transcontinental route, gave birth to countless motor lodges, gas stations and rest stops packed with slot machines to cater to the boom in post war automobile tourism and feed the endless chain of holiday makers moving east and west through Reno.
Amenities
Today, Reno boasts 20 full scale luxury casino resorts on par with their relatives in Las Vegas, Atlantic City and Macau, together with countless smaller gaming establishments, a thriving nightlife, bars, restaurants and seemingly never ending cultural events, including outdoor music and performing arts festivals, its own art district filled with artists studios and galleries, convention and sports facilities, a massive water park, the Truckee River Whitewater Park, the nation's best automobile museum and the largest and best art museum in the state, the Nevada Museum of Art. The gaming and entertainment industry forms the core of the local economy.
More affordable and family friendly than the glitz and glitter of Las Vegas to the south, Reno offers up all the spas, swimming pools, entertainment options, luxury suites, and fine dining options you'll find in Vegas at a fraction of the premium price you pay for the Las Vegas brand.
Top 8 Reno casino resorts
1 – The Boomtown Hotel and Casino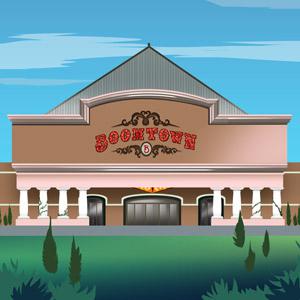 The Boomtown Hotel and Casino– Located conveniently just off the I-80 highway, in an area that was once a truck stop in the 1950s, the Boomtown offers up 318 guest rooms and nearly 40,000 square feet of gaming area. Famous for its lobster buffet, the Boomtown is also said to be a family entertainment paradise, with one of the best kids' games arcades in Reno and a phenomenal indoor carousel, bouncy house, miniature golf course and motion theatre.
For adults, the casino floor has a wealth of traditional gaming options including some 600 slots, video poker, poker, blackjack and keno as well as a host of different food and beverage options including the Boomtown Steakhouse, The Original Mel's Diner, Peet's Coffee & Tea, Market Fresh Deli, and the Buffet at Boomtown.
One unique fact about the Boomtown involves its Vice Chairman, Abdul Fattah Jandali, a Syrian immigrant originally from the city of Homs and a Ph.D. in economics and political science. A recent book has revealed that he is the actual biological father of Apple founder and tech visionary Steve Jobs, who was adopted as a baby.
Jandali had dated and impregnated a Swiss-German Catholic named Joanne Carol Schieble but her extremely conservative father refused to allow her to marry him because he was a Muslim. She gave birth to a son, Steve, on 24 February 1955, who was then put up for adoption in San Francisco on the condition that the adoptive parents be both college educated and Catholic.
Graffiti artist Banksy would go on to depict the late Steve Jobs as an immigrant carrying a bag of clothes and an old Mac computer in a mural at "the Jungle" refugee camp in Calais after the origins of Jobs biological father were revealed.
2 – The Sands Regency Casino Hotel
The Sands Regency Casino Hotel – located in downtown Reno, The Sands offers some 800 guest rooms, access to the largest outdoor swimming pool complex in Reno and a classic assortment of casino games including some 600 slots, video poker, blackjack, roulette and a number of poker games.
The Hotel and casino is also home to a branch of the "original Mel's diner". Mel's was first opened as the classic American drive-in diner in San Francisco in 1947 and quickly expanded to over a dozen locations in Northern California and Northern Nevada. The diner was made famous internationally thanks to the 1973 coming-of-age in America film by George Lucas American Graffiti, which would go on to become one of the most profitable films of all time and an American classic.
Other food and beverage options at The Sands include the Cabana Café. 3rd Street Longue, Taco's Tijuana, Pipeline Tijuana, The Sands Buffet and the Copa Bar & Grill.
3 – Circus Circus Hotel & Casino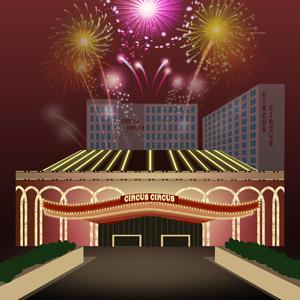 Circus Circus Hotel & Casino located in downtown Reno is the city's second largest hotel with three towers offering some 1,572 rooms and originally opened in 1978 on the spot of a renovated department store. As part of a chain of interconnected hotel casinos, Circus Circus Reno is linked to the Silver Legacy Reno and the Eldorado Reno and, in traditional Circus Circus style, offers its visitors live circus acts throughout the day.
The casino consists of over 66,000 square feet of gaming space with more than 900 slot machines including progressive jackpot slots, traditional brick and mortal table games such as blackjack, craps, 3 card poker, Texas hold'em, Pai Gow poker, Mississippi stud and Roulette and a race and sports book, bar and longue.
Food and drink offerings are varied and family friendly, with Circus Circus Reno hosting a Yogurt Beach, Madame Butterwork's Curious Café, the Habit Burger Grill, Panda Express, Piezzetta Pizza Kitchen, El Jefe's Cantina, coffee, tea and sushi in a traditional style food court setting.
Fine dining options include Sterling's Seafood Steakhouse and Pearl Oyster Bar and Grill at the connected Silver Legacy Reno and Roxy and La Strada restaurants at the connected Eldorado Reno.
4 – Harrah's Reno
Harrah's Reno originally began back in 1937, when William F. Harrah opened a bingo parlor in downtown Reno. Lasting only a few months, Harrah was determined to raise money for a bigger and better establishment to be called Heart Tango at the heart of the action on Virginia street.
By 1968 he was finally able to raise the funds to build a 24-storey hotel on the grounds of the former Reno Grand Hotel. In time he was able to add a second tower to boost the hotel and casino's capacity to 950 rooms. The Headliner Room was also opened drawing in famous A-list performers such as Joan Rivers, The Smothers Brothers and Merle Haggard. The venue's name was eventually changed to Sammy's Showroom, after Sammy Davis Jr., who provided the original opening night act at the Headliner Room.
Today Harrah's boasts over 40,000 square feet of gaming space, offering up a traditional brick and mortar casino assortment of slots and table games with the casino operated by Caesars Entertainment.
Harrah's food and beverage offerings include brand names like Starbucks and Quiznos, Asian themed offerings such as the Joy Luck Noodle Bar and the Japanese themed Ichiban, Carvings Buffet, breakfast food specialty chain Hash House a go go, and Harrah's Steakhouse.
5 – The Nugget Casino Resort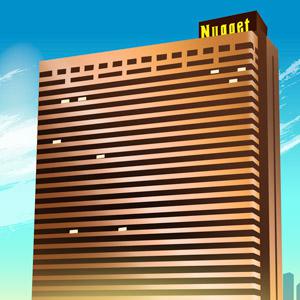 The Nugget Casino Resort, situated along I-80 just to the east of Reno proper, the Nugget opened its doors in 1955. Today's Nugget has 1,600 rooms and 52,000 square feet of casino floor space offering up traditional favorites like blackjack, VIP poker rooms and roulette as well as slots. The casino contains a full bingo hall, keno and sports book facilities.
Dining options range from the standard high-end steakhouse, The Steakhouse Grill, an oyster bar, Oyster Bar, fast food options such as the Noodle Hut & Sushi Bar and a Starbucks, the Game On sports bar, Rotisserie Buffet, Rosie's Café, and Tailgate Deli.
When it comes to entertainment, the Nugget has hosted some of the best acts around starting back in the 1960s with The Osmond Brothers, Robert Goulet and Liberace in the 700-seat Celebrity Showroom. The Nugget also offers convention and wedding facilities in its 2,000-seat Nugget Ballroom.
6 – Atlantis Casino Resort Spa
Atlantis Casino Resort Spa located adjacent the Reno-Sparks Conference Center on the spot of the old Golden Road Motor Inn, is a Triple AAA Four Diamond Award winning casino hotel spa resort a bit south of downtown Reno.
Designed with a tropical theme including indoor waterfalls and the Sky Terrace overlooking Reno rooted in two enormous Greco-Roman columns that emit spectacular flame shows every hour, the Atlantis offers guests three towers with 824 rooms and jacuzzi rooms, two floors of VIP suites, a dedicated spa floor with rooms offering yoga mats, calming color schemes, yoga TV and high-end specialty bath products.
On top of the over 64,000 square feet of casino gaming space featuring classic table games and over 1,600 slots and more than 300 penny slots, a plush poker room, race and sports book, a 30,000 square foot spa facility was added in 2009 with skin care services, body wraps, an aqua longue, herbal steam room and cedarwood sauna among a huge list of cutting-edge services.
Dining choices range from buffet to gourmet, a sushi bar and an oyster and seafood bar in the Sky Terrace, the ever-present casino steakhouse, Bistro Napa with fine wine paring, the Manhattan Deli, not to mention classic American faire at the Purple Parrot and Chicago Dogs eateries, as well as 10 different bars and lounges.
7 – The Grand Sierra Resort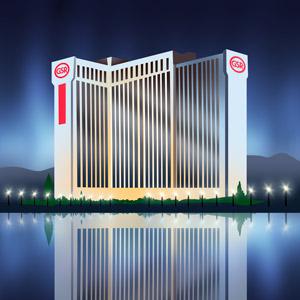 The Grand Sierra Resort is situated a few miles to the east of downtown and is the largest casino complex in Reno offering visitors nearly 2,000 rooms and over 80,000 square feet of casino floor space.
As an all-in-one casino and family resort, the Grand Sierra includes a shopping center, 200,000 square feet of meeting space including a convention center, wedding chapel, 50-lane bowling alley, pool, movie theatre, race and sports book, lake golf driving range, nightclub, full service spa, and adjacent RV park.
To further accentuate the family resort aspect of the casino, the Grand Sierra provides something they call Grand Adventure Land which includes a mini-golf course, video arcade, laser tag, go-karts, and a skydiving thrill ride.
When it comes to dinning, the facility offers up 11 different restaurant options, including snack bars, Briscola Italian food, a steakhouse operated by celebrity chef Charlie Palmer, an Asian themed bistro, Mexican cantina, wine bar, international buffet, a Johnny Rockets 50s style diner, three cafes, sub shop, pizza and snack bars.
8 – The Peppermill Resort Spa Casino
The Peppermill Resort Spa Casino was opened in 1971 in downtown Reno as a coffeeshop and lounge. Expanding into gaming in 1979, the Peppermill opened a small casino and motor lodge. Thanks to rapid growth and a focus on quality, Peppermill Reno quickly became a Premier AAA Four Diamond resort. Today the facility provides 1,621 guest rooms as well as the 600-room Tuscany Tower comprised solely of luxury suites.
For those looking to pamper themselves, the Peppermill boasts a 33,000 square foot Toscana Spa & Salon facility with indoor pool, salon and sun deck.
When it comes to the casino floor, the Peppermill offers up over 107,000 square feet of traditional casino games from craps and roulette to VIP poker rooms, Keno, 1,500 slots and over 700 video poker games.
Dining and leisure activities include some 15 bars and lounges, fine dining with the Bimini Steakhouse, the contemporary Asian themed Chi, Italian cuisine with Romanza, and casual dining at Biscotti's, seafood specialists Oceano, the Island Buffet, and Café Milano.
Conclusion
So there you have it, a slice of the "biggest little city in the world", but before you jump on a train, plane of the car, it's always a good idea to make sure your game is up to speed right here at Planet 7 Casino today! Try your hand for fun or real money at blackjack, video poker, craps, roulette or with our fantastic assortment of slots. Escape to Planet 7 today!