After playing a long round of online casino games at Planet 7, it's time to take a break. Kick back, relax, go outside, and make the most of your new winnings by the pool. But Planet 7 Casino offers online, on-the-go access from anywhere, so why settle for the kiddie pool in your backyard? Wouldn't it be better to relax and play video poker next to an infinity pool in Tanzania? Or how about playing Blackjack and dipping your toes in the pool in Thailand? Listed below are some of the world's best infinity pools, perched precariously on top of buildings or pouring off the edge of a cliff – and you can access Planet 7 from all of them.
Ubud Hanging Gardens, Bali
Voted the "World's Best Swimming Pool" by Condé Nast Traveller, this pool is designed to take your breath away. The pool has two parts, one placed above the other, nestled against the side of a mountain. Located above the Ayung River Gorge, you can enjoy watching mist slip through the trees and around the rainforest below you. From your place on top of the mountain, you can peer into the heart of Ubud, with its traditional villages and temples that melt into the dense, surrounding vegetation. This striking infinity pool gives swimmers the feeling that they are suspended in the clouds, above the treetops. With a quick shuttle ride to the bottom of the mountain, visitors to this hotel can take part in customs that often frequent this spiritual heart of Bali.
The Cambrian Hotel Adelboden, Switzerland
This infinity pool belongs to a hotel hidden deep in the Swiss Alps. A popular spot in both the summer and winter, you have the option of watching the mountains rise and fall below you, either draped in lush greenery or coated in powdery white snow. And regardless of the outside temperature, this vast, heated infinity pool will always feel just right. Located on a sunny southern slope, in the summer you can take hikes or bike rides through the sweeping scenery. In the frosty winter, this hotel is a short walk away from a lift to the largest ski range in Switzerland. This infinity pool is the perfect place to relax, unwind your sore muscles, and maybe snap a unique picture of you swimming in front of a frozen backdrop.
Grace Santorini, Greece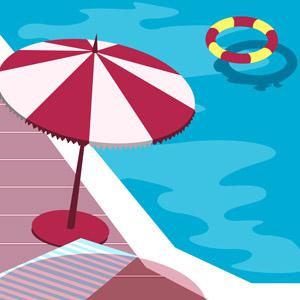 Located off of the northwest coast of the Greek island of Santorini, Imerovigli has an uninterrupted view of the beautiful Mediterranean Sea. Located on a terraced cliffside, the infinity pool runs along the front of the boutique hotel, and seems to pour off of the cliff directly into the sea below. Famous for its picturesque sunsets, this infinity pool is the perfect place to rest and watch the sky fade from blue to brilliant pink to a deep and dark indigo. While in Santorini, you can enjoy the sunwashed, blue-domed white buildings accessible by narrow walkways, or perhaps take the time to explore the remains of the famous Skaros. This 13th century Venetian palace is as rich in culture as it is in lovely vistas. Just make sure that, at the end of the day, you come back to the infinity pool to sip a refreshing cocktail, play some Blackjack on Planet 7, and watch the sun dip below the horizon.
One & Only Reethi Rah, The Maldives
The Maldives is famed for its clear blue waters and tropical weather. But at One & Only Reethi Rah resorts, suites rest on platforms above the protected waters of a lagoon. The infinity pool at this location stands above other luxury stays in the Maldives, extending nearly 100 feet into the lagoon, with a carved, partially submerged stone bed to lay on. Overlooking the Indian Ocean, this is the perfect place for a secluded getaway. Hidden from other rooms and other islands, you can choose to swim among the fish and the coral, rest in the beach's white sands, or take a dive in the seemingly never-ending pool. You can also get lost and watch the water ebb and flow from the comfort of the pool's built in bubble bed.
Lake Manyara Serena Safari Lodge, Tanzania
If seafront property doesn't pique your interest, then the infinity pool at Lake Manyara Serena Safari Lodge is definitely the way to go. With a panoramic view of Tanzania's glittering Lake Manyara, this infinity pool allows visitors to blur the lines between the lap of luxury and a wild safari. Sitting high on a manmade ridge, the setting is perfect for viewing animals move about their natural habitat from a safe distance. If you're feeling a little riskier, take a game drive with trained guides, or enter a neighboring village for exposure to a little local color. The baked, earthen tones of Africa's nature sits in visible contrast with the dazzling blue of this infinity pool – a wonderful setting to calm down and get in touch with yourself.
Hotel Villa Mahal, Turkey
On the southern coast of Turkey, you will find the Hotel Villa Mahal and its spectacular infinity pool. With a lookout from the Lycian coastline, a marvelous view of the Kalkan Bay stretches out below. This is a charming place to go for a fusion of ancient undertones and modern comfort. You can take the time to visit Xanthos, the ancient capital of Lycia or head to a nearby beach. But with its own private 17-meter infinity pool, decked out with a Jacuzzi, you may never feel the need to leave this location – especially with video poker on Planet 7 right at your fingertips to keep you entertained. Enjoy the sun kissed setting and natural-feeling, curved edge of this pool, and it may start to feel like you're swimming in a mini, floating Mediterranean of your own.
Marina Bay Sands, Singapore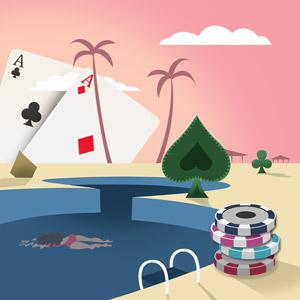 Want to enjoy the serene comfort of an infinity pool without leaving the fast-paced pulse of a city? Pay a visit to Marina Bay Sands resort in Singapore. As the world's largest rooftop infinity pool – the length of three Olympic swimming pools – and elevated 57 stories above ground level, you have a mesmerizing view of the flashing lights of a busy metropolis while you relax poolside. During your stay at Marina Bay Sands, you have three massive towers' worth of activities to do. Equipped with a myriad of attractions, like a mall, a museum, theaters, a skating rink, highly rated restaurants, and an atrium casino, you will never run out of things to do. So grab a drink from the rooftop bar, pull up a chair, and make the most of a once-in-a-lifetime photo opportunity, floating above Singapore.
La Casa Que Canta, Mexico
This fresh-water infinity pool is really a breath of fresh air, with its secluded vista overlooking Mexico's Zihuatanejo Bay. Despite the illusion that the infinity pool pours right over the edge and into the bay, you can still hear the natural waters crashing against rocks below. With gorgeous views of the sea all around you, you will feel inspired to make a splash with activities like snorkeling or deep-sea sportfishing. If that seems a little too energy-consuming, then you can take a short walk to a local beach around the bend and indulge in some online craps. But whether it's laying across the beach's boulders like a mermaid washed ashore, or across one of the many high-quality lounge chairs surrounding the fresh-water infinity pool, you can enjoy this relaxing and rejuvenating seaside environment.
Kasbah Tamadot, Morocco
Set above the Ouirgane Valley about an hour outside of Marrakech, this infinity pool offers a sweeping view of vast riverbed. Spanning out in front of you are Mount Toubkal and traditional Moroccan (Berber) villages. Once belonging to a famous antiques dealer, Kasbah Tamadot is decorated with ornamentation from his collection, as well as some more traditional designs. While here, you can choose to take on more challenging ventures, such as volunteering with the local community. But there's still something to be said about opting to relax poolside, drinking in the beautiful North African weather. After all, in the Berber language, Kasbah Tamadot translates roughly to "soft breeze".
Six Senses Yao Noi, Thailand
For a little family-friendly R&R, the best place to enjoy an infinity pool is in secluded Thailand. On the island of Yao Noi, anybody enjoying a splash in this pool is offered a majestic view of Phang Nga Bay, and its famous limestone pinnacles. To fully enjoy the Andaman Sea's turquoise waters, you can sign up for an island hopping tour taken in a traditional, long tail boat. Filled with deserted islands and private beaches with soft sand, you can embody the spirit of the early explorers, or enjoy a nice round of snorkeling. But after a long day of adventure, the right way to wind down is by sitting in the quiet infinity pool, even more brilliant and turquoise than its surrounding bay views. Or you can choose to lie down on one of the many lounge chairs and covered, poolside lounging beds. Whatever floats your boat.
Now that you've got the top list of the world's best infinity pools, it's time to get out there and start seeing them in person. In the meantime, since you're still saving up, check out some games on the Planet 7 Online Casino. You never know when you'll hit your winning streak – whether it's from home or one of these amazing locations!