Slot machines come in a dizzying variety, from the flashy lights to the incredibly exciting selections offered, they are casino favorites that keep visitors returning time and time again. In fact, according to experts, slot machines are so popular that they constitute over 70% of all casino revenues. But what exactly makes them so appealing?
For starters, playing slots does not really require skill from the player. Despite the vast selection of slot machines that are available, all of them essentially function in the same way. A player simply needs to make a bet, push a button or pull a lever and wait for a potential payout. Many are marked with staggering jackpots that can reach into the millions, but have you ever stopped to wonder about the intricacies of slot machines or their popularity?
Slots games are perhaps a bit more complicated than you might realize. From the payouts to common myths; we here at Planet 7 want to help anyone completely new to slots or those simply looking to get some reliable information. So we've put together this online slots guide, to get you up to speed fast!
What is a slot machine?
Let's start with the basics. A slot machine is a gambling game with three or more spinning reels. The reels come equipped with symbols that land randomly after a player places a bet and initiates a spin. Wins are determined when particular symbols line up or form a particular pattern; these are called paylines. Winnings or payouts vary based on the amount a player wagers. The larger the bet, the larger the payout according to the outcome of a payline or combination of paylines.
Types of Slot Machines
Upon entering a casino you will usually notice that there are two types of slot machines: reel slots and video slots.
Reel slots have physical reels that spin and are found in land-based casinos. They are sometimes referred to as fruit machines as the symbols represented resemble pieces of fruit like cherries or oranges. These incorporate single to multiple spinning reels.
Video slots function in the same way as reel slots but usually have a greater number of paylines. Symbols appear on a computer display and can run in patterns up, down or zig-zagged across the screen. Video slots are often very popular because of their unique computer graphics and stunning visuals. Players can choose from a variety of different games that are pulled from popular films or music for instance. They also offer lots of other unique features not found on traditional slot machines. Some of these include scatters, wilds, and surprise symbols intended to dramatically increase your rewards.
Scatters are desired by players because the more frequently they appear on the screen the more payouts a player receives pre-spin, regardless of the reel sequences. Wilds substitute any symbol much like a joker would during a game of poker, and help complete a winning combination. Surprise or hidden symbols are also a fun addition to video slots because they can appear at any given time during gameplay, and will increase winnings and/or give you free spins. Video slots are the way to go if you want to maximize your casino gaming experience!
Your money and slots
If you are playing at a standard casino you'll notice that most machines no longer use coins. Instead, they operate on what is known as the TITO system [ticket in, ticket out]. Slots games at online or real money mobile casinos offer a variety of different betting and payment options from P2P money transfers to credit/debit cards and even cryptocurrencies like Bitcoin. Familiarize yourself with the different betting/payment options of a machine as well as the terms and conditions before you begin to play.
Slot machine RNGs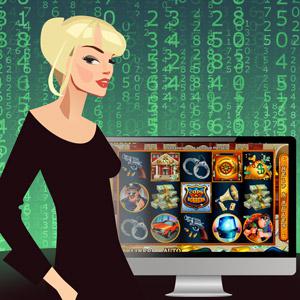 Regardless of the type of slot that you choose to play, they function in the same way. You place your bet and take a spin, and an internal computer chip in the machine will randomly determine whether you win or lose for each spin.
The outcome of a win for any slot machine is determined by this internal chip called a random number generator or RNG. The RNG cycles through thousands of number sequences per second and the computer program stop precisely at the moment when a player hits the stop button or comes to rest automatically. The result of the numbers is displayed on the screen or reel. Keep in mind that each spin is a completely unique event, one of a kind, meaning that patterns in how the symbols land are more illusion/coincidence than mathematical reality.
RNGs are always tested and certified by third-party agencies to make sure that they are fair and reliable, and that outcomes cannot be rigged. This is great news because if it's your lucky day you could be walking away with some serious cash and coin!
Useful slots terms
Now that you're getting a feel for what slots are all about, below is a list of some helpful slots terms for you to know!
Autospin/play – this feature enables the player to continue betting with a particular amount without having to manually push the spin button. The feature will usually stop once it hits a win.
Bet Max – is the maximum number of credits a player can bet on a slot machine. It has the highest possible payout amount for that particular machine. Each slot game has a maximum amount that cannot be exceeded.
Betting Units – these are wager units that are determined by the denomination listed on the slot machine. These can be increased or decreased by the player within the range of the maximum bet.
Bonus Feature – these are features offered on most popular slot machines and can include wild cards that increase payouts, prize multipliers, or free spins.
Cashback – these are often rewards or comps given to players that hold membership with a particular online casino like Planet 7.
Certified Slots – these slots are machines that guarantee a payout of 98%-100%. They are usually well-marked within a casino.
Coins/Credits – are what are gambled with on a slot machine in exchange for money. For instance, for a nickel slot machine when a dollar is inserted that player will have twenty credits on that specific machine.
Doubles (or more) – these refer to paylines that are multiplied based on the amount won. When a player wins on a payline they can choose to double their money by having another spin, if that spin loses they lose all of their bet.
Line Bet – refers to the paylines that are activated on a slot machine. Max bets activate all paylines on a machine, single lines or any combination activate only those lines chosen by the player.
Loose Slot – is a term that refers to a type of slot machine that pays out frequently. These are highly coveted by online and classic casino players and are often well hidden.
Multiplier – this refers to a bonus feature where payouts can be multiplied up to a certain limit.
Pay Table – this is a sign that indicates the different possible winning combinations and how many credits each wins.
How to win on slot machines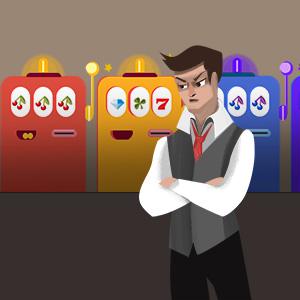 So you've made your deposit at Planet 7 and are ready to start playing. There are a couple more things you should keep in mind, however. Unlike other popular casino games like blackjack or poker, slots do not require skill to win. In other words, there is no winning strategy for slot machines but there are tips and tricks that can push the odds in your direction. For more on this see our article: How to win at slots? Try these 10 amazing tricks that really work. Since the results of each spin on a slots game are programmed to be completely random, there is no way to determine when a payout will happen.
Statistically, you are as likely to win on a slot machine by spinning one time versus spinning one thousand times. Each spin is a separate event. So if the odds of hitting a jackpot on a given machine are 1 in 20,000, this means that each time a player spins the odds will remain 1:20000 to win the jackpot. It does not matter how many spins a player has made before or after, the odds cannot be influenced thanks to the RNG. This is precisely why slots games are so seductive to even the most novice of players. Large payouts and jackpots are available to any player regardless of skill or experience. It's simply up to Lady Luck!
Slots payouts
It is good to note that the range of payouts for slots machines depends on the manufacturer or provider. This information is usually made public and can be found online. In general, however, slots machines that allow for higher denomination bets (dollar slots) compared to lower denominations (penny slots) are programmed to have a higher percentage of payout. The standard in the gambling industry is payout percentages ranging from low (85%) to high (98%) with the latter applying to higher denomination machines. This doesn't mean that for every dollar you spend you will only receive 85-98 cents in return. Instead, the longer you play the closer your total winnings will begin to reflect the calculated percentage, this is what is known as the house edge.
Play using higher denominations
Though a player cannot influence the outcome of a slot spin, it's important to keep the average payout percentages for particular machines in mind. Also, statistics show that players willing to bet using higher denominations will earn at a higher percentage. It's hard to argue with mathematics.
Whole dollars count for more than fractions of dollars when multiplied. So, if you bet 10 dollars per line on a slot machine, and you win on 5 lines on a given spin, that's 100 dollars you've just won. When you take into account multipliers and doubling-up, you can potentially exponentially increase your original bet! Just be sure to double-check each machine's maximum jackpot. Two machines might look the same, but pay out different winnings per credit.
Fixed jackpots vs. progressive jackpots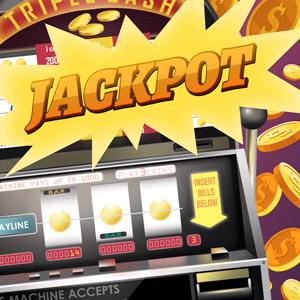 There are other categories that slot machines fit into: fixed/basic, progressive and fixed value. Fixed or basic slot machines generally have a fixed maximum jackpot that does not change. Progressive machines have jackpots that will increase as more and more people bet on them and can be linked to a series of machines to dramatically increase the jackpot total. The jackpot will continue to increase until it is won. As a rule of thumb, it's good to play on a progressive machine that is seeing a lot of action as this will ensure a higher jackpot. Fixed value machines are slots machines where the betting amount or coin size cannot be changed. These slot machines are usually one denomination, meaning one betting unit per spin.
Set limits
It's a smart idea to set a "lose limit" before you decide to play on a slot machine. This will ensure that you don't leave the casino with your bankroll empty. If you find yourself winning, a good time to stop is once when you have doubled your initial investment. The longer you play the higher the probability is that you will end up losing money. If you're losing, stop when you reach your lose limit. It's never a good idea to chase your losses. Have fun, but play responsibly. People win daily on slots and your odds of a payout are just as good as theirs, but be smart, and don't overdo it.
Sign up for casino rewards and bonuses
Whether playing online or at a land-based casino, players should sign up for casino rewards or membership programs. These programs dish-out benefits according to how frequently players play and how much they are willing to wager each time. The benefits can be substantial. If you're going to spend your money anyway, you might as well sign up as there is nothing to lose when signing up.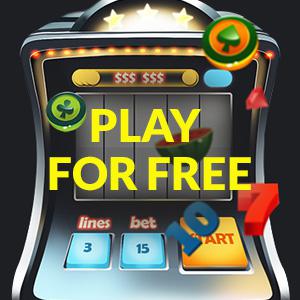 First time players can look forward to excellent start up packages and casino bonuses simply by joining. Benefits become even greater if they take advantage of loyalty programs or VIP offers. These vary, so be sure to find the one that is best suited to your style of play. Brick-and-mortar casinos often offer "slots club" cards and record the extent that players play on slots each time they step foot inside a casino. Compare the incentives of different casinos or sites to choose what works best for you. Here at Planet 7, we are proud to accept Players Rewards Card – a multi-casino bonus card that can dramatically increase your rewards.
Casino slots jackpots and lore
Many times in a casino you will hear players say whether certain tables or slots are running hot or cold. Hot machines dish-out winnings and cold machines fail to be generous, but the truth is that these are simply myths. Players might think that they sense when a machine is lucky or not, but in truth, they have no influence over the outcomes of the slots' RNGs. In other words, a slot machine is never "due" to hit if it hasn't paid out in a while. It's important to remember that every spin is random. Streaks boil down to a matter of pure chance, even jackpots can occur multiple times on a single machine. Though the odds of striking a mega-jackpot aren't exactly in a player's favor, it might come as good news that each player has the same odds of winning big. You might just be in luck!
Important casino slots tips to remember
There are a variety of slot machines styles, but they basically boil down to the following categories: reel or video/online slots, and fixed or progressive jackpots
The spin outcomes for slot machines are determined based on random number generators or RNGs, these are verified to be fair and reliable based on independent third-party inspections for both standard and online casinos
Be mindful of the various terms and meanings associated with slot machines and casino slot gambling, each machine is different, so it's important to familiarize yourself with the rules of a slot game before you play it
Though there is no sure-fire winning strategy for slots, there are calculated win percentages for low and high denomination machines based on the manufacturer, these percentages range from 85%-98%
Use higher denominations and play tight when betting, this will ensure a chance for a higher return.
Join the club! Whether you are a new joiner or returning player, take advantage of the various casino rewards, benefits and packages offered, so you can maximize your winnings each time you play
Pay attention to the different kinds of jackpots and bet amounts that are available, such as fixed or progressive jackpots, and set a monetary limit on how much you are willing to spend gambling on slots
Be responsible and have fun! Remember, slots are not about skill, so anyone can win big on casino slot games. That's why they're the most popular casino game around!
Slots are the world's most popular casino game for a reason. There are so many different types of games to choose from. You can choose from our 14 exciting slot games at Planet 7 Casino. Anyone can become a winner! Whether you prefer to visit a standard casino or play online or on your mobile device, find out what slot games suit you best. You can sign up for a chance to play for free or win real money today. Simply visit Planet 7 to register and play on over 80 popular real money online slots games, and don't forget to check out the latest promotions to pick up your bonus and extend your bankroll, playtime, and fun!
Check out Planet 7's 450% slots or keno-only bonus with any deposit of $30 or more. Simply enter code SLOTSCRAZY450 at the cashier when you make your deposit and start winning at slots today. Escape to Planet 7!