So you've decided to make your first trip to a real casino for some gaming, but you may feel a little uneasy because you're not quite sure what to expect or even what to do next.
We don't blame you. The first time at a casino can be quite an overwhelming thing as you find yourself among the glitz and glamor, hundreds even thousands of different types of flashy games from slots to poker, Pai Gow to baccarat, blackjack, roulette, and craps; the crowds of people, noise, and multitude of distractions. It seems like the bells and whistles that casinos come with have no end. People out for a night on the town, bachelor/bachelorette parties, retirees with buckets of coins in hand perched in front of machines, men in suits, dolled-up women, cocktails and champagne, buffet tables, music, live events, jackpots, lines of tourists, every type of person young and old; all of these things are a common part of the casino experience.
As someone who wants to play you may feel excited, but possibly a little disheartened if you don't know where to start. Just keep in mind that you're there to have fun! Casinos have evolved into some of the world's premiere entertainment locations, and guarantee a whole range of activities for players from complete beginners to the most experienced professionals to enjoy. And if you find yourself in the casino newbie category, don't be alarmed because we've come up with some easy tips for what to expect for your first time at a casino!
Age requirement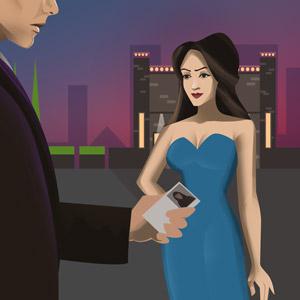 This might not strike you as surprising, but every casino has a minimum gaming age. Depending on where you visit it's important to take note that the gaming ages of each country will vary depending on what part of the world you are in. For instance, in the U.S. the gaming age can fluctuate from 18 to 21 depending on state. Most casinos in Europe allow gaming at age 18, some at 20, but for example, in Greece the minimum age for gaming at a casino is 23! Each country varies, and the same goes for Asia and South America. Here at Planet 7 online casino, we stick to a strict 21 and over policy.
Once you've done the math and are sure that you are of a legal gaming age, be sure to carry a valid ID or passport for your visit, something you'll also need to withdrawal money at an online casino. Just because you're playing in the comfort of your own home, on your tablet or smartphone doesn't mean we won't check to make sure you're of legal age! Most casinos will check visitors' IDs as per their policy, and if you don't have it on you they won't let you in to play. At Planet 7, you won't be able to walk away with your cash if you're not legal age to play.
Follow the rules
Another no-brainer, but an important one. Every land based casino has specific house rules, and these rules vary for each casino. For instance, some casinos have strict dress codes while others are more lax, some restrict smoking and drinking as per city or county laws, and even the games may differ from how you have played them in the past. That's one of the perks of online casino gambling, no dress code, smoke 'em if ya got 'em and drink what you like!
Bin Vegas or Atlantic city, be sure to read what's posted to avoid confusion or in the worst-case scenario any arguments. For instance, you want to take a photo with your friends inside the casino? Ask first. Most casinos won't allow photography inside, and pit bosses and casino managers don't take too kindly to people breaking the rules. These are almost always posted outside each establishment by the entrance and if anything is ever unclear you can ask a floor manager or employee. Any big guy with slicked back hair in a nice suit with a name tag will usually do.
Get familiar
Ok, you've made it in! Now what? Well, it helps to take a good look around and familiarize yourself with your surroundings. All the bright lights, swarms of people and plethora of gaming activity, though a heck of a lot of fun, makes it easy for an individual to forget that they are in a building designed for one thing: keeping you there. It's not a prison, but more like a labyrinth, so it's good to keep a phone or watch on you to keep track of time. Just don't leave it on a game table, dealers won't allow it.
The same thing is true of online casinos like Planet 7. Have a look around first. Check out the games list, click over to the bonus codes section and study the special offers to help you increase your play time and bankroll.
What's next? Why not grab a drink! Most casinos in Las Vegas offer complementary drinks in order to encourage people to loosen up and play, just don't forget to tip. If you're not in Sin City most casinos will have servers walking the casino floors offering anything from drinks and food to vouchers. All are brought to your table or slot machine if you decide to play first. If you're at home, head to the fridge or your wet bar and mix up something special.

If you do decide to drink at the table, however, use the cup holder. Nobody likes a spilled drink on their lucky table. Hungry? Many casinos offer great restaurants to choose from and some pretty tasty offerings at their buffets. Just be sure to have a look at the prices or compare lunch to dinner fare in case you aren't willing to spend your entire gaming budget on an overpriced entrée at a five-star establishment. If you're planning on settling in for a long home session, order the pizza first, or get out a selection of snacks to keep you in the groove.
The slots
Don't let the name fool you, "penny slots" as they are known, are actually the most profitable games for many casinos, especially in places like Las Vegas. Slot machines have rose staggeringly high in popularity due to their ease of play and massive jackpot offerings (unfortunately they also have some of highest odds in the casinos' favor).
Not long ago the layout of these machines were set up more like a labyrinth to keep players engulfed in a maze of play, but now many casinos, though not foregoing the flashy lights, noise and highlighted jackpots, are turning to a more welcoming layout on the casino floors. They know customers will come in to play slots regardless. Just be sure not to get entangled in the allure of the biggest machines, try to bet on various machines with lower jackpots to better your chances if you're looking for a return.
The same is true online. It's always a good idea to check out what's on offer. Better yet, at online casinos like Planet 7, you can play for free before you put down your cash. This is highly recommended, as it gives you time to familiarize yourself with the features and bonuses of different slots before you settle in to hit the real money jackpot.
Place your bets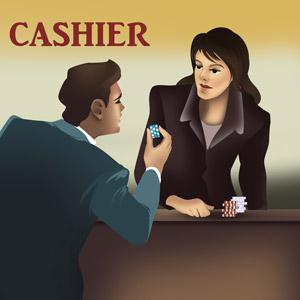 Alright, so you've walked around some, and even managed to navigate your way past the shiny slot machines. What's next? Any casino will require you to bet in chips or casino credit, so it helps if you bring a set amount of money with you and have a budget in mind. Your cash can be changed into chips at tables, but it's faster if you visit the cashier's cage. These are usually located all around the casino, but may not always be clearly marked depending on the size of the building. Exchanging your money at a cage will save you time, and will not take away valuable minutes from gameplay. Though many casinos carry ATM machines, be careful about using these unless absolutely necessary. These ATM machines can charge incredibly high rates for cash withdrawals.
When it comes to online casinos, life is a bit easier. No need to worry about extortionist ATM rates. Simply pull out your credit card, or get out your Bitcoins, head to the cashier and you're up and running in just a few moments, no lines, no chips to juggle, no worries.
Also, be mindful of minimum and maximum bets at each table. If your gambling budget is only $100, it's probably not a good idea to play at a table with a $25 minimum bet, because you'll only be given four chips to start out with! So ALWAYS start low. Once you get more comfortable, and perhaps even win a little, you can up your bets.
Again, one of the real perks of online casinos, from slots to table games like Blackjack and Let 'Em Ride to specialty games like Roulette and Craps, is that minimums are set exceptionally low and can be adjusted higher depending on your preferences and bankroll.
Take your time
It may be intimidating figuring out where to head to first, but it's probably a good idea to do a little homework about the types of table games popular at casinos. Research which varieties are offered at the casino(s) you intend to visit. Once you're in the building you can simply watch the action before you choose to play. It's a perfect time to learn. Every hand is important, so just watch as a spectator for starters.
Or practice before you play! If nerves get the better of you or you are simply unfamiliar with the rules of the games you want to play on your visit, why not practice first online? Most online casinos have free play/practice modes for each of their games including in-house casino favorites from blackjack to poker and slots and Planet 7 is no exception. Pick the ones that suit your style of play best and get familiar with them. This way you'll feel more comfortable once you enter a real-life casino or decide to play for real money online.
Casino staff are very friendly and helpful especially for first time players, because they want you to have a good experience. This will ensure them that you will come back in the future. If you can't find a game suitable to your needs just ask a floor manager. It's usually the guy/girl in a green or red jacket walking the casino floors. Tap them on the shoulder and they can suggest some other games more suitable for you or your budget.
If you're online, don't be afraid to use the live chat feature to speak with a friendly customer service rep. They are there to answer your questions and ensure your gaming experience is a blast that will keep you coming back for more. No question, no matter how simple, is ever a bad question, so feel free to ask away!
Find a card room
Alright, so by now you've noticed that the casino floor has tons of different types of table games: Three and Four card poker, Pai Gow, Caribbean Stud, Craps, Black Jack, Baccarat, Roulette, Wheel of Fortune, and the list goes on. Though most of these games don't deviate much from the standard games you might have seen online, at these tables you'll still be battling the casino.
If you don't want to risk just playing the house you should look for a card room instead. However, don't simply sit down at any empty seat in a card room. Put your name down first on the waiting list, these are usually on whiteboards located near the tables of the card rooms. You'll find actual players to game with instead of just playing the house. Just be careful which table you choose, card rooms can be shark infested waters, and very experienced players can put your dollars in the negative quick.
Silence isn't always golden
If you're luck in the card room is running dry or you don't yet feel comfortable trying one out, it's best to move to a table that's making some noise. Craps is a popular choice for beginners (and has great odds to the player), just be sure to bet on the pass line. If the shooter shouts with joy, good news, you've won.
Noise usually means that the players are enjoying themselves, and are engaging in the following: a) winning, b) drinking, c) winning and drinking, and d) just plain having fun. After all, you're there to have fun, so this can be increased exponentially at a table where people are playing well and having a good time. It's a good way to make more friends that are possibly willing to give you a few pointers. As long as you remain respectful to them (and the dealer) and play well, you might end up leaving the table with fatter pockets.
The drinks aren't (always) free
Ok. So, we're willing to bet you're enjoying yourself. You may have even made some friends, and the cocktails aren't bad. Just be careful not to have too much fun. While many casinos (especially in Las Vegas) offer complementary drinks for players, be sure you consume alcohol in moderation. A fact no less true when playing online at home.
Alcohol is likely to reduce your inhibitions, so the more you drink the more likely you are willing to take risks, especially when it comes to gaming. In the right state of mind you probably wouldn't be willing to risk your entire month's paycheck or debit limit on a single roulette spin. Sloppy mistakes and overestimating your gaming skills especially when inebriated could come back to bite you in the end. Play smart and manage your money.
Dealer tips
If you do start getting lucky there are certain factors of casino etiquette you should follow; a big one is tipping your dealer. Win or lose, most casinos in the U.S. require you to tip your dealer. The reason for this is that dealers pool their money and split the pot. So if you're betting $20 a hand, it's good to give your dealer a $5 dollar chip every once and awhile especially if you're having a good night. Just keep in mind that this is not the custom at every casino worldwide. For instance, some casinos do not want you to tip and may even find it suspicious. So, be sure you know what the tipping etiquette is at the casino you visit before you decide to play.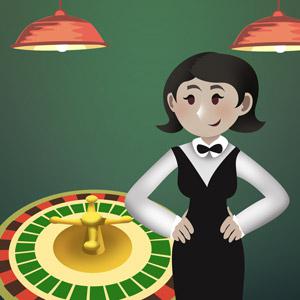 Yet another perk of playing online at Planet 7, the dealer is a random number generator, i.e. a computer and fortunately, doesn't expect to be tipped!
Dealers are there providing a service, and no one likes to be short-changed or possibly berated on the job. Reward the dealers if they're helping you have a winning night, and if you aren't, be kind to them. Just because the casino staff are friendly doesn't mean that the casino doesn't have the right to throw you out if you start insulting them for losing.  On the other hand, when playing online in the comfort of your own home, feel free to scream at the dealer as much as you like as long as you don't upset your significant other.
Casinos will pay for play
The number one mistake many first time casino goers make is not signing up for a player card. Did you know that a casino will pay for the more you play? Unless you don't ever see yourself setting foot inside a casino again, it's worth investing in a player card. Many casinos will offer benefits and complementary gifts as incentive for you to play and reward you the more you play at their facilities. These include anything from free meals and drinks to free tickets to live events and even free rooms or weekend stays. It all depends on how much you are willing to spend playing.
Playing online? Check out the Player's Rewards Card on offer at Planet 7. Together with a long list of affiliate casino partners, the Player's Rewards Card at Planet 7 offers you all sorts of perks, bonuses and rewards for using the card when you play.
Even first-time players will receive sign up bonuses, and can redeem rewards for a variety of cool stuff! When you use your card at the tables, or at slot or video poker machines, the casino tracks your play, and will reward you accordingly. So sign up for new member/player/VIP cards at the casino to take the most advantage of your stay. Simply put, it pays to play.
The house edge
Now that you're getting the hang of it, and even comfortable playing, it's good to get an idea of what games are worth playing in terms of pure economics. We've all hear the expression "the house always wins". Casinos wouldn't be very good at what they did if they didn't have a guarantee of a return on their investment: the players. In a nutshell, casinos don't need luck to win. They have a mathematical advantage already incorporated into each game they offer their players in order to gain a profit. In other words, the odds are against you.
However, this doesn't mean you can't win. Since the house edge is just a calculation of the average percentage that players will lose over the long term for any given game, as a player you can still win short term. If the house edge is 5% on a game, your average return for every $1 dollar you spend will be 95 cents. The more you play the closer your average losses will equal the house edge.
Though there may be nothing you can do to overcome the house advantage, there are a couple of things you can do to minimize the size of that advantage, and these include: improving your skills as a player and knowing which games have a low house edge to begin with. Here's a list of most common casino games and their house advantages (the lower the percentage the better it is for the player).

The average house advantage differs based on the version of game played. And they become even more volatile when it comes to sports betting like boxing or football or common favorites like dog and/or horseracing; where a number of different factors come into play to determine the outcome.
Strategy can also help you whittle down the house edge. Check out Escape Magazine's Tips & Tricks section for how to get the most out of different games.
Get entertained
If you're looking for entertainment, you've come to the right place. Casinos offer a wide range of entertainment, besides gaming of course, from jaw-dropping acrobatic performances and magic shows to more risqué acts like burlesque and strip tease. There's no limit to the range of things casino resorts in particular offer to their guests; like popular music acts to other live events like stand-up. But it doesn't end there. Some resorts have built in theme- and waterparks like the Atlantis Resort and Casino in Paradise Island, Bahamas or the Cotai Strip in Macau.
Some of the world's most renowned casinos are spectacles themselves. Millions even billions of dollars are spent on stunning interior décor for rooms, pool and bar facilities, restaurants, grand statues and lavish designs to heighten the element of opulence at casino premises; like the faux canals and gondola rides at the Venetian, the famed Bellagio Fountains of Las Vegas or the Dragon of Fortune show at the Wynn Macau are just a few examples. If you're spending the night at a casino resort, your hotel room alone can offer state of the art amenities that might keep you entertained for the length of your stay.
Casinos are the Disney World for adults, even families with children can enjoy what they have to offer as many are becoming more family friendly. However, if you're single or on a night with friends then the nightlife scene is definitely for you; bars often offer incredible dance floors with DJs, VIP and bottle service that attract everyone from the rich and famous to the beautiful or average club-goer. The casino reception will always give you more details on where to go if you're hankering for a night out after gaming. However, if you are only coming in for a brief visit to play, just don't forget where you parked your car. In all the excitement of the larger than life casino atmosphere and beehive of activity it's not uncommon for the location of your ride to slip your mind.
Playing online at home and feel the need for an entertaining break? Have a scroll through the Escape Magazine Fun Time section, where you'll find our ever-increasing archive of fun, wacky, weird and wild original articles for your reading pleasure.
Most of all – have fun!
Potentially the most overlooked fact when it comes to casino gaming is that you don't have to play with all of your money at once. Spend time researching which casino is right for you, or even a number of casinos, and frequent the one(s) that you are most comfortable with. When you do decide to test your luck and/or skills be sure that you've set a limit on how much you're willing to spend for each visit. If you lose just go home and come back another time, and the same goes for if you win! You can do this at any time! Enhance your life by playing for entertainment, win or lose, enjoy yourself, and most importantly have fun! Whether online or in real-life, casinos are a great way to spend your time either by yourself or with friends and family. And remember these simple tips:
Practice at an online casino before you play
Follow the casino rules and etiquette, and know your limits (financial or otherwise)
Sign up for a casino player/club card to take advantage of rewards
Beware of the house edge for each game (including slots)
Be patient, play smart, and have fun!
Before you decide to take on your first time at a casino, why not practice with us at Planet 7? With over 140 games to choose from, it's a great opportunity for you to hone your skills at blackjack, a hand of poker or a on roll of the dice at the craps table. You can play for fun on any of our stunning specialty games or exciting slot machines. Want to play online casino for real money? Why not sign up for a chance to win, and increase your bankroll? So, once you do decide to make a trip to your local brick and mortar Indian casino or even fly over to the bright lights of Las Vegas, you'll be ready to tackle even the biggest gaming challenge.