Elegant, captivating, and thrilling are perhaps the adjectives that best describe the energy-infused game of roulette. This enthralling game of chance has a rich and decorated history that spans hundreds of years. It is widely accepted that the French mathematician, Blaise Pascal invented the game of roulette, which means little wheel. Pascal was in search of a perpetual motion machine when he crafted perhaps the most legendary casino game of them all.
Such was his magnanimous contribution that Roulette became the poster child of the casino industry. We can trace the origins of roulette back to 1655 in France. It is said that Paris – the city of love and lights – first hosted the game of roulette. The legendary game is associated with many fantastic stories, detailing its origins in multiple European cities and enclaves. The common denominator among roulette aficionados is that France gave birth to this stylish casino game.
Of course, with a game so popular, it's hard to keep the Italians quiet for too long. They claim that their games of Hoca and Biribi are the ancestors of the modern-day roulette game. If we dig a little deeper, the waters get muddied even more. The British have laid claim to roulette with games like Even-Odd, Roly-Poly, and Ace of Hearts. After all the conjecture and surmising, it's not surprising that the French connection invariably rises to the top. The eponymous name is a reference to the Little Wheel that is the game of roulette. Documentary evidence of the game of roulette is found in 18th-century texts where decrees from 1758 prohibited the playing of roulette. One such sporting magazine in 1808 introduced the foreign game of Roulette, but authors of the time believe that Roulette had lost favour with the British in the 1800s, perhaps even temporarily disappearing from the scene.
Roulette Variants
Whether French, British, or Italian, there is no denying the European ancestry of this spellbinding casino game. As the game was introduced into new markets, new variants of it were created. The most popular variations of roulette are European Roulette, French Roulette, and American Roulette. Each of these games offers different odds, betting combinations, and layouts. Regardless, there are many commonalities including the signature spinning roulette wheel, the single ball, and the betting deck. Each of these games is different enough to justify having its own name, yet the subtleties are responsible for major differences in terms of, RTP (Return to Player Percentages), nuanced gameplay, betting variations, and rules.
Land Based Roulette Versus Online Roulette
Bricks and mortar casinos are the traditional venues where players can enjoy the pulse-pounding thrills and spills of roulette games. The mice en scene of grandiose establishments is certainly hard to ignore, and it adds plenty of pomp and fanfare to the experience. Players with a penchant for the atmospheric allure of roulette certainly derive plenty of satisfaction from Las Vegas casinos, Atlantic City casinos, and Macau casinos. Despite this ritzy glitzy appeal, there are certain drawbacks which many players attest to. For starters, it takes time, effort and tremendous cost to visit the gambling meccas of the world. The casinos themselves are often stuffy, crowded, dizzying and peppered by annoying players and unaffordable bet selections. For the roulette connoisseur, it may be better to enjoy the roped off areas of the casino in the VIP Roulette section.
For anyone who finds the comfort, cost and convenience factors a little disheartening at traditional casinos, there is hope. The Internet of things has facilitated a burgeoning industry of online roulette games. These games are stream from secure online casinos via encrypted technology direct to your screen – Mac, PC or mobile device. Since they are run by random number generator software, players can enjoy all the fanfare of a traditional casino experience, sans the high costs, smoke-filled gambling enclaves, confusing casino floors, and the tactile intimidation factor of face-to-face betting with dealers. With a variation of all traditional roulette games available online, players get to interact in an authentic casino milieu, without any of the distractions or inconveniences. Plus, there's no need to plan a vacation – simply power up your PC, Mac or mobile and you're instantly there in Las Vegas! Find more information about the main differences between land-based casinos and online casinos here.
European Roulette

European Roulette is arguably the most popular variant of them all. It sports the signature Roulette layout with numbers 0, 1-36, and a host of inside bets and outside bets. In total, players have 37 numbers to wager on, with a single number probability of 2.70%. Indeed, the house edge in European Roulette is also 2.70%.
Other bet selections in European Roulette include the following:
First 12, Second 12, & Third 12
1-18 & 19-36
Even/Odd
Red/Black
2 to 1 selections
Individual Number Bets
European Roulette offers multiple betting combinations and payouts, such as: straight bets 35/1, split bets 17/1, Street bets 11/1, Corner bets 8/1, 6-line bets 5/1, Column bets 2/1, Dozen bets 2/1, Red & Black 1/1, Odd/Even 1/1, and High/Low 1/1. The bets with the highest probabilities of occurring are the even money bets with odds of 48.64%. The bets with the lowest probabilities of occurring are the straight up bets at 2.70%.
French Roulette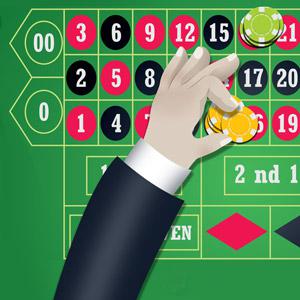 French Roulette is chic, suave and sophisticated. This jazzed up roulette game features rules not found in any other games such as La Partage and En Prison. The French Roulette wheel is stylistically similar to the European Roulette wheel with numbers 0, 1-36, and a combination of inside bets and outside bets. On the surface, the odds appear like European Roulette at 2.70%. However, French Roulette is the most player-friendly of all the roulette variants.
Thanks to the La Partage rule – sharing – if you have an even money bet and the number 0 lands, you will only forfeit 50% of your bet with the house. This effectively reduces the house edge from 2.70% to 1.35%. For the strategists out there, French Roulette is the game to beat. The En Prison rule is certainly more popular than the La Partage Rule with many players. It states that when the ball lands on zero, and players have placed an even-money bet for that spin, the bet is effectively kept in prison. Players can determine whether they wish to surrender 50% of the bet or allow it to stay on even money and spin an additional round. This means that if you keep the bet in play, you have an opportunity to win on the next spin.
American Roulette
Gaming fans not content with the player friendly odds on European and French Roulette may wish to try their luck on the swashbuckling game of American Roulette. The red, white, and blue version of the game is the preferred attraction among US players. Although it seems a little disingenuous that players would opt for a game with such RTP at 5.26%, American Roulette is surprisingly popular. The reason this game is less player friendly than its siblings is the inclusion of a 0 and a 00 on the spinning wheel.
These numbers are located diametrically opposite from one another, meaning that the total number of bet selections on the wheel is 38. The same payouts as European Roulette and French Roulette apply, yet players have one more number on the wheel to contend with. The layout and design of the American Roulette wheel is different, thanks to the additional zero. Numbers from 1-36 alternate between red and black on the roulette wheel, and each segment has an equal probability of occurring. In all variants of roulette, players can place bets, modify bets, or remove bets until such time as the dealer calls 'No More Bets.'
Roulette in Pop Culture
Roulette has infiltrated our cultural zeitgeist in a big way. It is the poster child of casinos around the world, and it features prominently in Las Vegas, Macau, and Atlantic City establishments. Roulette is arguably as popular as craps when it comes to table gaming prowess, perhaps more so. We need look no further than Hollywood and the silver screen for the popularity of roulette games in modern-day culture. A listing of some of the finest and most memorable films in history confirms Roulette's popularity:
Beyond the big screen, Roulette has been showcased in casino-style songs over the years, including Queen of Las Vegas by the B-52s, Rambling Gamblin Man, Roulette by Bon Jovi, and Go Down Gamblin – by Blood Sweat and Tears. A myriad of roulette guides, articles, and bestsellers has been introduced by legendary casino players, gambling strategists, and casino writers.