Parasol Up and Parasol Down
This dynamic duo of bars can be found in the Wynn. Parasol Up, on the main floor of the casino, features a refreshing flood of sunlight – an anomaly in the world of Vegas bars. As its name suggests, Parasol Up features parasol umbrellas in all shapes, sizes, and bright hues moving up and down. It's enough to make even the drabbest Instagram profile pop with color.
Now, if you're feeling a little exotic, you can take the spiral escalator downstairs to Parasol Down. This spot is more secluded, but its picturesque quality isn't diminished in the slightest. Au contraire, Parasol Down offers the visitor a wonderful view of a forty-foot tall waterfall pouring dramatically onto the lake of dreams. After dusk, there are shows on the lake of dreams, using lighting and props.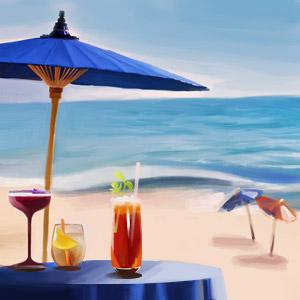 While at the Wynn, you have to order their signature drink, the "Sinatra Smash". Made with a special Jack Daniel's Wynn single barrel whiskey, this fruity and refreshing drink will keep off the heat and keep you coming back for more. Any picture from this wonderland will have your followers begging for any hint on how to find this oasis in the Las Vegas desert.
The Wynn has some great gambling also, so make sure to hit the casino floor with your "Sinatra Smash" in tow.