The Chandelier
You've probably already come across this bar, located in the center of The Cosmopolitan of Las Vegas. It's definitely hard to miss considering it spans three entire floors. Surrounded by lights and strings of crystal-like decorations, this bar is an art piece in itself. When seated, it feels like you're sitting right in the middle of a chandelier, hence the name.
The three floors each have a different feel and function. The bottom floor is a social hotspot to hang and chatter with a group of friends, the middle floor is the place to find a tasty and well-made cocktail, and the top floor is for those seeking a quieter lounge area.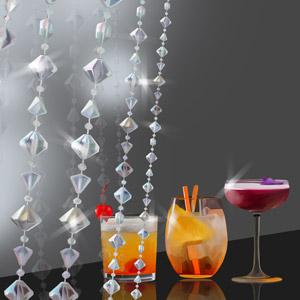 While you're there, make sure to order the "Verbena" cocktail. The sweet, lemony verbena mixed with the snap of ginger, all garnished with a Sichuan flower – known as a buzz button – will take your taste buds on a trip. Plus, the drink is stylish enough for anyone's Instagram.
Post a pic of the chandelier on your Instagram account and everyone will immediately recognize the well-known, chic setting. It's the perfect place to establish your reputation as classy and cool, not to mention the lighting is always on point.
After a few Verbena cocktails, you'll be ready to hit the slots machines in full force.