Red Square
Located in Mandalay Bay, walking into this bar/restaurant combo makes you feel like you've not only traveled across the world, but also back in time. This Soviet Russia-themed bar bases its theme on the communist empire, mostly celebrating it with a wide variety of high-quality vodka.
Just think of how wonderful a photo series would be, tracking around the severed pieces of Vladimir Lenin's statue: In the front of Red square, a snap of you standing next to his massive but headless height and prominence. Following that, a photo of you in the frigid vodka tasting room, taking a shot over his frozen statue's head.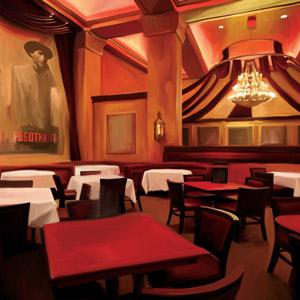 Wearing complementary fur coats and hats, nothing feels more like a salute to mother Russia than the flight of premium vodka shots called "From Russia With Love". Featuring Stolichnaya, Russian Standard, Jewel of Russia, and Imperia your tastebuds can work their way across the land.
Though not for the faint of heart, the Red Square will definitely boost follower interest in your adventures, and provide you the full Russian vodka-tasting experience.
Just try to control the amount of vodka you consume – not many people can keep up a good poker face when they're hammered.