Revel Atlantic City sells for $200 million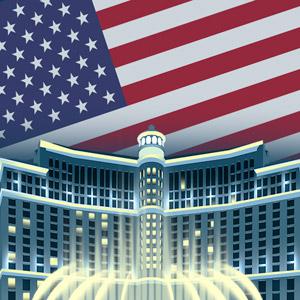 The Revel Casino, an Atlantic City icon that became emblematic of the seaside city's decline, has been sold for $200 million.
Once seen as Atlantic City's answer to the mega boutique casinos sprouting up in the Las Vegas desert, the Revel's $2.4 billion price tag labeled the property as the panacea for Atlantic City's woes, intended to attract an elite clientele with top-of-the-line entertainment and amenities.
But no sooner had the plan been presented than problems began to emerge. The construction was plagued by injuries and lawsuits, the casino economy in New Jersey began to tank, and in the end, just to get the doors open, the state was forced to intervene to the tune of $261 million in tax breaks.
To many observers, the Revel's rocky beginning was only the beginning of the end. In no time colossal losses (in the eight-figure ballpark) forced developers to file for bankruptcy protection in 2013. The casino closed its doors for good in September 2014, a symbol of consummate failure. Not long after, billionaire investor and longtime Trump friend Glenn Straub, stepped in promising to "make Atlantic City great again" and picked up the shuttered Revel in bankruptcy court for pennies on the dollar ($82 million to be exact). But Straub's proclamations of greatness rang hollow. Nothing, but nothing happened. The promised investment and economic revitalization that was supposed to come with it never materialized. The doors never reopened. Straub blamed city bureaucracy, the city blamed Straub, and the finger pointing escalated to mind numbing levels.
Over the past few years rumors of the sale of the Revel abounded. Hard Rock, before deciding to buy the Taj Mahal, had taken a close look. A Denver-based firm was also said to be interested, but Straub continued to publicly deny that the Revel was for sale.
Then in July of last year, reports surfaced that a New York based firm, Keating and Associates, was interested and had offered at first $220 million then $225 million. Straub balked even though he had paid a mere $82 million for the property, and the firm bought the property next door, with plans to build a high rise with condos and retail shops.
Last week, reports surfaced again that the Revel had at last been sold, this time for $200 million to a Colorado developer. On Monday, a public announcement was finally made. Indeed, and for many, at last, the Revel had been sold. The developer's firm, AC Ocean Walk LLC, announced plans to operate 100 gaming tables, 2,000 slots, 1,399 hotel rooms, a pool, spa, night clubs and 13 restaurants on the site, renaming it to Ocean Resort Casino according to Moody's Investors Service.
Together with the recent sale of the former Trump Taj Mahal to Hard Rock, who plan some 2,000 rooms, 2,400 slots and 130 gaming tables on the adjacent property, the sale could be nothing but good news for a beleaguered Atlantic City.
Penn authorities issue first mini-casino license
Authorities in Pennsylvania have awarded the first of 10 mini-casino licenses to Mountainview Thoroughbred Racing Association, allowing the operator to erect a mini-casino in York County Pennsylvania.
The company, a subsidiary of Penn National Gaming, shelled out $50.1 million for the license, under a new law in the Keystone state that passed last year allowing existing casino operators in the state to bid for mini-casino licenses to operate smaller facilities within 25 miles of their existing operations. Under the new law, the mini-casinos can have up to 750 slot machines and 40 gaming tables.
Penn National Gaming currently operates casinos in 16 states, as well as Canada.
The company also announced that it was buying Pinnacle Entertainment, which owns and operates 16 gaming facilities nationwide, in a cash and stock deal estimated at $2.8 billion. As part of the transaction Penn National Gaming intends to divest four of the Pinnacle properties to Boyd Gaming Corp. for $575 million. Once finalized, the deal will see Penn National Gaming operating a total of 41 casino properties, with more than 53,000 slot machines, 1,300 gaming tables, 8,300 hotel rooms and a staff of 35,000 people.
The Lucky Dragon Hotel and Casino in Las Vegas shuts down
A mere month after opening its doors with the intent of attracting Chinese gamers to its prime, Asian themed Las Vegas property, the Lucky Dragon Hotel and Casino has shut down operations after struggling to attract a significant number of visitors.
The move, according to the Las Vegas Review-Journal, puts hundreds of jobs at risk as well as some $60 million worth of loans shelled out by eager Chinese investors who had hoped to obtain US green cards through the United States Citizenship and Immigration Services EB-5 program, a plan that offers legal residence status to foreign nationals and their families that invest over $500,000 in U.S. real estate.
Located on the north end of the Las Vegas strip, the Lucky Dragon was only the second purpose-built casino project to open in the city in the last six years. Asian themed, with 203 rooms, 27,500 square feet of casino space largely focused on Baccarat, Pai Gow and slots, a pool, spa, tea house, and Asian inspired restaurants, the property hoped to be a magnet for mainly Chinese tourists visiting Las Vegas.
Dwindling visitor numbers, however, have left nearly 120 Chinese families who invested in the project via the EB-5 program in hopes of obtaining legal residence status in the US holding the bag, if the 5-year project fails to deliver. The Lucky Dragon operators remained vague about the possibility of re-opening for business, stating only that the 203-room hotel, the hotel's first-floor bar, Cha Garden restaurant and gift shop would remain open with the rest of the property possibly resuming operations "within six months", according to the Las Vegas Review-Journal.
UK casino to close after 42 years
UK casino operator A&S Leisure Group Limited has announced plans to close its Napoleons Casino and Restaurant Ecclesall Road in the English city of Sheffield to better focus on a property it plans to develop near Manchester. The venue had been in operation for 42 years.
A&S said that it now plans to "re-site" its license to Napoleons Casino and Restaurant Owlerton, a much larger venue located within miles of the 39,000 seat Hillsborough Stadium, home to English Champions League soccer side Sheffield. The group also operates casino properties in the cities of Hull, Leeds and Bradford.
A&S Leisure Group Limited Chairman Dave Allen said the closure was a "sad day" adding that 'time moves on and Ecclesall Road is not what it used to be."
The group added that it plans to start construction of a new casino operation in Manchester later this year after acquiring "a fantastic site in a prime location".